Good food comes when talented chefs are given the opportunity to work with quality ingredients. The size of the kitchen and the fold of the napkins really don't matter.
On Maui, some of the best chefs choose to work in food trucks. After all, you can be your own boss, set your own hours, and close up on days when the waves are just right.
Food trucks in Kihei come in such a variety you could spend all your time moving from truck to truck.
Make sure to find some with local flavors, but don't forget the trucks with a twist.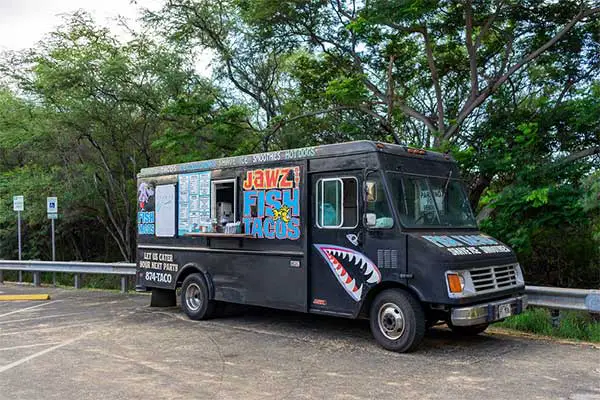 Why Eat At A Kihei Food Truck?
On Maui, a food truck isn't just a place to grab a quick bite to eat. It's somewhere real quality food is being made, often with restaurant level chefs and fresh local ingredients.
Food trucks serve a massive range of dishes, showing off the best of Hawaii's multicultural cuisine landscape.
We recommend trying a food truck at least once, and don't put it off! Hours can change depending on availability, so if you see something that looks good, get it right away. Prices are generally reasonable, and food trucks capture the aloha spirit.
For Local Flavors
Kina'ole Grill
It's hard to miss Kina'ole Grill, thanks to a bright paint job that stands out even on the bustling streets of Maui.
A plate lunch is a popular Hawaiian dish, which consists of a scoop of rice, some sides, and a protein.
Kina'ole is best known for its fish plates. The Mahi Mahi is always good, and the calamari is among the best on the island.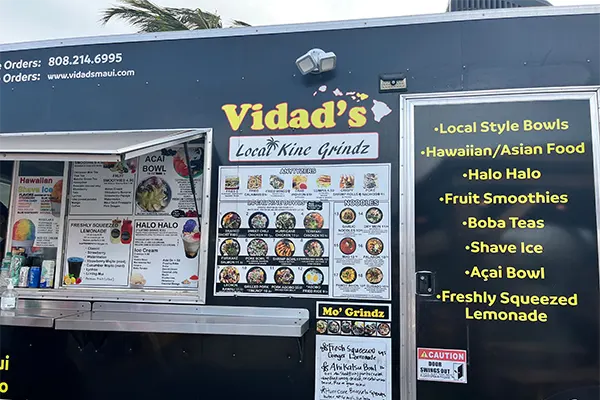 Vidad's Local Kine Grindz
At Vidads, it's all about making things ono. Ono is the Hawaiian term for delicious, and it's certainly the word you need for describing the Filipino via Maui food to be found at Vidad's.
The Hawaiian bowl is a favorite, but anything adobo is always good too.
Keep an eye out for the specials as well—they often involve fresh seafood.
For A Morning Pick-me-up
Kraken Coffee
Kraken Coffee may not do food, but it would be impossible to leave them off the list.
A coffee from Kraken is the best thing for an early morning wake up (and the friendly staff help smooth over any rough edges).
If you're in a rush, try and get there early.
Lines may go down quickly, but deciding exactly what you want from the menu is a difficult task.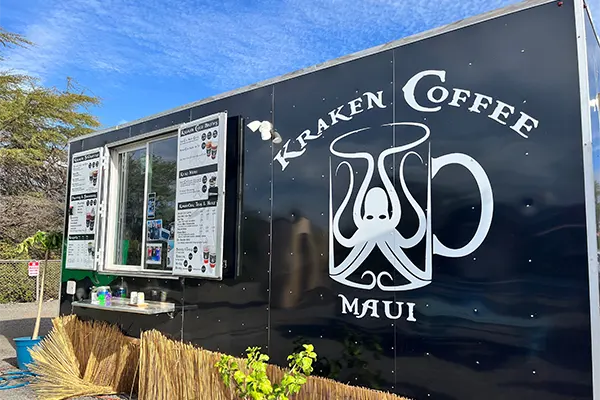 For Wood Fired Pizza
The Outrigger Pizza Company
Outside the pineapple and ham classic, Hawaii isn't a place traditionally associated with pizza. Although a staple of continental America, it doesn't quite match that island lifestyle.
But Outrigger Pizza Company is bringing about a change.
Their wood fired pizzas are made using traditional techniques and fresh toppings, for a distinctly Maui version of an Italian classic. Try the lilikoi pork, and be convinced the pineapple  really does deserve to go on pizza. 
For Fish
South Maui Fish Company
Go to the South Maui Fish Company for the poke, leave with the fresh catch of the day and a new-found appreciation for seafood.
This bright red truck was established to ensure that the people of Kihei had access to fresh fish, and it's become the go-to place for discerning poke lovers.
Make sure to check out their fish of the day. It varies depending on what the boats have caught, but it is invariably delicious.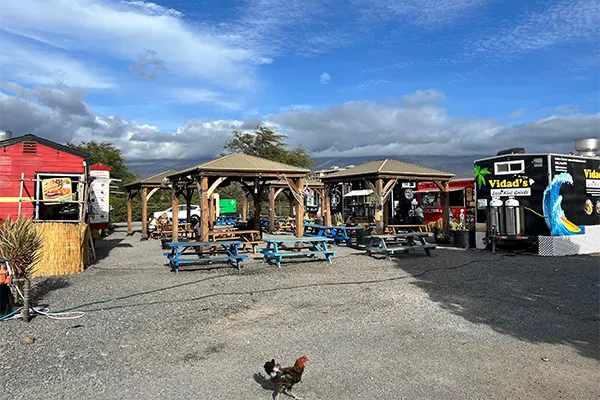 Da Nani Pirates
You'll often spot crowds around Da Nani Pirates, which has become renowned for its fish and chips.
Featuring calamari, coconut shrimp, and the Da Nani house sauce, it's easy to see why.
The menu is full of fish classics, and the pirate themed truck is immediately eye-catching. A must-visit for families with keiki.
For A Classic Food Truck meal
Sol Brothers Southern BBQ
Big portions of hot meats are the kind of thing you expect from a food truck, and Sol Brothers Southern BBQ does it better than most.
The smell alone draws you in, and the mouthwatering array of meats will satisfy any big appetites.
For Tacos
Guadalajara Tacos
Fish tacos are a staple of the Maui food truck. At Guadalajara Tacos, the large menu is full of bold Mexican flavors, and you can ask the staff if you prefer things a little spicy.
Fish tacos are always a good choice, but the carne asada shouldn't be missed either.
Horhitos Mobile Taquería
A well priced truck with big portions and a large menu, Horhitos Mobile Taquería is popular among locals and tourists alike. Be sure to grab some horchata while you're there.