On Maui, you can often find some of the best food tucked away in strip malls and shopping centers.
This is definitely true of Nalu's South Shore Grill, a Kihei restaurant that combines big flavors with local music and the kind of atmosphere that leaves you smiling.
Plus, the prices are excellent, and the combination of comfort food and healthy ingredients makes guilty pleasures a lot less guilty.
If you're interested in a trip to Nalu's South Shore Grill, take a look at our guide.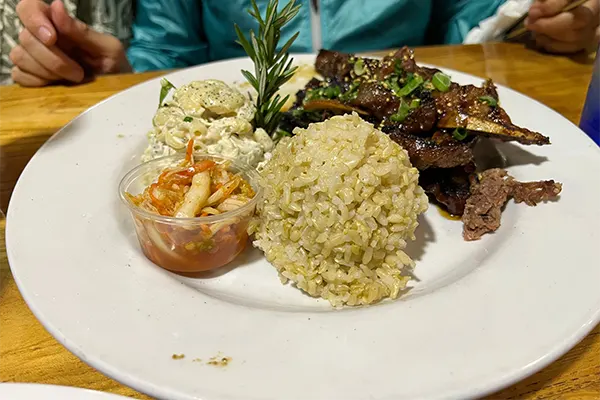 Where Is Nalu's South Shore Grill?
Located in Kihei, Nalu's South Shore Grill embodies the laid-back aloha that characterizes the South Maui town.
As part of the Azeka Shopping Center, you might not expect much from the strip mall destination.
But Nalu's combines comfort food with healthy ingredients, delivering a delicious menu that you feel good about eating.
And as the atmosphere in Nalu's is all about informal fun, it's a good place to stop for a bite to eat after a visit to the quieter beaches of Kihei.
If you're traveling down South Kihei road, or walking through the mall, you should find Nalu's pretty easy to spot.
For a start, it has a very large sign. But you'll likely be drawn in by the sounds of live music, cheerful conversation, and hearty laughter.
Nalu's South Shore Grill is open daily from 8am to 9pm, with Happy Hour from 3pm to 6pm.
What's On The Menu At Nalu's South Shore Grill?
Nalu's South Shore Grill serves comfort food with a twist.
The menu is packed with hearty, crowd pleasing flavors, made using local and organic ingredients.
There are also plenty of vegetarian options, making Nalu's an excellent place for a group stop.
Whatever time of day you get there, we recommend trying the Nalu's Loco Moco.
The Hawaiian classic is given a veggie twist with an organic tofu and turmeric-quinoa patty. 
The breakfast menu is served at Nalu's from 8am to 2:30pm, so you can grab a bite to eat before or after your morning snorkel.
The Heavy Kine Breakfast is ideal for a busy day, as are the Superfood Bowls. Lunch and dinner is served from 11am to 9pm.
The menu is wide-ranging, featuring healthy delights, comfort foods made with quality ingredients, and some of Maui's exceptional seafood.
We recommend the Apple Brie Burger, which uses locally grown ingredients for an excellent blend of smokey and sweet flavoring.
But the entire menu is a treat. Keiki will be happy as well, as the children's menu shows just as much care as the main menu.
How Much Does A Meal Cost At Nalu's South Shore Grill?
Prices at Nalu's are some of the best on South Maui, with the average entrée costing roughly $15.
The prices might be low, but you definitely don't miss out on either portion size or flavor. Nalu's packs both into all of its reasonably priced meals.
Thanks to its low prices, Nalu's has become a popular spot for both tourists and locals.
Families can fill up without breaking the bank, and large groups will appreciate a menu that caters to a variety of tastes and budgets. 
Does Nalu's South Shore Grill Have Live Music?
Much of Nalu's popularity is thanks to the atmosphere it cultivates, and the live music is a big part of that.
There are performances every night of the week from local musicians, intended to add some extra aloha to your dinner. 
The live music really helps transform Nalu's from a standard eatery into a must-visit.
They are committed to showcasing local talents, and that fits perfectly with their Maui-centric decor and menu.
It's the kind of music to get your toes tapping, and leave you humming, but without taking over the entire space.
Nalu's is open dining with an outer porch eating area, so if you prefer your meals without a soundtrack, you can tuck yourself into a quieter corner.
If you're interested in discovering some Maui culture, we recommend an evening visit to Nalu's.
The lively music pairs perfectly with the hearty menu, and you'll be tempted to linger with drinks to hear all the show. 
Do You Need A Reservation At Nalu's South Shore Grill?
Nalu's does sometimes offer reservations, but you generally don't need one to grab a table.
There's plenty of room inside and outside, and many diners at Nalu's pass through quickly.
We recommend turning up for Happy Hour, grabbing a table, and sticking around until the live music starts.
At busy times there can be a queue to get in, but diners are seated as quickly as possible. 
A reservation system is sometimes in place, so if you like to plan, you may prefer to call ahead. Check out Nalu's website to see what's going on.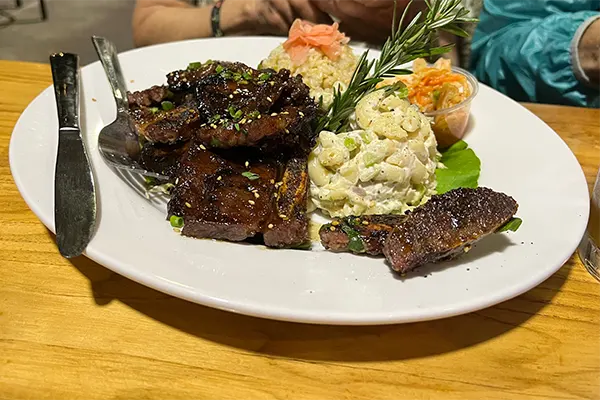 Does Nalu's South Shore Grill Offer Takeaway?
If you prefer to enjoy your Loco Moco from the lanai, then you'll be happy to hear that Nalu's does offer a takeaway service.
Orders can be placed remotely through their online ordering system (available on their website) and fulfilled for curbside pickup. You can also order in person to take home.
Nalu's online ordering does close when the kitchen is particularly busy, so we recommend placing your order early to avoid the rush.
In person ordering is typically still open even when the online system is closed. 
Should You Visit Nalu's South Shore Grill?
A trip to Nalu's South Shore Grill is fun! The atmosphere is vibrant, buzzing with conversation and live music provided by local musicians.
Cheerful staff will immediately make you feel at home, and the Kihei setting adds to the laid-back ambiance.
But it isn't just the add-ons that make Nalu's worth a visit. The food is also exceptional.
Filling and flavorful, local ingredients elevate simple dishes to the next level.
With plenty of vegetarian choices and something for the keiki, Nalu's is something of a crowd pleaser.
A trip to Nalu's is likely to leave you smiling, with a full stomach and a (reasonably) full wallet.