Good sushi is a Maui specialty, and fans of fresh fish will find plenty of options to satisfy a craving.
Two of Maui's best sushi restaurants are Sansei Sushi and Miso Phat.
And as they both have locations on West and South Maui, you might find yourself struggling to pick which one to visit.
In this review, we'll see what both restaurants have to offer.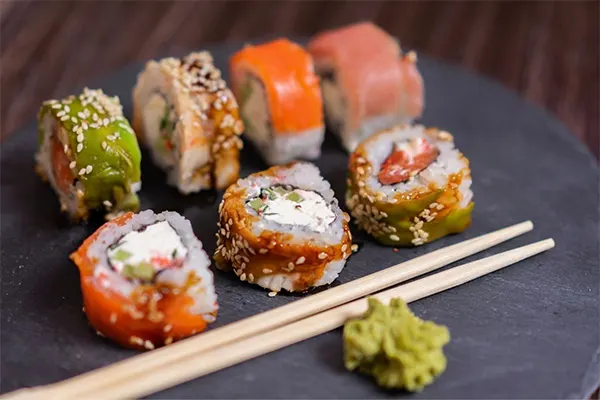 Sansei VS Miso Phat: First Impressions
With so many restaurants in exceptional locations on Maui, you might be surprised by how unassuming both Miso Phat and Sansei Sushi first appear.
Neither restaurant occupies a prime location, but the queues that are often found out the doors at both Miso Phat and Sansei Sushi give some clue to the quality. 
Sansei Sushi operates two locations on Maui: one in Kihei, and the original in Kapalua.
The restaurants are a special combination of lively and laid-back. Casual, but with a menu that makes it suitable for big occasions.
While it isn't the most luxurious eatery, Sansei Kapalua has enough charm, and Sansei Kihei is romantic enough for date night.
Miso Phat also runs two locations: Kihei, and Lahaina.
A family-owned restaurant, stepping into Miso Phat feels like being welcomed into a particularly busy home.
The strip mall locations might trick you into thinking you're getting simple sushi, but artful presentation and a diverse menu immediately elevates the experience.
Sansei VS Miso Phat: What's On The Menu?
Sushi forms the bulk of the menu at both Miso Phat and Sansei Sushi, and you won't be disappointed by what's on offer.
Both restaurants have won awards for their sushi, and offer fish from the seas of Hawaii.
At Sansei, the menu is focused on fresh new takes on traditional foods.
You can enjoy a diverse meal, starting with the tempura shrimp dynamite, sampling the range of nigiri, and finishing with the exceptional dragonfly roll.
Book in a big group, so you can try a bit of everything. We were particularly impressed with the variety of taste and texture that leave you always wanting to try more. 
Miso Phat serves seafood straight from the boat of the restaurant owner, and you can taste the freshness.
The menu is bold, with traditional flavors boosted by unusual combinations.
If you're feeling hungry, the baked rolls and specialty rolls come in large portions, artfully plated and loaded with local ingredients.
The real highlight of the Miso Phat menu is the Miso Butterfish.
It's one of the chef's specials, and it comes with a 15/20 minute wait, but it's worth every second when you bite into the melt-in-your-mouth fish.
For those who don't like sushi, Sansei offers a better range.
The steaks are fantastic for a sushi restaurant (in fact, the owner of Sansei also operates a steakhouse), and the pasta isn't bad either.
Large groups trying to cater to several tastes might find the menu at Miso Phat limiting.
Sansei VS Miso Phat: Which Has The Better Location?
Both Sansei Sushi and Miso Phat operate on West and South Maui.
Neither can be found at the heart of the major resort towns, but they are near enough to both Ka'anapali and Wailea to make the trip worth it.
Tucked behind the Ritz-Carlton resort in Kapalua, Sansei Sushi is an excellent place to stop if you're exploring the beaches and trails of northwest Maui.
The large windows might not provide ocean views, but they do let in the quiet atmosphere that can be found in this part of the island.
It's our choice for family gatherings. The Kihei Sansei location is more convenient, close to the heart of Kihei, and more romantic.
Choose this one for special occasions.
Miso Phat on West Maui is in Kahana, close to many condos and rentals. It could be easy to overlook the door, except you might spot it by the queue going in.
It's similar in Kihei. Near North Kihei, Miso Phat is easy access for anyone staying in the condos that populate the area.
Neither restaurant location is particularly notable, except for the food at Miso Phat, which is worth the effort of traveling.
Sansei VS Miso Phat: Price?
There isn't a huge price difference between Sansei Sushi and Miso Phat, although Sansei has more expensive items on the menu.
An order of a California roll and ebi nigiri would cost roughly the same at either restaurant. 
What's Better At Sansei Sushi?
Sansei Sushi is best if you're interested in sushi, but you like a larger menu to choose from.
The sushi options are excellent, and we highly recommend trying a specialty roll during a visit to Sansei.
However, you shouldn't overlook the rest of the menu.
The small plates and sushi appetizers are innovative and delicious, and bring something new to the sushi bar.
Sansei Sushi is also better if you're dining for a special occasion.
The atmosphere in Kihei is particularly romantic, while the Kapalua location feels celebratory, great for honeymooners! 
What's Better At Miso Phat?
Miso Phat has a low-key charm and unassuming location that might lure you into thinking the food is only average.
But the sushi is straight off the boat, and you can taste the freshness.
Exceptional rolls and a cheerful atmosphere makes Miso Phat a quick stop after a day on the beach, and a place to visit when you want a quality dining experience.
Also, at Miso Phat you can buy t-shirts, hats, and other merchandise showing how much you loved your visit.
If you're looking to fill your wardrobe and your belly, Miso Phat is worth checking out.
Sansei Sushi VS Miso Phat
Sansei and Miso Phat operate close enough together that at some point you might find yourself choosing between the two.
We don't think you'd be disappointed at either restaurant, and you might find it's the atmosphere you want, rather than the food, that influences the decision.
Looking for a menu to please a big group for a special occasion? Try Sansei Sushi.
Want fresh fish in a low-key and friendly environment? Try Miso Phat.