Once upon a time all visitors did in Kahului was depart from their flight and move on to their Maui destination. But lately, visitors have begun to realize that there is much more to Kahului than the airport.
Whether you're spending your vacation on the North Shore, or you're desperate for dinner after a long journey, the restaurants in Kahului offer a diverse cuisine to suit everyone.
Choose from the best restaurants around, and start your Maui vacation the right way.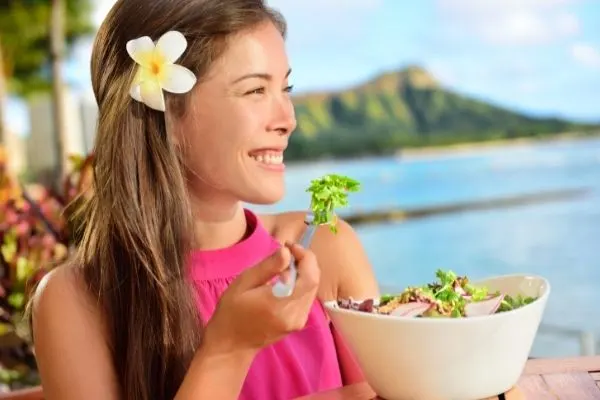 For Local Flavors
Tin Roof
The setting of Tin Roof may not seem that special (there literally is a Tin Roof) but the food is something else. If you only have time for one meal in Kahului, make it a Tin Roof dinner.
The Kau Kau tins exemplify everything that's great about Hawaiian food. The Saimin noodles are pretty special as well, or try the Dry Mein for an underappreciated Hawaiian classic.
Open Tuesday to Saturday, 10am to 8pm. Closed Sunday and Monday.
Poi By The Pound
Classic Hawaiian dishes tend to be big flavors and bigger portions, perfect for a day by the waves. Poi by the Pound was inspired by these local foods, and Hawaiian classics are at the heart of the menu.
The local influence can also be felt in the classic Maui welcome that permeates this casual eatery.
Open Tuesday to Sunday, 12pm to 8pm. Closed Monday.
For American Tastes, Island Style
Café O'Lei At The Dunes
Café O'Lei is a family run business with restaurants across Maui. The Kahului location serves classic American foods, with some fun local additions. Anything with macadamia nuts is recommended, and makes a great accompaniment to a Passion Mai Thai.
The attractive location ensures Café O'Lei is a fantastic place for a celebration meal.
Open Tuesday to Sunday, 11am to 8pm.
Dino's Gourmet On The Go
The eye-catching colors of Dino's food truck might draw you in, but it's the impeccable cuisine that keeps you coming back.
Dino himself might be there to guide you through the menu, which is a mixture of American foods, Hawaiian ingredients, and Greek classics.
Open daily, 11am to 5pm.
For Seafood
Geste Shrimp Truck
Geste Shrimp Truck is one of the beloved dinner spots in Kahului, instantly recognizable from the big pink shrimp that decorates the truck's side.
The actual shrimp aren't quite as big as the painting, but they're still pretty sizeable.
Order the shrimp plate and get the classic shrimp served alongside rice and crab mac salad. You'll soon see how Geste earned their reputation as one of the finest eating spots on Maui.
Open Monday to Saturday, 10am to 7:30pm. Sunday, 10am to 6pm.
Da Shrimp Hale
Massive shrimp, an aloha atmosphere, and the opportunity to bring your own beer, Da Shrimp Hale is casual eating done right. Simple flavors are elevated by fresh catches and good pricing.
Be prepared to make a mess (those giant shrimp are tough to peel), but the vibe is so laid-back that you won't care.
Open Friday and Saturday from 11am to 9pm, Sunday from 11am to 4pm, Monday to Thursday from 11am to 8pm.
For Italian
Bistro Casanova
Bistro Casanova is the classiest dining option in Kahului, with an elegant interior enhanced by subtle lighting.
The menu is classic Italian fare, featuring flavors that can be hard to find on the island. The steaks are a highlight of the menu, but the fresh caught seafood is worth trying as well.
A great place for a romantic evening, or when you're craving pasta. Come in the afternoon for an Italian take on tapas.
Open Monday to Saturday, 4pm to 9pm (dinner menu from 5pm). Closed Sunday.
For Mexican
Acevedo's Hawaicano
Acevado's Hawaicano serves Hawaiian food with a Mexican twist. Or maybe it's Mexican food with a Hawaiian spin?
Either way, the food is absolutely packed with flavor, and the large portions make bellies happy. The tangy ceviche is a delight, and the tacos are irresistible.
Everything on the menu is seasoned to perfection, and the mixture of classic and crazy combinations are always satisfying.
Open Thursday to Saturday, 11am to 6pm. Open Sunday to Wednesday, 11am to 3pm.
For Thai Food
Thai Mee Up
Don't be put off by the food truck setting, Thai Mee Up makes some of the best Thai food on Maui. The food truck has gathered a loyal customer base in recent years, drawn to the bold flavoring and laid-back atmosphere.
It's hard to pick a favorite, but the panang curry is addictive. Don't forget to wash it down with a Thai Iced Tea.
Open daily, 10am to 8pm.
My Thai Maui
A mixture of classic flavors and modern twists, My Thai Maui brings the best of Thai cuisine to Kahului. Try a dish that uses the unique tastes of Northern Thailand, and keep an eye on the specials board to see what's new.
Can't decide? The friendly staff know the menu back to front, and can help you choose the perfect dish to send you away smiling.
Open Wednesday to Monday, 11am to 9pm. Closed Tuesday.
For Healthy Meals
Fork & Salad
Local Hawaiian food tends to be hearty and filling, but sometimes a lighter bite is all you need. Fork & Salad uses locally sourced ingredients to create their signature salads, which are best enjoyed in the sunshine.
Put together your own dish, or try the signature Maui Goddess. Featuring fresh fruits alongside blue cheese and a green goddess dressing, it's colorful cuisine featuring all the best of Maui.
Open daily, 11am to 8pm.
For A Sweet Tooth
Tasaka Guri-Guri
Guri-Guri is a mixture of sherbet and ice cream, and Tasaka Guri-Guri is so popular you may find you have to wait in line for a bite. It's more than worth it. Sharp, sweet, and deliciously refreshing, Guri-Guri is a treat on a warm day.
But try not to fall in love with the flavor. Tasaka Guri-Guri keeps the recipe a closely guarded secret.
Open Monday to Saturday, 9am to 6pm. Open Sunday, 10am to 4pm.