Finding the local spots is always a good way to get a glimpse of the real heart of a destination, but on Maui, these spots can be hard to find. Local hangouts are often tucked away.
To find the local hang out spots, turn the opposite direction to the busy tourist areas. Try asking tour guides what they recommend, and have a chat with servers when you stop to eat. 
For a glimpse into the everyday life of Maui, have a look at the places on this list.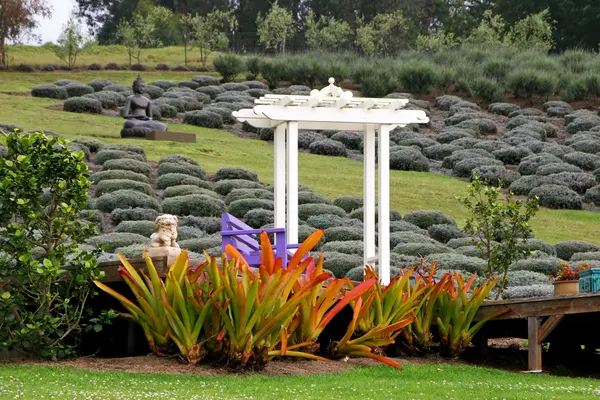 Sightseeing Like A Local
One of the best ways to discover the hidden gems of Maui is to explore by foot. Turn your back on the crowded tourist beaches, and take your time strolling Maui's walking trails. 
Sacred Garden Of Maliko
Find serenity at the Sacred Gardens of Maliko. A community run spot which offers a peaceful retreat from the sometimes overwhelming crowds, a trip to the Sacred Gardens is a must for anyone seeking serenity.
Upcountry Farmers Market
Farmers markets are a tradition on Maui, and the Upcountry Farmers Market is the oldest currently in operation.
Find baked delicacies, freshly grown produce, and local crafts for sale in an underappreciated location.
Ali'i Kula Lavender Farm
Come in the summer to see the lavender in full bloom, but winter months at Ali'i Kula Lavender Farm are also beautiful.
With some varieties flowering year round, the off-season can actually be the best time to go.
Nakalele Blowhole
Watch the water explode at Nakalele Blowhole, a secret spot on West Maui. The natural wonder is thrilling to visit, and often fairly quiet.
If you do visit, be careful and stay away from the blowhole itself. Warning signs are lacking, and while locals know how to stay safe, tourists have gotten into trouble in the past.
Beaches The Locals Love
The very best beaches on Maui tend to be crowded with resorts and restaurants. With that comes the tourists.
These popular beaches tend to be worth a visit anyway—don't let the crowds turn you away from Ka'anapali beach. But sometimes you want somewhere quieter, where the atmosphere is a little more chilled out.
Paako Cove
Otherwise known as "Secret Cove," Paako Cove hasn't been a secret for a long time. But it does still attract fewer visitors, who are likely to pass the entrance without realizing.
Even those on the lookout for Paako Cove can end up driving right by. Look for a narrow rock opening, south of Makena's Big Beach. You'll be rewarded with fantastic views, beautiful scenery, and smaller crowds.
Kalepolepo
There are so many beaches on South Maui that those slightly less than perfect tend to get forgotten.
Kalepolepo is one of these beaches. The soft sands and easy seas make it good for visitors, and locals will often head to Kalepolepo to avoid the crowds further south.
There's also a natural spring fishpond in the area, which provides a glimpse into ancient Hawaiian culture.
D.T. Flemings
Just along from Kapalua on West Maui, D.T. Flemings is a gorgeous white sand beach, with fewer crowds than nearby resort beaches.
Head here after a visit to the Dragon's Teeth, and enjoy the shade offered by the ironwood trees.
Kam III
Kam III, the third beach of Kamaole Beach Park, is popular with everyone on Maui.
With good areas for swimming and sunbathing, plenty of facilities, and an accessible location, Kam III gets crowded fast on nice days. Locals like to hang out on the nearby lawn area, where there's ample room for large gatherings.
Local Dining
Food and drink on Maui can be expensive, and local hangouts aren't always cheaper.
But finding a nice hole-in-the-wall place can be a good way to save some dollars. Locals are generally friendly so long as you're friendly, but don't expect the same kind of service you might get at a tourist bar. 
Foodland And Tamura's
Eating like a Maui local means that the best lunch is from a grocery store chain. Both Foodland and Tamura's have a large poke bar, where you can put together an unusual bowl to your liking.
Relatively cheap, with quick and friendly service, head to Foodland and Tamura's for a delicious lunch on the go.
Eskimo Candy
Eskimo Candy serves perhaps the freshest fish on Maui from their Kihei location. Try the ahi poke bowl for a real taste of authentic Hawaiian food.
The kitsch décor (there's a giant shark's head on the wall) and family-friendly service has made Eskimo Candy a go-to spot for locals hungry for a quick bite.
Fred's Mexican Café
The quirky decorations of Fred's Mexican Café do shout "tourist trap," but bargain prices, big meals, and easy service has made it a popular spot for hungry locals.
A trip to Fred's is fun, with flavor packed into every dish.
Tasaka Guri-Guri
Shave ice is Hawaii's best known refreshment. But you also have to make sure to try Guri-Gur from Tasaka Guri-Guri in Kahului. A mixture of sherbet and ice cream, Guri-Guri is popular with locals looking for something cool.
Expect to wait in line, but it's worth it for this unique flavor. You really won't get anything else like it. (Tasaka Guri-Guri keeps the recipe a secret.)
Kahale's
Kahale's calls itself Maui's Local Dive Bar, and that's definitely the atmosphere they've created.
Live music and a long happy hour is what attracts the residents, and a simple drink list makes it the bar for those after a casual drink.
Do Maui Locals Like Tourists?
Maui's locals have a bit of a reputation for not being very tourist friendly, but what they really dislike are tourists who don't behave.
That's the ones who ignore warning signs, trespass on private property, and expect everyone to be smiling all the time.  
As long as you treat the area and it's residents with respect, the locals will be happy to welcome you in.