Exactly how at home you want to feel on your Maui visit should help you decide between the Hyatt Residence Club and Andaz Maui.
At the Residence Club, large accommodations and fully equipped kitchens give guests a home away from home. Andaz Maui is a resort-style stay, with an elegant luxury.
Read this guide to find out the differences, big and small, that set these two properties apart.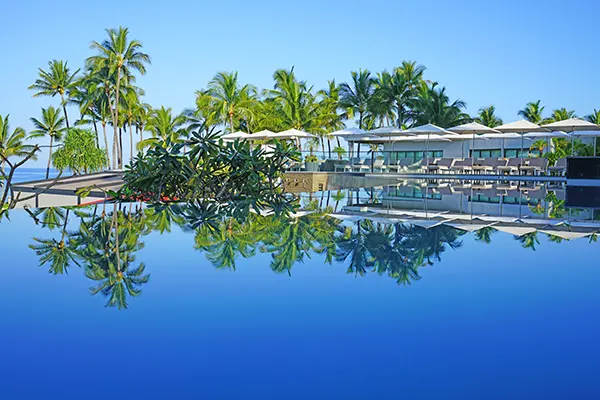 Andaz Maui Vs Hyatt Residence Club
The Andaz Maui and the Residence Club are two Hyatt properties that offer a very different experience for Maui visitors.
Andaz Maui is a Wailea resort, found in the luxurious South Maui town. It's right at the heart of the action and best accommodates couples looking for a chic stay.
Wailea on South Maui gets the best of the sunshine year round, and is home to quality restaurants and gorgeous beaches.
The Hyatt Residence Club is on West Maui, just back from Ka'anapali Beach. Ka'anapali is a popular family resort, just north of historic Lahaina town.
The Residence Club aims to create a home away from home, so vacationers can relax surrounded by their chosen comforts.
What Are The Rooms Like At Andaz Maui And Hyatt Residence Club?
Andaz Maui is a big property with over 300 rooms, and there's an impressive variety of choices. The standard rooms are a little on the small side, but elegant decorations elevate the space.
And the attached lanai allows guests to soak up the atmosphere the resort cultivates. For extra room, suites and villas are on-site.
Relax into one, two, or three-bedroom accommodations at the Hyatt Residence Club. The rooms are  decorated simply, and could potentially use a refresh, but a stay here is really all about comfort.
A private lanai, dining area, and sitting area, even in the smallest rooms, give ample space to make yourself at home.
In terms of accommodation, the two properties are distinctly different. Andaz Maui standard rooms have a boutique appeal, and they're a little more intimate.
Hyatt Residence Club brings you space and home comforts, allowing you to dictate your own vacation.
Can I Get A Kitchen?
All the accommodations at Hyatt Residence Club do include a full kitchen, and an attached dining room and private lanai lets you eat in peace.
The villas at Andaz Maui contain full kitchens, equipped with top-quality fixings. Some larger suites also have a kitchenette.
If you really are interested in doing your own cooking, then the Hyatt Residence Club is your best option.
There's more room both for cooking and eating, and the home-style atmosphere of the premises gives you the peace to enjoy your meals when you want.
Which Has A Better Pool? Andaz Maui Or Hyatt Residence Club?
The pool at the Hyatt Residence Club is pretty simple, but we don't think you'll be complaining. The zero-entry Wailele lagoon pool is spacious to accommodate the guests at the Residence Club.
Surrounded by palm trees and with views across to the Pacific, this is a pool that really makes the most of the tropical surroundings.
A children's area gives keiki a space to splash around, while adults can enjoy the Maluhia infinity edge and the Pau Huaka'i Tiki Bar's cocktail menu.
Andaz Maui also has a fairly restrained pool, at least in comparison to some Maui resorts. The four tiers of infinity pool are spacious and well set out to make the most of the setting.
The Lehua Lounge at the top level offers elevated bar snacks, while that lower pool is enjoyed by families. For extra peace and quiet, guests can head to the tranquil adults-only pool.
If the pools don't catch your eye, both resorts are located right by exceptional beaches.
Where To Eat At Andaz Maui Or The Hyatt Residence Club?
Andaz Maui houses several delightful restaurants. Ka'ana Kitchen, Morimoto Maui, and Bumbye Beach bar all serve food inspired by the local ingredients.
Or guests can grab something to go from the Mokapu Market, which sources fresh snacks and drinks from Maui businesses.
Andaz Maui also hosts an on-site luau called the Feast At Mokapu. A blend of luxury cuisine and Hawaiian entertainment, the Feast At Mokapu is a new take on the classic luau.
With a fully-fitted kitchen waiting in your accommodation, you'll probably be less tempted to sample all the restaurants of Ka'anapali.
There are a few on-site dining options, however, for guests at Hyatt Residence Club.
Lahaina Provision Club has an island-inspired menu that's served throughout the day, and a selection of fresh snacks, sandwiches, and groceries.
Otherwise, stop by the Pau Huaka'i Tiki Bar for a fresh take on the Mai tai, and some bar snacks.
What Else Is There To Do At Andaz Maui Or Hyatt Residence Club?
Guests to Andaz Maui can keep themselves occupied at the spa, or take a trip to the fitness center.
Hyatt Residence also has a fitness center, but spa lovers will have to head across to one of the other resorts in the Ka'anapali area if they want a treatment.
What Is Better At Andaz Maui?
Andaz Maui has a boutique feel for a luxury resort.
Families are welcome, but it's couples who will feel most at home in this classy hotel.
There's a relaxed vibe that's aided by plenty of conveniences and a stylish overall design.
What Is Better At Hyatt Residence Club Maui?
Ka'anapali Hyatt is a residence club, so guests are invited to make themselves at home.
If you prefer a vacation that's completely on your terms, you'll love the freedom of the Hyatt Residence Club, and the on-site conveniences that allow you to completely relax.
Elegant Comforts Or At-Home Welcome?
Despite both being Hyatt properties, you'll get a completely different vacation depending on what resort you choose.
The Andaz Maui is a typical resort, with friendly staff on hand to guide you through the many amenities. The Residence Club invites guests to settle in, and vacation their way.
Other Places To Stay In Maui
We've written quite a bit about all of Maui's available lodging, and continue to do so, but we wanted to share a few more places to stay from our friends at Booking.com. 
A Resort Stay: The Four Seasons Resort in Wailea is the cream of the crop of resort stays, with restaurants, ocean views, an on-site spa, and the Shops at Wailea are just down the road. Couples particularly love The Four Seasons!
Bed and Breakfast: Sometimes, it's all in a name, and Adventure in Paradise is exactly what it sounds like, located in Haiku on Maui's north shore. Wake up to a 180 degree view of Haleakala summit every morning from your private patio.
Hotel: The highly rated Maui Sunset hotel combines laid-back atmosphere and the beach of Waipuilani Park. Also, it's only 1.7 miles from the Elleair Maui Gold Club!
Vacation Home: Find your home away from home at Puu Koa Palms, six minutes from Hookipa Beach, and near the Hana Highway. Also particularly great for couples!
Villas: If you're looking to vacation in style with your own villa try the Andaz Maui, which include all the expected amenities along with grills and plunge pools.