One cannot go to a tropical island like Maui and miss out on a flavorful tropical drink. These sweet, cold treats make your holiday that much more special.
A great drink option is the Lava Flow.
Below, we tell you all about the world-famous Lava Flow drink, how it's made and where you can find one.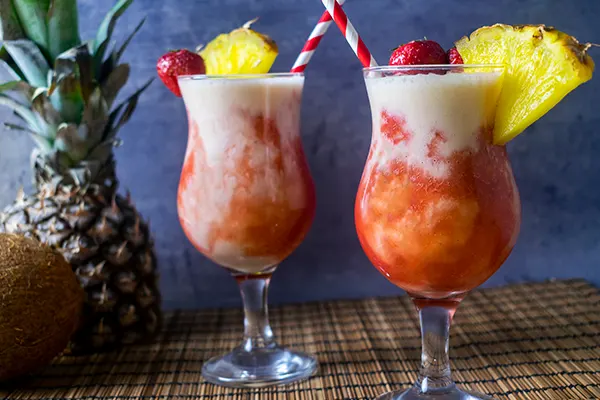 What is a Lava Flow Drink?
The famous Lava Flow is a popular tropical drink in Hawaii which mimics the looks of a volcano, a frozen cocktail packed with flavors and colors.
For anyone visiting Hawaii, this sweet and rich tropical drink is not to be missed.
It's a pleasure just to look at with its bright volcanic colors. A Lava Flow drink is the perfect drink to have when on the beach.
What Are the Ingredients of a Lava Flow Drink?
The contents of a Lava Flow drink are cool, sweet, and refreshing, including fresh strawberries, tangy pineapples, rum, and coconut cream.
Two layers are poured together to make the drink and the preparation is finished with a fresh fruit garnish. The Lava Flow drink is known for its vibrant red, orange, and yellow colors.
They give the drink its name as it resembles a volcano with its lava colors.
How many types of Lava Flow drinks are there?
There are usually two types of Lava Flow drinks:
1. Classic alcoholic Lava Flow drink: this is the version most people prefer. The alcohol kick comes from rum and also includes strawberries, pineapples, and coconut cream. The buzz from the rum puts you in a beachy mood and gets you going.
2. Virgin Lava Flow drink: this is an option for those who avoid alcohol. But just because you're not drinking doesn't mean you have to miss out on the Lava Flow.
The non-alcoholic version has the same ingredients as the classic. All that's missing is the rum.
Where Can You Find the Best Lava Flow Drink in Maui?
We have prepared an elaborative list of the perfect bars and cafes you can find in Maui that serve the best Lava Flow drink for you to enjoy on your beach vacation.
Tiki Bar and Grill
At the Tiki Bar and Grill in West Maui's the Lava Flow drink is one of their many specialties.
It's an outdoor location with ocean access from Ka'anapali Beach. It offers a casual and relaxed ambiance for guests to chill with a drink in their hand after a day of holiday activities.
Their Lava Flow drink is popular among locals and tourists alike.
Their menu leans towards fast food with a gourmet twist: fries, burgers, wraps, hot dogs, and skewers are some of the options. Live music and dance make it the perfect place to unwind and get into the holiday vibe.
Three's Bar and Grill
Three's Bars and Grill is located in the Kihei Kalama Village.
Along with a mean Lava Flow drink, they serve breakfast, lunch, and dinner. Their popular dishes are oyster plates, sandwiches, coconut crusted shrimp, Hawaiian-style ribs, and much more.
They serve some of the best cocktails on the island including Ginger Collins, Lilikoni Martini, and the classic D'Lime in D'Coconut.
Milagros Food Company
Milagros Food Company is a popular spot for tourists, and is located in the Paia Bay Area. It is a family-owned restaurant and is known for having the most premium tequila selection on the island, along with a huge variety of refreshing margaritas and cocktails.
This is the perfect place for a friend's night out on vacation. Hanging out on their outdoor dining area with a Lava Flow drink in hand is the perfect bookmark for the end of the day.
Ambrosia Martini Lounge
Ambrosia Martini Lounge is located adjacent to Kalama Park. It is open every day of the week, with a happy hour during the week that goes late into the evening, and on Saturdays goes all night.
Ambrosia Martini Lounge offers game nights, DJs, live music, and a lot more.
What Other Drinks Can You Enjoy if You Love Lava Flow Drinks?
Mai Tai
Invented in 1944 by Victor J. Bergeron, Mai Tai is a classic in Hawaii and is one of the state's most popular drinks. It's a rum-based cocktail with lime juice and orange Curacao. The perfect drink to enjoy while you take in the soft sounds of the waves hitting the shore.
Blue Hawaii
Blue Hawaii was an instant hit in Hawaii when it was introduced in 1957 with its ocean blue colors and a perfectly sweet taste. It's made with sweet and sour, pineapple juice, simple syrups, rum, and sometimes vodka. Just the drink you need when you're soaking in the ocean's blue waters.
Pina Colada
A worldwide favorite, its name, Pina Colada, literally means strained pineapple. It's made with ingredients that are similar to Lava Flow: fresh pineapples, coconut milk, rum, and coconut cream.
Served with either blended or shaken ice, it's usually garnished with a freshly cut wedge of pineapple or maraschino cherry to give it that classic cocktail look.