The Pearl Harbor National Memorial is a place of deep historical significance, both solemn and enriching. A commemoration of the attack on Pearl Harbor on December 7, 1941 which killed over 2,400 Americans.
But the Memorial is next Honolulu so visitors to Maui will have hop from their island over to Oahu if they want to visit.
Read to learn all you need to know for your trip from Maui to Pearl Harbor.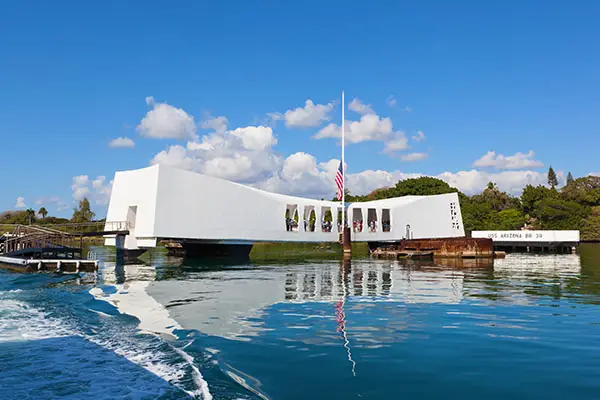 What Is The Best Way To Reach Pearl Harbor From Maui?
Going from Pearl Harbor to Maui can be pretty fun, as it requires hopping from one island to another.
The quickest and the best way to get from Maui to Pearl Harbor is by taking a flight from the airport located in Kahului to O'ahu.
What Hawaiian Island is Pearl Harbor on?
There has been a lot of confusion about where Pearl Harbor is located.
Pearl Harbor is located on Ford Island, an islet in the center of Pearl Harbor, Oahu.
In the past the island has also been called Little Goats Island, Rabbit Island, and Marín's Island.
What Is The Cheapest Way To Get From Maui To Pearl Harbor?
Traveling from Pearl Harbor to Maui can be a cheap and cost-effective trip if you know what modes of transportation to use.
Buses are the most inexpensive way to get to and from the airport to take the quick flight between Maui and Oahu, and then on to Pearl Harbor.
You can take the line 39 bus and then get on the flight. The flight is about 30 to 60 minutes and costs between $45 to $170.
Can You Take A Boat From Maui To Pearl Harbor?
While the idea of moving from one island to the next on a boat does sound delightful, unfortunately, it can't be done.
Currently, no ferries or boats bridge the islands of Maui and Oahu.
Can You Do A Day Trip From Maui To Pearl Harbor?
Planning trips isn't easy for those who have responsibilities and little time to spare. What do you do if you only have day to spare?
Fortunately for all such travelers, a one-day trip is possible from Maui to Pearl Harbor. But it will require planning.
This trip can be done by island hopping if you take two 35-minute flights  and time it properly. If you're quick you'll visit not just Pearl Harbor but  downtown Honolulu, and the Punchbowl Crater.
Can I Bring A Purse To Pearl Harbor?
While it is only common that you flock to tourist spots with bags holding all your possessions, you can't do that while visiting Pearl Harbor. Bags are banned at Pearl Harbor for security reasons as it is an active US military base.
This includes all kinds of hand carries from big bags such as purses and suitcases to even tiny, handy ones such as camera bags, fanny packs, or other containers that can assist in concealing things.
What Is The Best Time To Visit Pearl Harbor?
If you wish to get the most out of the location peacefully, go in the early hours of the day, when crowds are lighter. Keep in mind that summers tend to be the more crowded season.
And holidays like Memorial Day and Veterans Day are particularly busy. So visit during the week, in the morning.
Is Pearl Harbor Open?
The Pearl Harbor Center is open to the public from 7 am to 5 pm, every day of the week.
Furthermore, there are different locations, such as the two museums, visitor center, and the USS Arizona Memorial program. These spots are open for visitors, and visiting is free of charge.
How Much Time Do You Need At Pearl Harbor?
Pearl Harbor has a lot to offer. So, how much time should one allot when they want to visit Pearl Harbor?
According to experts, you should set aside around 6 hours for the Pearl Harbor trip. In these 6 hours, you will be able to get a look at all four of the major Pearl Harbor historic sites:
USS Arizona Memorial
USS Oklahoma Memorial
USS Utah Memorial
parts of Ford Island and Battleship Row
However, if you want to take your time through the trip at a leisurely pace, then you should set aside the whole day. You can see tons of spots during this day, get something to eat, and head to family-friendly locations.
Can I Go To Pearl Harbor Without A Tour Group?
This is another most essential question for the people. Yes, you can go to Pearl Harbor without a tour guide.
However, it's always advised to have a tour group on your side to guide you through Pearl Harbor, unless you know you're history quite well.
Tour groups ensure that you not only get to look at everything but understand.