You're in Hawaii. Chances are you want to try local cuisine. A mixed plate, also known as "plate lunch," is the best way to do so and get to know the local culture at the same time.
If you love a combination of chicken, beef, and pork all on one plate then you already know what a mixed plate is.
A mixed plate is often referred to as a "plate lunch" in most places, especially Hawaii. The good news is there are some great places to get a mixed plate all over Maui that provide unique spins on this Hawaiian favorite. Want to know where to grab a delicious plate lunch? We've got you covered.
Here are the best places to grab a mixed plate in Maui.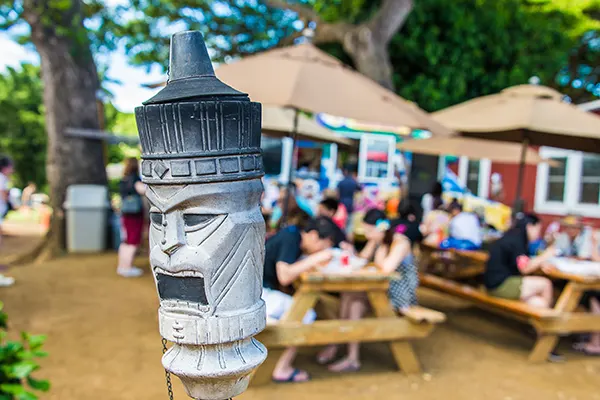 1. Ono Kau Kau Mixed Plate
If you are visiting Maui and want some authentic Hawaiian food, Ono Kau Kau Mixed Plate is the place to go. It is located in Wailuku. The portion sizes are huge and the food is tasty.
The menu is divided into two sections: plate lunches and dinner entrees. Plate lunches include your choice of meat (chicken katsu, beef teriyaki, or the daily special), white or brown rice, and mac salad (cabbage salad). All plates come with soup and dessert of your choice: coconut bread pudding, haupia cake, or haupia bar with mac nut ice cream.
Truth be told, this place is so popular that it's often crowded, and when it's crowded you'll likely have to wait in line. But the wait is worth it! Not only will you get a huge portion of authentic Hawaiian food, but you'll get some great customer service too
2. Aloha Mixed Plate
The Aloha Mixed Plate restaurant in Lahaina's Cannery Mall is a favorite of Maui residents and tourists alike. Built in the mid-80s, the restaurant has a modern feel but is decorated with traditional art from Hawaii.
Tucked away across from the mall, Aloha Mixed Plate offers stunning views and killer plate lunches. The menu features traditional Hawaiian plate lunch options, along with Chinese dishes like fried rice and their famous sweet and sour pork. The portions are huge and the prices are reasonable.
You won't go wrong choosing anything from the menu, but those looking for something a little different might try the Macaroni Salad or their Loco Moco (rice topped with a hamburger patty and served with gravy).
The restaurant has large glass windows that offer spectacular views of the harbor. There's plenty of indoor seating, as well as several tables outside with umbrellas on the patio. The patio is partially covered so you will enjoy your meal even if it gets a little warm during the day. You will also enjoy live music outside on many nights during the summer months.
3. L&L Hawaiian Barbecue
There's a lot to like about L&L Hawaiian Barbecue, the largest purveyor of plate lunches in Hawaii. Founded in 1976 by Eddie Flores, the first L&L was located in Honolulu and featured a drive-through window. Since then, Eddie has grown his concept to include almost 200 locations across the United States, Japan, and Guam.
L&L's menu is all about simplicity. The signature plate lunch combo features two scoops of rice with macaroni salad on top, a scoop of potato mac salad on the side, and your choice of kalua pig or chicken long rice (which is similar to congee), all for an affordable price.
The basic nature of L&L's menu doesn't mean it lacks variety. L&L offers more than 50 different combinations of its "plate lunches," including chicken katsu, beef/pork/papaya salads, and vegetarian stir fry.
You can also build your plate with an array of options that includes traditional Hawaiian favorites such as lau lau (pork wrapped in taro leaves) and kalua pork.
4. Sam Sato's
Next time you're in Maui and craving some good plate lunch, head to Sam Sato's. You'll find this restaurant tucked away in the industrial area of Wailuku, but once you find it, you won't need to go anywhere else.
In business since 1933, Sam Sato's is one of Maui's oldest restaurants—and they have a loyal following. The secret to their success? Incredible plate lunches at low prices.
Since the food is prepared fresh daily, don't expect to see the same thing on your plate as the person next to you. And that's just fine with the regulars at Sam Sato's—they come back for the wonderful food, not for any particular dish anyway.
The atmosphere is relaxed and friendly, and there are no frills here whatsoever—just good food served at reasonable prices.
In fact, when asked about Sam Sato's, one regular customer said that if he had to be stranded on a desert island with only one place to eat every day, he would choose Sam Sato's without hesitation.
5. Piko Cafe
It's easy to overlook Piko Cafe because it's tucked away in a quiet corner of a strip mall. But the food they serve is cheap and fast, which can be found at any of the other family-style restaurants on the island.
But if you're looking for a place to fill up for a low budget this is the place to go. Their Loco Moco is one of the best deals on Maui. It costs less and comes with a hefty serving of rice, fried eggs and scoops of macaroni salad. (A Loco Moco is a popular local dish that basically consists of a hamburger patty smothered in brown gravy.)
If you're looking for something more substantial, their mixed plate might be what you're after. It comes with two scoop rice, macaroni salad, an entrée (your choice between teri beef—marinated beef fried on the spot—or teri chicken), and a side order of cabbage salad.
Stop By One And Grab A Fork
As you see, Maui offers a wide range of plate lunch options that makes the experience more exciting. So whether you're looking for a satisfying meal or something to munch on while taking in some views, the options are endless.
All offer variations on the traditional mixed plate and each has its own unique flavor that has clearly stood the test of time. Truly, joy will be found in any of these locations, so don't hesitate to stop by one and grab a fork and enjoy a taste of Maui.