No trip to Maui is complete without poke. This national dish is both a delicacy and a quick treat, and it perfectly encompasses the Maui lifestyle.
Combining raw fish with fresh vegetables and tasty sauces, poke is a healthy choice for lunch or an incredible starter at dinner.
In Lahaina, poke can be found everywhere. With the town right next to the harbor, many restaurants and cafés will have poke on their menu.
If you want to try the very best, you need to head to a grocery store. Foodland lets you build your own bowl, and many locals consider it to be the number one poke place.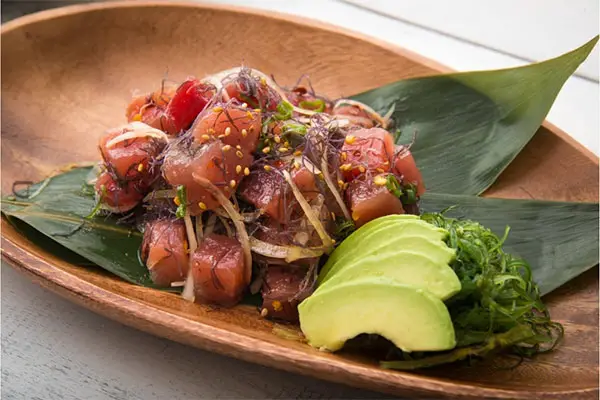 What Is Poke?
Poke (pronounced POH-keh) comes from the Hawaiian word meaning "to cut," and refers to sliced and diced chunks of raw fish.
This fish, typically ahi, is then tossed over steamed rice and served with sides of fresh vegetables and fruit, often topped with a delicious sauce. Guaranteed ono. 
Poke is a Hawaiian staple, found everywhere from convenience stores to high-end restaurants. It was traditionally eaten by fishermen, who seasoned the cut-offs of their fresh catches.
From humble beginnings, it's grown to become one of Hawaii's most famous dishes. 
Nowadays, poke can be found in many forms, although it remains closely tied to its origins. If you're visiting Maui for the first time, poke is something you have to try.
Build Your Own Poke
Foodland
It might come as a surprise to hear but Foodland, a local grocery store, is widely regarded as having the best poke bar on Maui. A chain that's found across the island, Foodland's poke bar offers a chance to try some of Hawaii's finest foods in a convenient setting.
Using a range of toppings that vary depending on the location, you can craft the bowl to fit your tastes.
The quality ingredients make this grocery store poke one of the best choices around. For first time poke eaters helpful staff will often offer small samples to help you build your bowl.
Open daily, 6am to 9pm.
Maui Poke
Located in the Whalers Village, Maui Poke has a build your own poke bar with enough varieties of toppings to keep anyone happy.
Focused on using fresh and local ingredients wherever possible, the traditional fish options are joined by meat and vegetarian proteins. You can create poke like no other, and everyone will be satisfied by the sheer volume of choices.
If you're really struggling to decide, try the Maui signature. Juicy mango and pineapple sit alongside crunchy vegetables, all coated in the special Maui Poke sauce.
If you prefer something a bit different, arrange your poke on a bed of nachos. Don't forget to get a bubble tea to go! It's the perfect accompaniment for a classic Hawaiian meal.
Open daily, 10am to 8pm.
Best Restaurant Poke
Miso Phat Lahaina
A sushi restaurant that is all about fresh fish, Miso Phat has a massive menu of rolls and nigiri to satisfy hungry diners. Their poke bowl is one of the chef's specials, and it's one of the best poke bowls in Lahaina.
Using local tuna for the freshest flavoring possible, this is a fantastic option to have alongside a selection of sushi. Miso Phat has a fun and friendly atmosphere, with welcoming staff and very quick service. 
Open Monday to Friday 11:30am to 9pm, Saturday and Sunday 3pm to 9pm.
Lahaina Sushi Ko
A large sushi restaurant in a gorgeous setting that serves fresh local ingredients, Lahaina Sushi Ko has a fantastic mixed poke menu.
Served over a bed of rice with the chef's own special poke sauce, the mixture of proteins makes this a lovely place to try something new. The mixed sashimi bowl is perfect for big appetites.
Open daily, 3:30pm to 9pm.
Best Fresh Fish Poke
Paia Fish Market
Paia Fish Market sells some of the freshest fish in all of Lahaina, which makes it absolutely perfect for poke. Knowledgeable staff can guide you through the choices, most of which are essentially straight out of the sea.
The menu can change depending on the season and what's available, which gives you a chance to try something new.
Large portions of fresh fish, with everything cooked to perfection by friendly staff. The Lahaina location is conveniently situated on Front Street.
Open daily, 10:30am to 9:30pm.
Best Food Truck Poke
Smash Maui
This sushi based food truck has a changeable menu which always includes lots of fresh fish dishes. The poke may not always be on sale, but it often is and it's worth looking out for.
A friendly truck that's welcoming to all visitors and often attracts quite a crowd, Smash can provide you with a mixture of authentic Japanese food and Hawaiian classics.
Open 5pm to 9pm, Thursday to Monday. Closed Tuesday and Wednesday. Opening hours can vary.