Thanks to the fresh local produce and knowledgeable chefs that call Maui home, getting worldwide delicacies in Lahaina is surprisingly easy.
Sometimes, nothing sounds as good as Thai. With filling portions and a unique flavor profile, Thai food is perfect for warm days spent in paradise. Lahaina is home to some wonderful Thai restaurants.
If you want Thai food in Lahaina, there's sure to be something that hits the spot.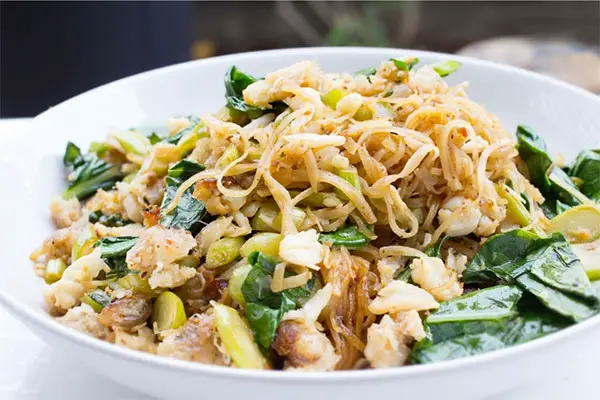 Can You Get Good Thai Food In Lahaina?
Yes, Lahaina is home to some fantastic Thai restaurants. There's a real blend of cultures across Maui, and that's particularly evident in a busy town like Lahaina.
Over the decades, different families and communities have come to call Maui their home. With them, they have bought new cuisines and traditions. 
Although Thai isn't a food traditionally associated with Hawaii, the fresh ingredients and bold flavors fit right in.
Thai Chef provides an authentic experience, Tiki Thai gives it a local twist, and Thai Food by Suri is casual deliciousness. 
Thai food is steadily growing in popularity, which means that while finding a restaurant isn't difficult, you may be in for a wait.
But that just means that all your food is cooked fresh, for your enjoyment. 
For Authentic Thai
Thai Chef Maui
An established restaurant well located on the historic Lahaina Front Street, Thai Chef Maui is an authentic Thai experience. The food is rich with flavor, and the extensive menu means that there's something there to please everyone.
There's even an extensive vegan session, which can be difficult to find in Lahaina. Locally grown herbs and spices gives the food the delicate balance that has kept customers coming back time and time again. They also do a take-out service, so you can get fresh Thai to your door.
This is only a small space, in a popular location. If you want to eat inside, then it's best to get there early or to call in advance.
The seating area is suitable for families, but it really works best as a romantic setting, like honeymooners.
The intimate space and exquisite decorations—even the tablecloths are authentic Thai—create an atmosphere perfect for couples.
Be prepared for a bit of a wait. Take-out orders come in regularly, which can delay the service.
However, the fresh cooked food is worth any delay. Try some Thai classics, such as pad thai or panang curry. You won't find Thai better in Maui.
The big menu allows you to really dip in and try everything, which is the best way to experience Thai Chef Maui. Enjoy after a long day, when you're looking for food to really fill you up.
Open daily, 11am to 9pm.
For A Family Experience
Tiki Thai Lahaina
Tiki Thai Lahaina is a small local restaurant that is family run and full of the aloha spirit. The Tiki theme and Thai food blend to create a perfectly unique experience, with authentic flavors given a Maui twist.
The menu is massive, with plenty of choices ranging from the spicy to the creamy, to keep everyone happy. A great place to try a mixture of Thai classics alongside some fusion cuisine. 
The chef specials show the best that Tiki Thai has to offer, but you can't go wrong with any of the authentic Thai curries.
But make sure to start with the Tiki Tiki Sampler. It's enough for (at least) two, and you can try all the favorites, without the struggle of deciding.
Located not far from Lahaina's Front Street and the iconic Banyan Tree, Tiki Thai is a prime location. Stop in for lunch while you're exploring Lahaina, or after a day out at sea from the nearby harbor.
Open daily, 10am to 10pm.
Best Thai Food To Go
Thai Food by Suri
Don't be put off by the fact that it's a food truck , Suri makes some of the best Thai food on Maui. In fact, this truck is so popular that you may find yourself in quite a long queue.
Food trucks are well established in Maui, and some of the best chefs can be found running their own trucks.
Thai Food by Suri makes classic Thai dishes with local ingredients, fresh to order. Try the drunken opakapaka, paired with a fruity salad. 
As a food truck, Thai Food by Suri offers a relaxed way to eat Thai. It fits perfectly with the island atmosphere, where the concept of aloha permeates every interaction.
This is a place that's popular with locals, and tourists can enjoy soaking up the Maui vibe. The food is incredibly well priced, giving you real quality for even limited budgets
Open daily, 5pm to 8pm.