On Maui, some of the best food comes from food trucks. It's a fantastic way to experience quality food with a local twist.
It's impossible to pick the best food truck in Lahaina, because there's so many of them, and they're all so good. Definitely make time for a taco, and don't forget to search for some local flavors.
Those with an adventurous palate will also find plenty to enjoy. Follow your nose—and this guide—to find the best food trucks in Lahaina.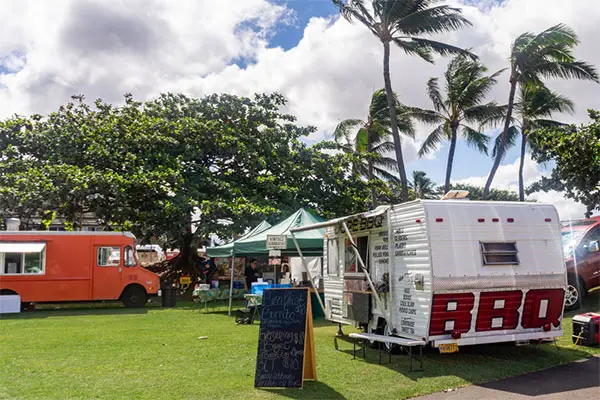 What Makes The Maui Food Trucks So Good?
Good food is good food because of talented chefs and incredible ingredients. Maui is rich with both.
From freshly caught fish to locally reared meats, fruits bursting with juice and crisp summer vegetables, Maui has it all.
And with scenery as beautiful as a Hawaiian island, no one wants to be stuck eating indoors.
Food Truck Hours
The food trucks of Lahaina are often family run or small local businesses. That means that while they do have set hours, there's also a tendency for sudden closures.
Also, be aware that the best food trucks use fresh local ingredients, which have a habit of running out.
Call ahead to avoid disappointment.
Where To Find Food Trucks In Lahaina
Food trucks are scattered all over the place in Lahaina, but most of the best are located in parking lots.
Food trucks often come together, so be sure to look around to see everything the lot has to offer. 
For Tacos
Ono Tacos Lahaina
Ono Tacos has made a name for itself as doing some of the best fish tacos in Maui, which is a competitive market. The fish are right out of the ocean, cooked to flaky perfection, and loaded with toppings.
The large range of salsa is a particular strong point, and what keeps many satisfied customers coming back for more.
Enjoy with a beer from the nearby Kohola brewery, and appreciate a break from the crowds.
For Filipino Food
Kusina Ni Jayboy
If you only have time for one thing from Kusina Ni Jayboy, make it the pork belly. It's a classic Filipino dish, and Kusina Ni Jayboy does it like no other.
Everything is made fresh to order, so be prepared for a potential wait.
For Local Flavors
Aloha Braised
If you want a real taste of Maui, then Aloha Braised is the best place to try. Forget the fancy restaurants. This small food truck has everything you need, and lots of it.
An inexpensive truck with a diverse menu and big portions, Aloha Braised is local food at its finest. We recommend the hurricane chicken or the garlic shrimp.
Hours can be short, so try to get in early.
For Fresh Fruit
Baya Bowl
Fresh fruit is one of the things that Maui does best, and Baya Bowls use lots of fruit to create their delicious açai bowls.
Add pineapple and macadamia nuts for a real Maui treat, and enjoy a cold meal that keeps you full on a hot day.
The word you hear most when it comes to Baya Bowls is fresh: fresh fruit, on a fresh base, packed with fresh flavor.
For Asian Fusion
Edge Maui Food Truck
It's hard to miss Edge thanks to the eye-catching truck design and the long line of locals.
The Asian fusion food has a reputation for being some of the best on the island, with a mixture of dishes to suit every taste.
Both seafood and meat based dishes are incredible, with the chicken katsu being a particular favorite. Loaded up with vegetables, Edge is a healthier food truck option.
Fresh ingredients and short opening hours mean you have to get there early.
For Spicy Food
Thai Food by Suri
Another food truck which can be identified by the queues, Thai Food by Suri is a popular spot for locals and tourists. It's easy to see why. The menu emphasizes Thai flavors made using local ingredients.
Anything opaka is worth trying, from the drunken stir-fry to the papaya salad, and the Thai iced tea makes a refreshing drink. Friendly staff are on hand to make your order to your liking.
For A Sweet Tooth
Manuela Malasadas
Malasadas are deep-fried Portuguese donuts that came to Hawaii with the Portuguese plantation workers.
They're now a classic sweet treat of the island, and the best place to get them is fresh from Manuela's food truck.
Try them dusted with li-hing, a tangy sugar, and filled with a fresh island fruit.
For Breakfast
TaguerEATa
TaguerEATa is a surprising gem of Lahaina. A small family company which does exceptional Mexican food, TaguerEATa's early morning opening makes it the perfect place to get a breakfast taco.
Lahaina harbor offers many options for a boat trip, and a large taco from TaquerEATa is sure to provide the fuel needed for a busy day on the waves.
Come back at lunchtime to experience the fish taco, and enjoy a stop away from the crowds of Lahaina.
For Burgers And Family Favorites
Sparky's Food Truck
Sparky's created their menu around the concept of ohana: family. The meals are made using old family recipes, large portions of stick-to-your-ribs food using local flavors and ingredients.
The "hammah burger" is a local favorite, which people often travel across the island to try.
If you're feeling particularly hungry, try one of the smoked meat plates. 
For Sushi
Koko's Grindz
When you have access to fish fresh from the ocean, sometimes the best thing you can do with it is nothing at all. The sushi from Koko's Grindz is restaurant quality, thanks to the local ingredients and expert preparation.
Japan has had a huge influence on Maui culture, and you can really feel the two blend together at Koko's Grindz's food truck.