Japanese food has been growing in popularity on Maui ever since Japanese workers came to the island in the 1900s. Sometimes, the perfect way to complement a day spent by the ocean is with a big serving of sushi.
Sushi in Lahaina is fantastic because it's made using some of the freshest seafood around. Combine imaginative chefs, a strong Japanese heritage, and the perfect ingredients source, and you have a recipe for high quality sushi.
In Lahaina, sushi is a popular dinner item, so there are plenty of restaurants to fill your sushi craving.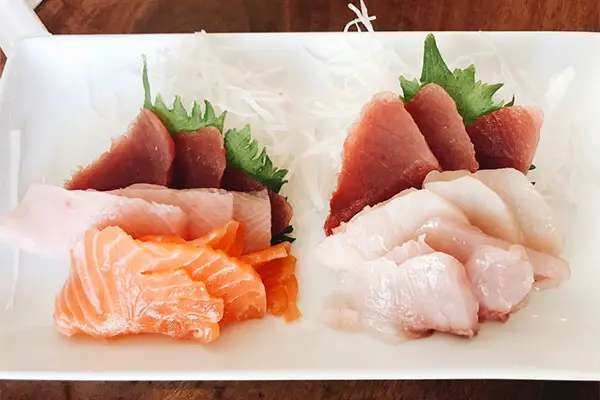 Can You Get Good Sushi In Lahaina?
You can get some incredible sushi in Lahaina, a town that's rich with culture and cuisine. When numerous Japanese immigrants came to Hawaii in the 1900s to work on the plantations, they brought with them Japanese food.
This adapted well to the natural produce of Hawaii. Abundant seafood in the sparkling water surrounding the islands was perfect for making sushi, which could come fresh from the boat to the plate.
Over time, this connection has only grown. Sushi is incredibly popular with both tourists and locals alike in Lahaina. When fish is this fresh, eating it sashimi style is the best way to preserve the texture of the meat. 
Best Sushi Menu
Miso Phat
Hidden away in a shopping complex, it's easy to overlook Miso Phat. However, in doing so, you miss out on one of the best sushi restaurants on Maui.
The massive menu is packed full of local produce prepared in an authentically Japanese manner. Quick service by talented chefs means you get your rolls fast, and the presentation is fantastic.
The best way to enjoy Miso Phat is with a big appetite, so you can sample from across the menu.
Make sure to try some baked rolls, and keep an eye on the chef's specials. Miso Phat is also a bring your own booze restaurant, so stop to get some local brews before heading in.
Miso Phat is so popular that it even has a range of clothing for sale. Once you've eaten there, you'll probably want to tell everyone about the experience, so head along to the gift shop before leaving. 
Open Monday to Friday 11.30am to 9pm, Saturday and Sunday 3pm to 9pm.
Aloha Spirit
Lahaina Sushi Ko
Right at the heart of Lahaina town is this incredible sushi restaurant. Lahaina Sushi Ko is focused on providing delicious food with aloha spirit service.
The large menu gives you plenty to choose from, combining traditional Japanese flavorings with local Hawaiian ingredients.
Everything is served with exceptional presentation, combined with an intimate atmosphere, creating a great place for couples (especially honeymooners). The restaurant is small, so either get there early or try booking in advance to schedule a date night. 
The location really is fantastic, sitting on the famous Lahaina Front Street, and surrounded by art galleries.
Tables are located in an outdoor courtyard, which soaks up the atmosphere of the area. It feels gently removed from the crowds of Lahaina, without actually being distant. 
Make sure to order some sashimi, which is cut beautifully, but the real focus of Sushi Ko are the rolls. The caterpillar roll is a fun treat, and the volcano roll is another specialty.
Portions are large, so you may need to take some home with you. However, everything tastes so good, it's no surprise when there's nothing left.
Open daily, 3.30pm to 9pm.
Sushi With A View
Japengo
Located in the Hyatt Regency Resort and Spa, Japengo is infused with the same quality as this luxury hotel. Although it is an expensive location, all the fish is sourced ethically to ensure the continued health of Maui's incredible oceans.
The sashimi is perfectly sliced, and feels like butter on the tongue. Incredible views from the large windows and a well-designed interior make this a romantic spot for a special occasion.
Japengo is an exclusive restaurant, so you must book in advance if you want a table. If you're heading to Maui for a vacation, it's recommended to call ahead of the trip.
Open daily, 5pm to 9pm.
An Authentic Japanese Experience
Kobe Japanese Steak House And Sushi Bar
Kobe Japanese Steak House and Sushi Bar is a traditional Japanese experience. The menu focuses heavily on nigiri and sashimi: thin slices of meat, often served raw.
Although their sushi rolls are fantastic, the best thing about Kobe is trying the incredible range of seafood.
Pair your fish with some hot miso soup, or try one of the long specialty rolls.
The sushi bar is a teppanyaki restaurant, which means you have the exciting experience of seeing your food cooked in front of you. It adds to the vibrant atmosphere at Kobe, creating a welcoming and friendly space.
Great for families looking for Japanese food.
Open daily, 5.30pm to 10pm.
Best Food Truck Sushi
Koko's Grindz
A food truck may not be the most obvious place to get sushi, but on Maui, food trucks are the highest quality. Koko's Grindz is a friendly space with an ever evolving menu that grows to incorporate what's fresh and available.
This laid-back truck offers a chance to sample the best seafood of Lahaina, at a reasonable price with a relaxing vibe.
Get away from the crowds at Koko's, and come back regularly to see what's on the menu next.
Opening hours are subject to change.
Smash Maui
Casual sushi with a vibrant atmosphere, you can often locate the Smash Maui food truck by the queues. Despite that, service is quick, and everything is served with aloha.
Watch the ever-changing menu for when the tempura rolls are for sale, and don't forget to try a bit of poke.
Smash combines traditional Japanese flavorings with the island vibe that makes Lahaina so special. Sit outdoors and soak up the atmosphere while snacking on fresh fish from oceans right in your eye line.
Open 5pm to 9pm, Thursday to Monday. Closed Tuesday and Wednesday. Opening hours can vary.