Imagine a weekend getaway in paradise, with Kaanapali Beach, Whalers Village, and Honolua Bay just a short walk away. The Hyatt Regency offers all of the above to create an experience like no other.
With so much to experience at Hyatt Regency Maui, you will rarely find yourself bored—even if you choose to stay at the resort by either one of its two pools.
What says "vacation" better than relaxing under the sun by the pool?
Below we're answering all of your questions about the Hyatt Regency's pool.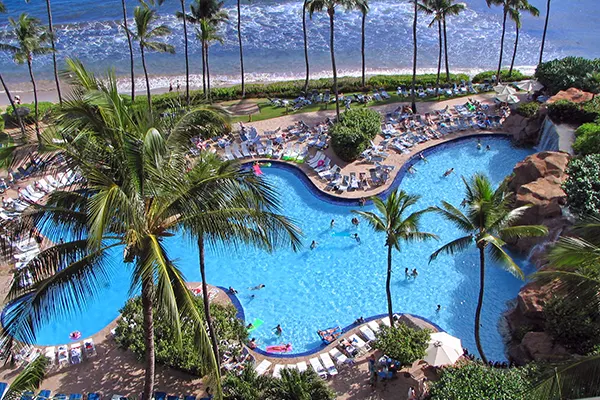 What Is Special About Hyatt Regency Maui Poolside?
Hyatt Regency Maui has all that a vacationer yearns for. If you're traveling on business then Hyatt Regency Maui's pool sides are the perfect spots to unwind after corporate dealings. And it's fun and exciting for families too. Children have plenty to do while their parents relax.
The pool has many amenities, including a Grotto Bar, oceanside seat supplies, laundry service, and poolside assistance. The Atrium tower close by the pool offers a glimpse of the Hyatt's resident wildlife—mainly their penguins.
The 150-foot water slide gives both adults and kids a thrilling adrenaline rush, swooshing down into the pool below. Two such opposing slides are located in the resort's center.
The resort also provides complimentary towels to guests.
How Many Pools Does Hyatt Regency Maui Have?
Hyatt Regency Maui has two large pools called Napili and Lahaina Pool. For guests looking for calmer waters try the Lahaina Pool.
Whereas the Napili pool has a 150-foot enclosed waterslide and a hanging rope bridge. For an exciting swim to boost your adrenaline, have a go at Napili pool.
The two pools are separated by a swim-up bar and waterfalls. For children, there is a 3,000-square-foot sandy play area near the poolside with drinking fountains and a tiny slide.
The pool also has dining options, including a poolside café. The poolside is often used as a meeting place for casual business meetings.
What are Hyatt Regency Maui's pool hours?
The pools at Hyatt Regency Maui are functional 24/7.
However, some surrounding facilities have specific working hours. The waterslide by the Napili pool is accessible until 6pm while oceanfront cabanas and daybeds require early booking.
The pool is rarely crowded, so no need to set your alarms for an early swim.
Does Hyatt Regency Maui Have A Pool For Kids?
Yes, the children's pool is called Keiki Lagoon ("keiki" meaning "kids"). This pool is located by Napili Pool, a short walk from both Napili and Atrium Towers. The pools at Hyatt Regency Maui are one of their most popular attractions among families.
The kid-friendly pool has several fountains and a splash area to keep the little ones entertained. The shallow waters are ideal and safe for kids, with a lifeguard present at all times.
If the children feel parched then make your way towards Ululani's Hawaiian Shaved Ice located a short walk south of Lahaina Pool.
Is There A Beach-like Play Area In Hyatt Regency Maui?
Yes, the resort offers several poolside activities to its guests. Children may participate in Hawaiian-themed activities such as lei creation and hula training at Camp Hyatt. For youngsters aged 5 to 12, Camp Hyatt is open from 9 a.m. to 3 p.m. and 5 p.m. to 10 p.m. daily.
The resort also has mermaid classes for children and adults alike. These lessons include safety instructions, photography, and your own tail!
Group swim lessons are available for the whole family, each group gets its mermaid instructor. The mermaid lessons need to be booked in advance and cost between 89 to 129$.
Are Pets Allowed In Hyatt Regency Maui's Pools?
No, pets are not allowed near the resort's pool including service animals. Although Hyatt Regency Maui is a pet-friendly resort and spa, their pet policy only permits dogs weighing 50lbs or less, excluding service animals.
If you plan on bringing your furry friends along for the vacation, make an inclusive reservation for your pet three days in advance before arriving at the resort.
The pets are not allowed in restaurants and pools, they must also be kept on a leash at all times outside of your rooms.
Guests are allowed to keep two dogs in their guestroom, provided their combined weight equals 75 lbs. Additionally, the resort also requires that guests be present in their rooms with their pets at the time of room service.
Are There More Pools In Hyatt Regency Maui?
Yes, the Wailele Lagoon and Maluhia pool are located on resort grounds. These pools are an exclusive amenity of the Hyatt Residence Club and are not open to regular guests. These pools are located on the northernmost end of the resort, behind Napili Tower.
The Wailele Lagoon is the main pool and has waterfalls, pools, and slides. There is a sandy-zero entry pool for children as well. This pool also has two jacuzzis in the middle of the lagoon.
The Maluhia pool is an adults-only infinity pool, swim to the edge of the pool and sip on refreshments from Pau Huaka'i Tiki Bar located in front of Wailele Lagoon.



Other Places To Stay In Maui
We've written quite a bit about all of Maui's available lodging, and continue to do so, but we wanted to share a few more places to stay from our friends at Booking.com. 
A Resort Stay: The Four Seasons Resort in Wailea is the cream of the crop of resort stays, with restaurants, ocean views, an on-site spa, and the Shops at Wailea are just down the road. Couples particularly love The Four Seasons!
Bed and Breakfast: Sometimes, it's all in a name, and Adventure in Paradise is exactly what it sounds like, located in Haiku on Maui's north shore. Wake up to a 180 degree view of Haleakala summit every morning from your private patio.
Hotel: The highly rated Maui Sunset hotel combines laid-back atmosphere and the beach of Waipuilani Park. Also, it's only 1.7 miles from the Elleair Maui Gold Club!
Vacation Home: Find your home away from home at Puu Koa Palms, six minutes from Hookipa Beach, and near the Hana Highway. Also particularly great for couples!
Villas: If you're looking to vacation in style with your own villa try the Andaz Maui, which include all the expected amenities along with grills and plunge pools.