On Maui, food trucks aren't just burgers and hot dogs served at fairgrounds and parks.
When you come across a food truck on Maui, it's likely to be serving quality food from a diverse array of cultures. (And you can also get some good burgers and hot dogs.)
Talented chefs on Maui make the most of the sunny scenery by taking their skills to the food truck. Read on to find our top picks from across the island.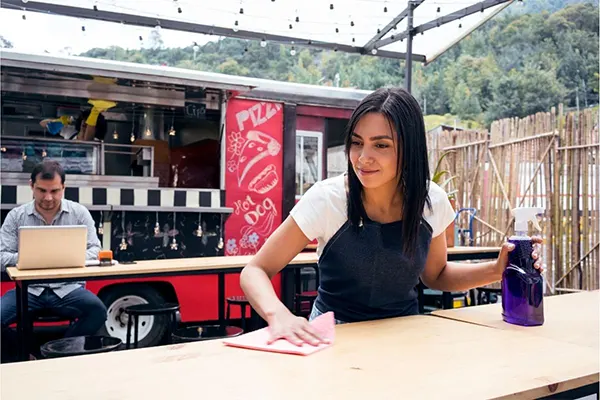 West Maui
Earth Aloha Eats
Plant based, vegan, and organic, Earth Aloha Eats has become a top eating spot for those looking for something fresh.
At first glance, you might think the menu was packed with meat. But the secret to Earth Aloha Eats is that everything, including the pulled pork and grilled chicken, is vegan.
They also do a surprisingly delicious crème brûlée for dessert. 
Open daily from 11am to 8pm.
TaquerEATa
TaquerEATa is one of the best places on Maui to grab a fish taco. Inexpensive and freshly made, their fish tacos come with homemade sauces that taste authentically Mexican.
If you fancy something with punch, make sure to order the Three Alarm Taco. It will blow your head off, but in a good way. 
(TaquerEATa also made our list for Lahaina's best fish tacos!) 
Opening hours not available.
South Maui
Kina'ole Grill Food Truck
Located right outside Kamaole Beach Park, Kina'ole Grill Food Truck does beachfront dining with a laid-back Kihei twist.
The plate lunches are absolutely incredible, cooked while you wait, and generously served.
Pretty much everything on the rotating menu is worth a try, but the coconut shrimp is particularly good, and the guava BBQ sauce is irresistible.
Open daily from 11am to 9pm.
Kraken Coffee
Kraken Coffee might not serve food, but we still think it's a truck you'll want to take a look at.
Particularly if you're having an early start on the Road to Hana, or returning from a sunset hike up Haleakala.
Kraken Coffee serves—you've guessed it—coffee. But this is really, really good coffee. Get it hot or cold, and try some of their seasonal drinks for something a little different. 
(On a related note, are you looking for the best Kona coffee?)
Open daily from 6am to 7:30pm.
Brekkie Bowls
Combining local ingredients with an aloha attitude, Brekkie Bowls is breakfast food for when you plan on having an exceptional day.
The açai bowls are customizable, so you can pack them full of all the flavors and superfoods that your body needs to fuel you up for exploring Maui.
Made using local, organic produce, Brekkie Bowls are as bright and cheery as a Maui morning. And the smoothies are incredible as well.
The "I Feel Blissed Out", featuring peanut butter and chocolate fudge, tastes decadent, but is still good for your body.
Open Tuesdays at Wailea Village Farmers' Market.
Outrigger Pizza Company
Traditional wood firing and vibrant Maui toppings are combined at Outrigger Pizza Company, a food truck that turns pizza making into an art form.
There's a lot you'll want to try, but we have to recommend the Lilikoi Pork.
It sounds like it's going to be awful, combining salty pork with sweet lilikoi, but instead it's a delicious update on the classic Hawaiian. 
Open Monday to Saturday, from 11am to 8:30pm.
Vidad's Local Kine Grindz
Vidad's Local Kine Grindz serves Hawaiian and Filipino fusion foods, popular with both tourists and locals. Go for classics like Adobo fried rice, or try Hawaiian style garlic noodles.
There is a lot on the menu, so take your time to browse (and then come back the next day for something else). 
Vidad's is also one of the best places for halo-halo, a Filipino dessert made from layers of shave ice and condensed milk. It's just the right amount of sweet, and the refreshment you need on a warm but busy day.
Open Monday to Saturday from 11am to 6pm. 
Kahului And The North Shore
Thai Mee Up
Want to try some of the best Thai food on Maui? Then you need to head to Thai Mee Up, a Kahului food truck conveniently located near Costco.
Thai Mee Up serves classic Thai dishes, such as pad thai and panang curry, that taste restaurant quality.
Take a look at their specials board as well, to see what perfectly spiced treat is on the menu that week.
Open daily from 10am to 8pm.
Mo 'Ono Hawaii
Mo 'Ono Hawaii believes that they've crafted the perfect açai bowl, and many of those who've tried it agree.
Not too tart, not too sweet, but somehow still packed with flavor, Mo 'Ono serves food with Maui zing.
We recommend paying extra for the premium toppings, so you get a chance to try their homemade lilikoi butter, and some added poi.
Variable hours.
Like Poke?
Like Poke? Of course we do. And Like Poke? is one of the best places to try this Maui favorite.
If you've just arrived on the island, head to this food truck located minutes away from Kahului airport, and discover what makes this Hawaiian dish so great.
And if you're already a poke fan, you'll love exploring what Like Poke? has to offer.
Open daily from 10am until the food runs out.
Kalei's Lunch Box
A warning before you take a trip to Kalei's Lunch Box—you're going to wish your office lunch tasted like this every day.
Kalei's plate lunches are hearty, stick to your ribs style food. Filling and comforting, without being greasy. For big appetites, we recommend Da Big Kahuna.
Open Wednesday to Sunday from 10am to 4pm.
Geste Shrimp Truck
You can eat a lot of seafood on Maui, but Geste Shrimp Truck is famous for serving the best and the biggest shrimp.
You can identify the truck thanks to the massive pink shrimp painted in the side, which gives you a good idea of what you're getting.
The menu is brief, but at Geste, it really is all about the shrimp plate. 
Open Monday to Saturday from 10am to 7:30pm, Sunday from 10am to 6pm.
Final Thoughts
You can get breakfast, lunch, and dinner from a Maui food truck, and grab a snack to eat whenever you might get hungry.
These are some of our favorites, but the joy of the food truck is spotting new places to try on your travels. That, and eating restaurant quality food sitting on a beach picnic bench.