Does anyone know good seafood better than fishermen?
That was the thought behind Isana Maui, a sushi and seafood restaurant operated by fishermen.
With an extensive sushi menu that puts the focus on local Hawaiian ingredients, we think they might be right. 
Thinking of eating at Isana? Take a look at our guide for everything you need to know.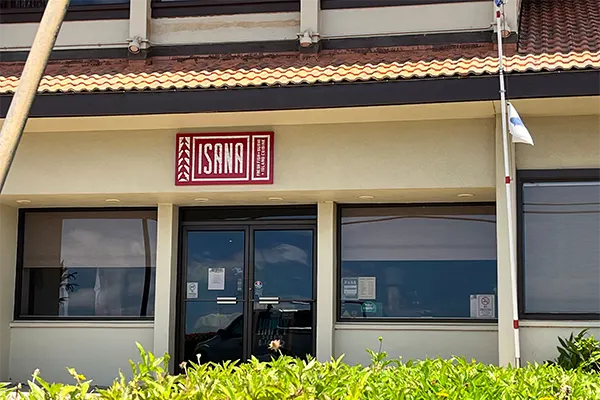 Where Is Isana Maui?
Isana Restaurant has been a North Kihei staple for several decades, serving consistently good sushi across the years.
Located near the top end of South Kihei road, just at the edge of Mai Poina Beach Park, Isana is a casual spot for excellent sushi, ocean views, and a relaxed atmosphere.
Out of the way of the major Maui destinations, Isana attracts visitors by serving freshly caught fish with traditional island flavors.
A North Kihei institution, Isana has undergone some changes in the past few years thanks to new ownership.
Isana has been modernized, with the Korean Barbecue menu dropped in favor of a focus on fresh and local.
Under owners Christine and John Arabatzis, Isana has been revitalized to showcase the natural resources of Maui.
Isana Maui is open daily from 3pm to 10pm, with Happy Hour every day from 3pm to 5pm, and 9pm to 5pm. 
(Not near Isana but still want sushi? Check out our guide on the best sushi in Kihei!)
What's On The Menu At Isana Restaurant Maui?
Seafood and sushi is at the heart of Isana, a restaurant operated by fishermen.
Fresh fish is transformed into buttery nigiri or tasty sushi rolls, bringing you a mixture of traditional choices and modern flavors.
You can get a three-course meal at Isana, with starters and desserts offering the same focus on island-local as the rest of the menu.
If you're ordering sushi, start with something from the oyster bar.
As for what to eat, the best thing on the menu tends to change each day. Supplied by local fishermen, the Catch of the Day is as fresh off the boat as seafood can get.
We also recommend tucking into one of the Specialty "Big" Rolls.
The Rainbow is our favorite, but there are a lot of good options to choose from.
The plating is also fantastic, proving that you really do eat with your eyes—you'll want to get stuck in right away.
Isana is all about the sushi, but there are a few offerings for non-seafood lovers.
And while the meat menu may be reduced, it's well-thought-out with the focus on Hawaiian flavors.
The Island Pork ramen is particularly good. Vegetarians, however, might struggle to find something to eat, although there are some standard veggie rolls.
The drink menu is equally impressive, particularly for sake fans.
Or you can complement your island food with some Isana specialty cocktails.
The Li Hing Mui Mango Margarita is a fun and zesty take on a classic. 
What About The Isana Restaurant Happy Hour?
If there's anything better than sushi and cocktails, it's discount sushi and cocktails.
Isana is home to some of the happiest hours on Maui, offering deals on drinks and food between 3pm and 5pm, and then again at 9pm to 10pm. 
Not everything on the menu is reduced, but you can get a good discount on quite a few of the classic and hand rolls.
There's also 40% off the market price of Big Eye Tuna Sashimi, so this is one of the best times to try the buttery, luxury fish.
There's also some decent main kitchen crowd pleaser deals, making Happy Hour a good time to bring the family to Isana (particularly if some members aren't big sushi fans). 
The drinks deals are sure to make you smile at the Isana Happy Hour.
An Isana Margarita is less than $10, and the draft and bottle beer prices become among the best on Maui. 
As Isana is at the top end of Kihei, the afternoon Happy Hour is a good stop as you head on home after a long day.
The open seating area means that even when the bar is busy it never feels packed, and you can enjoy your rolls and sake in an informal setting.
How Much Is A Meal At Isana Maui?
Isana offers mid-range prices for their sushi.
There are cheaper rolls elsewhere on the island, but at Isana you're paying the average price for high-quality ingredients.
A classic roll will set you back roughly $15, while the average price for the Specialty "Big" Rolls is closer to $25.
Entrées are also reasonably priced and cost an average of $20 to $30.
If you want a better deal, it's worth checking out the Isana Happy Hour, which is from 3pm to 5pm and 9pm and 10pm. 
A couple dining at Isana could get a decent meal for under $60, including drinks. 
Do You Need A Reservation At Isana Maui?
Reservations are rarely necessary at Isana, as the spacious restaurant has seating for many.
However, they do take reservations, so you might prefer to call ahead, particularly if you're part of a large party.
To make a reservation, check out the Isana website.
Isana has an airy seating area with streamlined décor creating a laid-back Maui atmosphere.
The best seats in the house are definitely by the large windows, which let in light and ocean views.
For an ocean facing table, it's best to turn up early or to make a reservation. 
Does Isana Maui Offer Takeaway?
Yes, Isana does offer a takeaway option. This can be ordered online and picked up from the restaurant.
They do not offer delivery.
You can schedule a pickup time for later, allowing you to put the order through early and carry it out when you know you'll be hungry.
Should You Visit Isana Maui?
There are some exceptional sushi bars on Maui, and Isana is one of our favorites.
Freshly caught fish means the menu is constantly evolving and changing—you can visit two nights in a row, and have two completely different meals.
The focus on island flavors, combined with the ocean views and laid-back North Kihei vibe, makes Isana a top choice for family-friendly sushi.