Kaanapali Beach covers three miles of Maui's northwest coast, offering space to swim, surf, paddleboard, sunbathe, and much more.
Although there are many beautiful establishments near Kaanapali, it does not trample on the natural features of Kaanapali beach. It is a magnificent place to see many diverse sea creatures.
Moreover, the waters are shallow, making it a great place for swimming and snorkeling.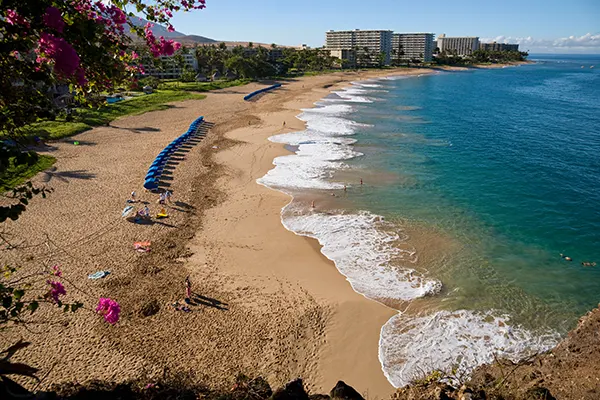 How To Get To Kaanapali Beach
Kaanapali Beach is close to globally known restaurants and hotels, including the Whalers Village, an open-air shopping complex. Moreover, a few snorkeling and whale watching trips depart from the beach.
The beach is north of Lahaina, and you can reach it by car through the Honoapiilani Highway.
There is limited parking around Kaanapali Beach, yet you have a high chance of finding a parking spot in Whalers Village. Though public transportation is limited, it is still an option.
Some buses offer services between Lahaina and Kaanapali and between Kapalua and Kaanapali.
Is Kaanapali Beach Good for Swimming?
One of the most famous beaches on Maui island is Kaanapali Beach because of its crescent-shape and vast white sand beach.
Not only is Kaanapali Beach vast, with its fluffy and soft sand, making it an ideal place for sunbathing, but its sandy bottom makes it a perfect location for swimming.
Moreover, snorkeling is another option you can try at Kaanapali, and Black Rock is the best place to do so.
Kaanapali Beach is a site where you can do different ocean activities. You can sunbathe, swim, snorkel, surf, use a paddleboard and ride on inflatable rafts and beach chairs.
Is it Safe to Swim at Kaanapali Beach?
When exploring Maui island as a visitor, you will experience many different things new to you. To keep you safe while in Kaanapali Beach, keep in mind the safety tips below:
1. "Never turn your back on the ocean!" That is a famous phrase that the surf legend Duke Kahanamoku always uses. Why? That is because you must look out for dangerous waves and learn to respect the sea or ocean. Not following this rule may cause accidents while in the water.
2. If you are unsure of swimming, do not do it. The ocean can be unpredictable sometimes and it may pose some dangers. Note that the ocean covers 71 percent of the Earth, making it a potent element. Swim when you are confident and sure that it is safe to do so.
3. If you decide to go snorkeling, do not go alone. It is a best practice to swim with a partner so you can watch over each other in case of trouble. If one of you needs help, the other can help.
4. Take every safety signage seriously. When in Kaanapali beach, heed all warnings and safety signage. The DLNR (Department of Land and Natural Resources), Department of Agriculture, County of Maui, U.S. Coast Guard, and the Hawaii Lifeguard Association have posted warning and safety signages across Maui island. These signages could be about brown water, shark sightings, strong waves, etc.
5. Use the right equipment. You must also plan the correct gear to use when swimming for your safety. Also, make sure the gear you use fits you well, so you are comfortable when swimming. Not wearing the correct size can be dangerous.
6. Do some research about Kaanapali Beach and always check the news for weather reports. You can use that information to avoid danger and maximize your day on the beach.
7. Do not swim when the water is brown. Unfortunately, there are instances when water becomes brown in Hawaiian beaches for several reasons, such as development waste, forest fires, agricultural waste, and more.
Can You Swim with Turtles at Kaanapali Beach?
Yes, you can enjoy swimming with turtles at Kaanapali beach. However, know that green turtles are under the protection of the federal government. Therefore, it is illegal to harass or harm them.
You will be penalized even just for touching or feeding them. So, keep your hands to yourself! 
You can face up to a $10,000 dollar fine for breaking the rules.
Also, note to use reef-safe sunscreen because some sunscreens have chemicals that can poison marine life. If you forget to bring some there are many available reef-safe sunscreens in stores near the beach.
The best location to see green turtles in Kaanapali Beach is at Black Rock near Sheraton. That is because turtles usually eat seaweed from rocks, especially when high tide.
How Deep is the Water at Kaanapali Beach?
The Black Rock at Kaanapali Beach is a cliff shaped by old lava. It is where cliff divers love to jump or adventure seekers spend time swimming and snorkeling.
And Black is a well-known snorkel spot on Maui. The depth of its water ranges from 8 to 25 feet, especially when you reach the endpoint of Black Rock.
The water may drop to about 15 feet deep during low tide.
You will discover different kinds of turtles, fish, and corals underwater. If you want to swim near Black Rock, ensure you have the correct gear to be safe, and always go with a buddy.
Kaanapali Beach is a great place for swimming, snorkeling, cliff diving, body surfing, skimboarding, and more. It has become somewhat commercialized in recent years, but the government and the locals of Maui make sure to protect the wildlife so you can enjoy nature at its best.
Its many facilities, such as the Whalers Village, restaurants, bars, and shops, will keep you entertained throughout your visit.
Whatever your plans are for your vacation, whether you want to swim or relax, you will feel at home at Kaanapali Beach.