Maui is a fantastic vacation spot. It retains a lively ambiance as well as the refinement of big-city life.
This is particularly true in the bustling Wailea region.
You're already in the lap of luxury when you visit Maui, so why not take it a step further and choose the finest hotel for your stay?
Unfortunately, it can be hard to choose the best hotel because many options exist. Many people are conflicted on the choice to make between the Grand Wailea and Ritz Carlton Maui, and for good reason.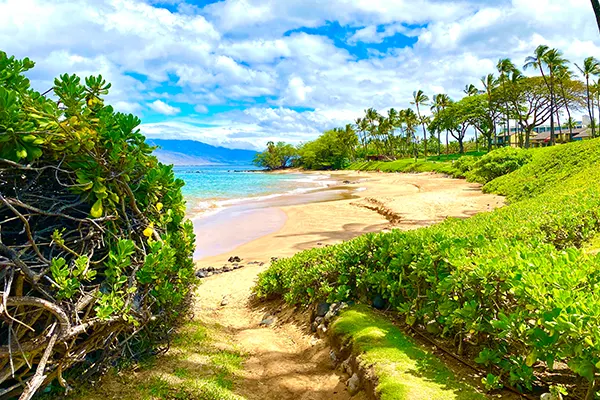 Key Information About the Grand Wailea
The Grand Wailea rests on 40 acres of coastal property. It has 787 rooms. There are nine pools at this resort and 40 treatment rooms. It has seven bars and eateries on the premises. In other words, the Grand Wailea is a massive hotel that's a destination in and of itself.
The Grand Wailea does not take art lightly. Every Thursday, you may take an outdoor painting class. Meanwhile, you can learn about light and composition in a Wednesday photography class.
The Grand Wailea's design is a wonderful match for the breathtaking scenery: the onsite white chapel and fountains provide beautiful photo backdrops. The botanical gardens are tranquil and a welcome break from the afternoon sun.
The pools at Grand Wailea feature…
rope swings,
hot tubs,
slides,
a lazy river,
a water elevator,
six waterfalls,
and a swim-up bar.
There's also a "beach" where babies and toddlers can play.
The Wailea Canyon water park, on the other hand, contains a water elevator, waterfalls, water slides, children's pools, caverns, sand beach, and a swim-up bar.
The Grand Wailea Spa offers a comprehensive range of body treatments, aesthetics and massage services. There's also a hydrotherapy bath circuit at their spa.
There is a separate adults-only pool and sun patio. Guests get access to a cutting-edge fitness center. Children can participate in lei-making, crafts, and video games in a separate activity center.
The Grand Wailea caters to the needs of the entire family.
Key Information About Ritz Carlton Maui
The Ritz-Carlton Maui, Kapalua offers luxury accommodations situated within 22,000 acres of pure wide-open paradise.
There are miles of hiking paths, nature sanctuaries, and six beaches to relax.
Exploration is encouraged with championship golf, special experiences, and locally inspired meals.
Spacious residences with all the conveniences of a home provide the ideal setting for a delightful vacation.
The 466 freshly remodeled hotel rooms, club-level accommodations, and suites have dark wood floors, island-modern décor, and marble bathroom designs.
There are six dining options at the resort, including fresh seafood, pacific cuisine, and local products from the resort's sustainable organic garden.
Their spa offers treatments inspired by Hawaiian traditions and a variety of body treatments, facials, and massages. Also, there is a fitness center with cardio equipment and daily fitness classes.
Some of the leisure activities here include…
tennis courts
swimming
surfing
boogie boarding
kayaking
sailing
outrigger canoeing
basketball
stand-up paddling
You can also find whale viewing, hiking, snorkeling, and other activities.
Rooms: Grand Wailea vs Ritz Carlton Maui
Grand Wailea Rooms
The Grand Wailea has rooms of various sizes and styles.
A mini-fridge, a Keurig coffee machine, Wi-Fi, a 55-inch HD TV, tub, and a walk-in bathroom are among the amenities.
Suites: the Grand Wailea suites are recognized for their spaciousness. These rooms have separate bedrooms and living areas. They also come with a private lanai with stunning views.
Villas: in the Grand Wailea, there are three luxury villas. Each of them has distinct living areas, a luxury kitchen, numerous bathrooms, and a garage. They also feature a private lanai with a grill and spectacular views.
Ritz Carlton Rooms
There are numerous types of rooms to choose from at the Ritz Carlton resort. All rooms come with a bedroom, kitchen, sitting space, spacious balcony, and incredible interior designs.
Among the furnishings and conveniences that you will find at the Ritz Carlton are kitchen utilities, attractive rug areas, dark wood floors, and furniture. The bathrooms have a tub and a shower.
The different types of rooms at Ritz Carlton include;
View Mountain Rooms:
One or two Bedrooms, ideal for families
Partial kitchen
Separate living room
Partial Ocean View Rooms:
One or Two Bedroom
Partial kitchen with eat-up bar
Oceanfront View Room:
Sweeping views of Pacific Ocean
Full kitchen
Living room
Pros and Cons of the Ritz Carlton
Pros
The resort offers many activities
A shuttle for transportation to nearby beaches, restaurants, shopping, and golf courses.
Cons
You should be aware that Kapalua does not have Wailea's bustling vibe. If you're looking for more of a lively scene, this area could feel remote.
Getting to the rooms can be challenging since the resort has two wings that are not connected.
Pros and Cons of the Grand Wailea
Pros
The Grand Wailea supports the whole family's needs. A children's activity program includes lei-making, crafts, and video games in a dedicated space.
It has a water park.
A separate adults-only pool and sun terrace provides respite for adults.
Cons
This is a massive resort. If you're looking for a quiet, boutique vibe, you might feel overwhelmed.
There are always children and many tourists at the resort.
Which is better; Grand Wailea or Ritz Carlton?
At the end of the day, both of these resorts are great, and a stay at either of them is definitely worth it.
They both have their pros and cons, and the best way to determine which resort is best for you is to take a look at the features of each and compare them to your specific needs.
The Grand Wailea is incredible for the whole family though it's almost always full, while the Ritz Carlton is great if you want to engage in many outdoor activities.
Other Places To Stay In Maui
We've written quite a bit about all of Maui's available lodging, and continue to do so, but we wanted to share a few more places to stay from our friends at Booking.com. 
A Resort Stay: The Four Seasons Resort in Wailea is the cream of the crop of resort stays, with restaurants, ocean views, an on-site spa, and the Shops at Wailea are just down the road. Couples particularly love The Four Seasons!
Bed and Breakfast: Sometimes, it's all in a name, and Adventure in Paradise is exactly what it sounds like, located in Haiku on Maui's north shore. Wake up to a 180 degree view of Haleakala summit every morning from your private patio.
Hotel: The highly rated Maui Sunset hotel combines laid-back atmosphere and the beach of Waipuilani Park. Also, it's only 1.7 miles from the Elleair Maui Gold Club!
Vacation Home: Find your home away from home at Puu Koa Palms, six minutes from Hookipa Beach, and near the Hana Highway. Also particularly great for couples!
Villas: If you're looking to vacation in style with your own villa try the Andaz Maui, which include all the expected amenities along with grills and plunge pools.