Everywhere on Maui has something to offer, so choosing the right resort is both simple and quite difficult. S
Simple, because no matter where you end up, there's something to love; and difficult, for the same exact reason.
Wailea is one of the first places mentioned in almost any discussion about visiting Maui, with Kapalua a less popular option.
But there are some compelling reasons to visit both, making these similar towns tricky to choose between.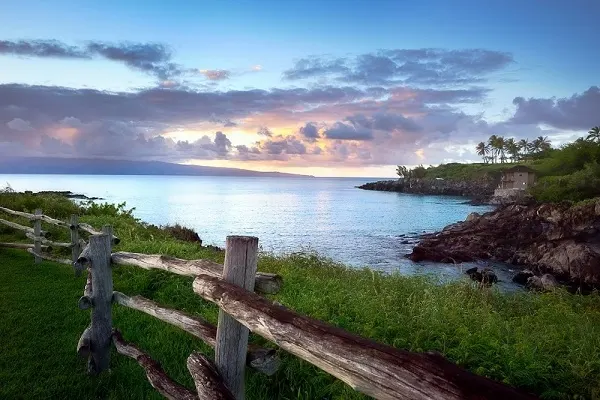 Kapalua vs Wailea: Similar but different
Located on West Maui, Kapalua is a taste of private luxury. With a bit of a distant location, one of the most gorgeous beaches around, and an incredible golf course, Kapalua has become the destination for those seeking serenity. 
It's also known for getting a fair amount of rain, especially compared to other parts of Maui. If you were hoping to avoid the heavy Hawaiian showers, then Kapalua is not the right resort.
But when the rains clear (and even when the rain's coming down) Kapalua is a breathtaking, private town, with some spectacular sights.
Things to do in Kapalua
Kapalua Bay: Kapalua Bay is known to some as the most beautiful beach on Maui—and it has some stiff competition. No trip to Kapalua is complete without spending time on the fabulous and tranquil sands of Kapalua Bay beach.
Play a round of golf: the Kapalua Golf resort offers gorgeous views and a fantastic course.
Nakalele Blowhole: take a walk down the Acid War Zone Trail, see the cliffside vistas, and watch the spectacular blowhole jets.
The Dragon's Teeth: just a few minutes walk from the golf course is the jagged rock formation of the Dragon's Teeth.
Where is Kapalua
Kapalua is right at the top end of West Maui.
It's known for being out of the way, with some unpredictable weather.
All About Wailea
A stay in Wailea is all about luxury. The South Maui area is picture perfect, which the high-end resorts and hotels are more than aware of. 
In Wailea, luxury comes standard. Which can make it a tricky place to bring children.
But Wailea isn't all about staying in the resort or heading to the golf course. The five crescent beaches that stretch along the coastline are unmissable, and offer some of the best swimming and snorkeling experiences around.
Things to do in Wailea
The beaches: see the sunset at Keawakapu beach, and sink your toes into the golden sands of Wailea beach.
The Shops at Wailea: nestled between the resorts is a high-end shopping experience.
Golf at Wailea Golf Club: championship quality golf, on your doorstep.
Ahihi-Kinau Natural Area Reserve: an incredible landscape formed by lava.
La Perouse Bay: hike the lava trails, or head out to spot dolphins.
Dinner at the Four Seasons: or try another of Wailea's world-class restaurants.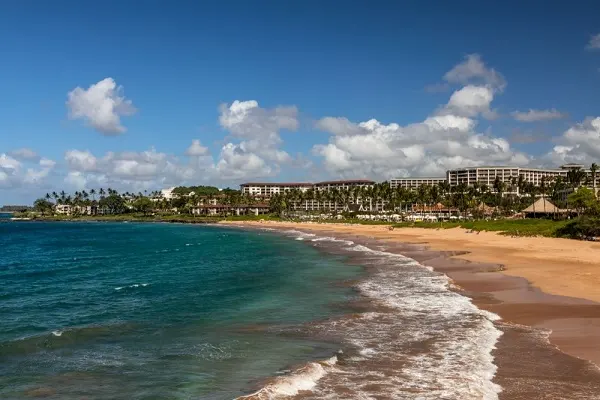 Where is Wailea
Wailea is at the far end of South Maui, just past the popular town of Kihei.
How Far Are Kapalua and Wailea from the Airport?
Wailea is roughly 30 minutes from Kahului Airport (OGG). A taxi from the airport is likely to cost around $50, and many of the resorts can arrange transportation. 
Kapalua is further, as it's a 60-minute drive from Kahului. Taxis and shuttle services are regularly offered.
There's also a secondary airport; Kapalua Airport (JHM). There are no international flights into Kapalua, but there are interisland flights. From here, Kapalua resort is only a 10-minute drive.
Which Has Better Beaches, Kapalua or Wailea?
Whether you end up in Wailea or Kapalua, you're going to get good beaches. Both places are home to some of the most beautiful stretches of coastline to be found world over.
That said, Wailea probably comes out on top.
Not just because of the beaches themselves, but the number of them. At the north end of Wailea there's Keawakapu, Ulua, and Mokapu, with spectacular sunsets and cushion soft sands. Wailea beach offers a chance to spot both whales and celebrities. Or head south, and spend some time at romantic Polo beach. 
There may be fewer beaches at Kapalua, but they are stunning.
Kapalua beach is a favorite of many visitors to Maui. The waves roll gently onto soft sands, and sparkling seas reveal an array of underwater life.
Nearby D.T Fleming Beach and Oneloa Bay are also worth visiting. Water sports are particularly popular at D.T Fleming. Honolua bay, just north of Kapalua, comes alive with snorkelers in the summer.
Which Is More Expensive, Kapalua or Wailea?
Wailea is known for its luxury, so expect to pay more to visit. The shops, hotels, and restaurants are all focused on providing an experience like no other.
If you want to save money, you'll need to drive to nearby Kihei.
Kapalua is the less expensive option, but you're choices are limited. Carefully planned trips can ensure you get the most out of your money.
Do You Want Privacy, or Do You Want Luxury?
Kapalua and Wailea are both home to some luxurious resorts, especially great for a honeymoon. But if you're after the highest quality, then Wailea is the better choice.
Kapalua, slightly out on its own at the northern tip of Maui, offers a lower level of luxury with a higher level of privacy.
In Wailea, getting space on the beach can mean a very early morning.
In Kapalua, you get a little more breathing room.
Where To Stay, Kapalua or Wailea?
A trip to either Kapalua or Wailea is sure to be fantastic.
If you have the budget for it, Wailea has slightly more to offer. The high-end resorts, numerous beaches, and luxury restaurants are hard to resist. However, a holiday in Wailea doesn't come cheap. 
Kapalua may have less, but this low-key destination is home to one of the most beautiful beaches in the world.