Bordering the beach at Ka'anapali, the Hyatt Regency Maui is an excellent location for people watching, sunbathing, and relaxation.
If you want to make the most of the beachfront hotel, then you might want to consider renting a cabana or a daybed during your stay.
These provide an added level of comfort to your day, and help you avoid the morning rush for the perfect lounger.
If you're curious about renting a cabana or daybed at Hyatt Regency Maui, take a look at this guide for all you need to know. 
Does Hyatt Regency Maui Have Cabana Rentals?
Hyatt Regency Maui offers both cabana rentals and daybed rentals, situated between the pool at the resort, and the beach at Ka'anapali. Resort guests can rent the spot of their choice, and relax in style and comfort.
Hyatt Regency Maui mostly has daybeds to rent, rather than cabanas. These daybeds are like beach loungers taken to the next level.
Plush cushioning provides a comfortable place to sit, while the partial awning lets you choose how much shade you have. They're also made of an attractive wicker, and look very good in beachside selfies.
As well as the daybeds, Hyatt Regency Maui does have a limited number of cabanas.
These are airy tent structures, with seating for up to two (in the Ocean Hale and Kai Lani) or families (in the Ohana Tent).
How Much Is A Cabana Rental At Hyatt Regency Maui?
Cabana rental at the Hyatt Regency Maui is priced from roughly $200 to $500. Prices vary depending on the size of the cabana or daybed.
These are fairly standard rental prices for daybeds and cabanas at major Maui resorts.
However, Hyatt Regency Maui doesn't have the range of lower priced options available that you might find in other hotels. 
A daybed or cabana booking lasts from 9 am to 5 pm. Any cancellations have to be made 24 hours in advance, but you are able to receive a full refund if you cancel in time.
How Do You Rent A Cabana At Hyatt Regency Maui?
Cabanas and daybeds can be rented via the online booking system operated by the Hyatt Regency Maui.
You can use the system to see the location of the cabana, pick your preferred spot, and confirm your reservation.
Then, when you need to use it, simply check in at the pool desk, and get comfortable by the waves. 
However, you may prefer to speak to the hotel directly when booking your cabana. Online booking systems give you a good idea of location, but no one knows the resort as well as the staff.
Speaking to the hotel directly can often get you a cabana in just the right place for your needs.
Daybeds and cabanas tend to fill up quickly, so book a few weeks in advance of your vacation, if possible.
Particularly if you want a coveted cabana. A day in a luxury cabana sells quickly.
You can also try booking directly when you're at the resort. There's no guarantee there will be places, but this option is generally preferred by those who like a loose approach to a vacation.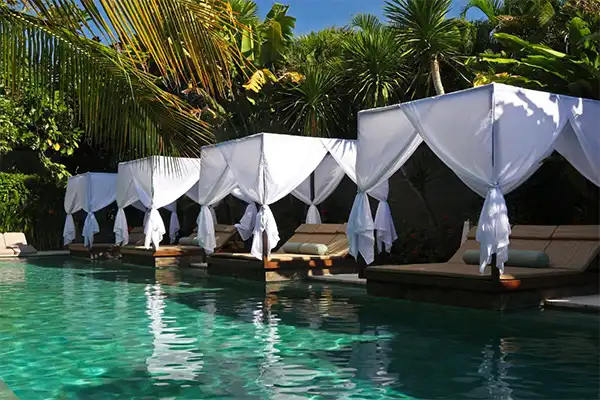 Is It Worth Renting A Cabana At Hyatt Regency Maui?
Booking a daybed between the pool and the beach at the Hyatt Regency Maui is a good choice if you're planning a lazy day spent in total comfort.
The Hyatt Regency Maui is a popular destination, and getting the perfect spot by the pool requires some luck. Unless, of course, you already have the booking secured.
A daybed rental allows you to truly make your pool day your own. With the daybed booked, you can wander away to grab lunch or enjoy the waves, and you don't have to worry about someone stealing your seat. 
Another real advantage to a cabana rental is the shade. The sun on Maui can be powerful, even for seasoned sunbathers.
By the afternoon, you might feel very grateful for the ability to pull across the awning, and grant yourself some extra shade.
As well as keeping away the sun, daybeds give you a touch more privacy while you relax.
If this still isn't enough to convince you, all cabanas and daybed rentals at Hyatt Regency Maui include iced water and a fresh Maui pineapple. Yum!
Are There Free Cabanas At Hyatt Regency Maui?
There is free seating surrounding the pool at the Hyatt Regency Maui, but it doesn't have quite the same comfort level as the rental cabanas and daybeds.
Instead, standard beach loungers are available for guests without booking.
Prime locations do tend to fill up fast, but there are often spots available throughout the day. One of the biggest drawbacks of these loungers is the lack of shade.
Trees around the pool provide passing shelter, but many of the loungers are fully exposed to the sun.
None of these free seats come with covers. You also don't get the iced water and Maui pineapple included with rentals, but you are only a short walk from the Hyatt poolside bar and eatery.
If you've arrived at Hyatt Regency Maui and regret not booking a daybed, it's worth asking at the poolside desk.
This is open from 7 am to 5 pm, and they can sort you out with any available rentals that day. 
Can Non-Guests Rent Cabanas At Hyatt Regency Maui?
Cabanas and daybeds at the Hyatt regency Maui are only available for guests at the hotel. Guests at other Hyatt properties are also unable to reserve a Hyatt Regency cabana. 
This also includes the Hyatt Regency Maui cabanas and daybeds that are on Ka'anapali beach itself.
While the beach is public access, the daybeds are only for the guests at Hyatt regency Maui. 
Final Thoughts
Hyatt Regency Maui cabana rentals are advantageous if you like an extra level of comfort and privacy when spending a day at the pool.
Advance booking is very much recommended if you want a prime spot, and especially if you want one of the luxury cabanas.