Formed of two adjoining crescents of soft sand, Polo Beach is a Wailea destination with a little something for everyone.
Calmer morning seas allow for some decent snorkeling, while the afternoon swells attract bodyboarders. And thanks to a large parking lot, the resort-front location is convenient to access. 
If you want to see what Polo Beach has to offer, take a look at this guide, and plan your trip.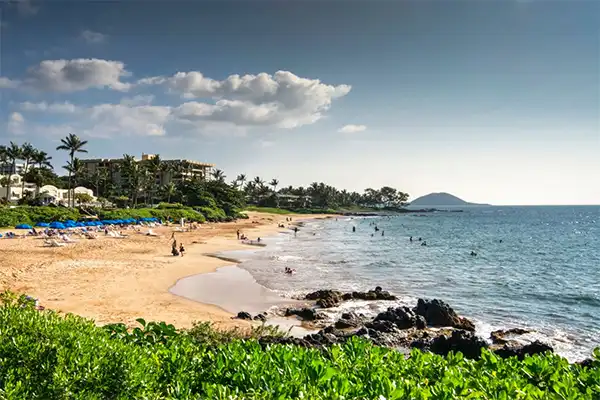 Getting To Polo Beach
Polo Beach is right at the south end of Wailea, and is the last of the real resort beaches. It's flanked by the Fairmont Kea Lani and the Polo Beach Club resort, before busy Wailea gives way to quieter Makena. 
(Check out our guide comparing Fairmon Kea Lani and Grand Wailea.)
Access to Polo Beach can be found along Wailea Alanui Drive. Follow the road south through Wailea, until it intersects with Kaukahi Street.
Turn right here, and follow Kaukahi Street towards the sea.
The public parking lot is found at the intersection of Kaukahi Street and Makena Road. If you're traveling up from Makena, follow Makena Alanui until just past Po'Olenalena Beach until it intersects with Makena Road.
Turn onto Makena Road, and drive north, until you reach the lot at the end. 
The parking lot at Polo Beach is spacious, and there tends to be room throughout the day. If the lot is busy, overflow parking can be found along Kaukahi street itself.
Park, and follow the path past the back of Polo Beach Club, and onto Polo Beach. 
What To Do At Polo Beach
While snorkeling, swimming, and boogie boarding are all popular with visitors to Polo Beach, this is also an excellent beach for those looking to relax.
Although the north end of the beach tends to get crowded with resort guests, the south end stays reasonably quiet.
There are a few shaded spots at Polo Beach, offering a chance to enjoy the view out of the direct sunlight.
Families are often drawn to Polo Beach for this reason, especially as the sloping sands at the water's edge make for good paddling.
Polo Beach is right at the south end of the Wailea Coastal Walkway. Many choose to park at the larger Polo Beach lot, and follow the path upwards.
It's a decent walk, but there are plenty of places to stop along the way, and the views are incredible. 
Can You Snorkel At Polo Beach?
Snorkeling at Polo beach is decent. At either end of the beach are rocky outcrops that offer some interest for snorkelers, and the rocks at the north end are particularly good.
However, Polo Beach snorkeling suffers from both heavier swells, and the proximity of even better snorkeling beaches.
If you only plan on snorkeling once on Maui, it's worth heading further up the coast, and trying Wailea or Ulua Beach.
When the waters are calm at Polo Beach, many try their hand at stand up paddleboarding (SUP). The slope of the sand into the water makes it easy to walk in with your board.
And as Polo Beach is on the longer side, you can really explore. 
It's crucial to be aware of currents on any Maui beach, but bigger swells can be an issue at Polo Beach. Arrive early if you want to snorkel, and only try it on calm days.
Can You Boogie Board At Polo Beach?
When thicker swells ruin the snorkeling at Polo Beach, boogie boarding comes to life. The waves typically pick up in the afternoon, and they can get pretty big.
Boogie boarding at Polo Beach can be exhilarating, although keep in mind there are no lifeguards present. 
Some days, the swells at Polo Beach are big enough to attract a few surfers, although boogie boarding is definitely more popular.
You can enjoy a tumble across the waves, and then retreat to the sand when you need a break.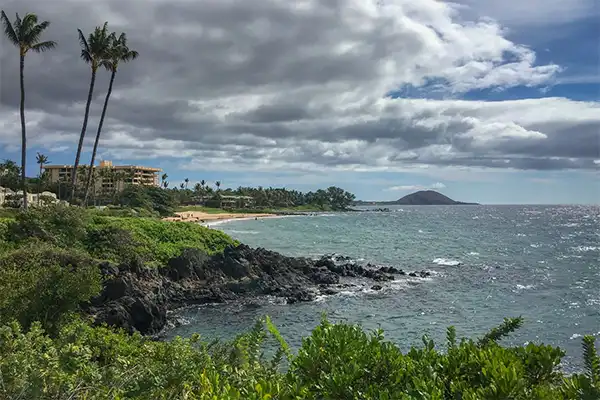 Facilities At Polo Beach
Polo Beach has a good number of facilities for visitors, including outdoor showers, a foot washing station, and restrooms.
There are also places to eat just a short walk away, although the most accessible options are resort restaurants at the Fairmont Kea Lani.
Set back from the beach is a small picnic and barbecue area, which is fine but not great.
Despite the attraction of the location, the eating area is arranged in a way that feels penned in by the resorts, and manages to lack a decent view.
It's not exactly a bad spot for lunch, but there are better places just a short drive (or walk) away. However, if you want to use the barbecue pits, you can always carry your food down to the beach.
There are no lifeguards at Polo Beach, so be careful when entering the water. Keep an eye out for larger swells that can take even experienced swimmers by surprise. 
Anything Else To Know?
Directly behind Polo Beach is the Fairmont Kea Lani resort. The beach still has public access, but the resort workers will often set out chairs and umbrellas exclusively for the use of guests at Fairmont.
There should still be plenty of room on the sand for visitors to enjoy, but avoid using any of the chairs, or you'll quickly be kicked off.
Visitors are advised to stay away from Polo Beach when there are large swells. Rip currents can form, rendering the water dangerous.
The wind generally picks up in the afternoon, and this is when you're more likely to see the powerful waves. However, it pays to stay alert at all times.
The sand is a little thinner at Polo Beach, and rocks do poke through. Wear a pair of beach shoes, or keep an eye out when walking or swimming. 
A Little Bit Of Something For Everyone
Polo Beach has quite a lot to offer for snorkelers, sunbathers, and boogie boarders, even if it might not be the top choice for any single activity.
But with a big parking lot and easy facilities, a trip to Polo Beach is sure to be enjoyable. It's also one of the best places to start a walk along the Wailea coastline!