The 87,000 square foot pool at Westin Maui is essentially a mini water park, so it's no wonder even those who aren't staying at the resort might want to check it out.
To do so, you'd need to get your hands on a Westin Maui day pass, and these aren't easy to come by. 
If you're curious about the Westin Maui day pass, take a look at this guide to find out more.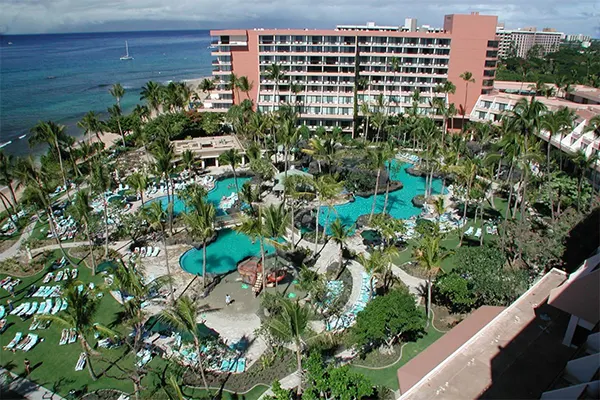 Westin Maui Offers A Day Pass, Sometimes
Westin Maui Resort & Spa does sometimes offer a day pass, but the key word here is sometimes.
As expected, guests at Westin Maui have prioritized use of the facilities. When the resort is full, you won't be able to use the pool at Westin Maui (even if you're a guest at another Marriott property).
However, when the property has a higher number of vacant rooms, they have been known to offer day passes.
Maui doesn't have a traditional "low" season, so determining when you're more likely to get a pass is tricky.
September and October are typically quieter months, leaving resorts with a higher number of empty rooms. This is probably your best time to grab a day pass.
How Much Is A Westin Maui Day Pass?
As day passes for Westin Maui are rarely available, there's no clear price structure.
However, you should expect to pay over $60 for a pass. 
What Can You Do With A Westin Maui Day Pass?
A coveted day pass for the Westin Maui will grant you access to the spectacular pool complex.
Westin Maui is home to the 87,000 square foot Kawaiola Aquatic playground, a pool with hidden jacuzzis, swim through waterfalls, and a water slide that plunges an impressive 270 feet.
It's probably the best pool in Lahaina, and among the best pools on Maui. There's also a keiki splash pool for little ones, and an adult pool for peace and quiet.
With a day pass, non-guests are free to enjoy the wonders the Kawaiola Aquatic playground has to offer. This pool isn't quite a water park all by itself, but it comes close.
Day passes at Westin Maui typically appeal to families, as the pool offers so much for young children to enjoy.
As fantastic as Ka'anapali beach itself is, it doesn't exactly come with a waterslide! 
Non-guests with a day pass are also welcome to visit any eateries and bars located near the pool. 
How Do You Get A Westin Maui Day Pass?
Westin Maui day passes are only offered when the resort has a higher number of vacancies than usual. Because of this, it's often only possible to acquire a pass on the day, or with very short notice. 
If you're interested in a day pass, contact Westin Maui ahead of your planned trip, asking about the availability.
They may be able to offer you a day pass right away, or get in contact if the possibility of a day pass arises.
If you're in Ka'anapali, you could always ask at the front desk, and see what's on offer.
Alternatively, sites such as Resort Pass sometimes have day passes available for various Maui resorts and hotels. 
Where Is Westin Maui?
The Westin Maui Resort & Spa is located in Ka'anapali, on West Maui.
Family-friendly Ka'anapali is a resort town known for having one of Maui's best beaches, plus a range of hotels and condos to suit various budgets. 
Is There Any Other Way To Visit The Westin Maui Pool?
The pool at Westin Maui is designed for guest use only, and unless they're offering a day pass, there's no way for non-guests to gain access.
Westin Maui uses a wristband system to ensure the only people who are in the pool currently have a room in the resort.
If you can't get a day pass, the only other way to visit the pool is to book a room. 
Can I Visit The Westin Maui Spa Without A Day Pass?
As well as a fantastic pool complex, the Westin Maui resort is also home to the Heavenly Spa.
The Heavenly Spa offers locally focused treatments for relaxation and rejuvenation, and is typically open to both guests and non-guests. Treatments are available for women, men, and couples. 
If you're interested in booking a visit to the Heavenly Spa by Westin, you can find further details about the spa here. Both guests and non-guests are recommended to book in advance, although guests at Westin Maui can contact the spa directly from their rooms.
Even after a trip to the spa, the Westin Maui pool is still off limits to non-guests without a pool pass.
But the resort is located directly in front of Ka'anapali Beach, in case you were desperate for a dip. 
Can I Visit Westin Maui Restaurants Without A Day Pass?
Westin Maui is home to various eating establishments that allow non-guests to make a reservation.
Restaurants such as Waicoco, Hale Mo'olelo, and Hale 'A offer dining options for visitors to Ka'anapali who might not be staying at Westin Maui.
Although reservations are typically made through the resort complex, you don't need a room to enjoy the cuisine. 
Westin Maui also houses the Wailele Luau, a buffet and theater experience that teaches visitors about Maui through performance.
Operated in the grounds of Westin Maui, Wailele Luau is open to guests and non-guests, although booking in advance is highly recommended. 
Final Thoughts
The pool at Westin Maui is pretty spectacular. Guests at the resort flock to the slides and waterfalls, meaning there's rarely a quiet moment in the water.
For that reason, day passes can be pretty hard to come by. After all, if the resort lets too many non-guests in, the guests themselves won't be able to enjoy the facilities.
However, when Westin Maui is operating with fewer guests, day passes are sometimes on offer. These allow non-guests to explore one of the best pools on Maui.
If you're interested in a day pass, it's best to contact the resort, and see whether they have any for sale during your stay.