As you take in the crowds and scenery of Ulua Beach, you really get the sense that you're in Wailea.
The beaches of Maui really start to come into their own in this area, and the Wailea crowds certainly make the most of the setting.
Ulua Beach is best known for its snorkeling, but even those who prefer to keep their feet on land should like what Ulua has to offer.
Plan your visit to Ulua beach with this complete guide.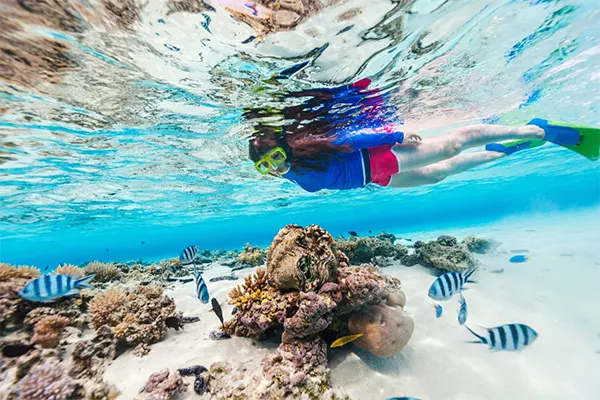 Snorkeling At Ulua Beach
Snorkeling is really what Ulua Beach is known for, and it's with good reason.
The reef system to the north of Ulua Beach teems with wildlife, and lucky visitors can spot entire schools of fish traveling through.
The coral itself is also fascinating, although visitors have to be careful not to touch it.
Head further toward the sea, and you can often spot Hawaiian turtles enjoying the sun, or swimming through the water.
There's also snorkeling to the south, although navigating the waters here requires more skill.
It isn't just the marine life that makes Ulua so good for snorkeling. The sandy beach gives way gently, allowing for easy entrance and exit, and the curving coast offers good protection from the wind.
Beginner and intermediate snorkelers will find plenty to enjoy at Ulua. You can actually explore the entire way around the reef system, from Ulua to Mokapu Beach, then follow the coastal path to take you back to the starting point.
Diving is also popular at Ulua Beach, although primarily with beginners. There's a decent dive spot at the end of the reef, and diving instructors use Ulua Beach as a teaching point.
Getting To Ulua Beach
Ulua Beach is in Wailea, and is one of the first beaches along the resort-laden stretch of Maui coast.
Ulua itself doesn't have any resorts immediately behind the beach, but the Andaz Maui is a short walk one way, and the Wailea Beach Resort is a short walk in the other.
There are also condos nearby, some of which back close to the beach. 
To access Ulua beach, follow the Wailea Alanui Drive, before taking the turning at Ulua Beach Road, toward the sea. This is where the free public parking lot is located.
It's worth noting that the parking lot at Ulua fills up fast. It's a shared lot, and visitors to both Ulua and Mokapu Beach make good use of it.
For a guaranteed spot to enjoy a morning snorkel, you have to turn up quite early. Otherwise, you might find yourself waiting around for someone to leave. 
If you don't mind a bit of a walk, you can always park in the Keawakapu Beach parking lot to the north, and stroll down.
The path will take you from Keawakapu to Mokapu Beach, and then along to Ulua. The journey isn't exactly quick, but the views make the walk more than worth it.
What To Do At Ulua Beach
There's plenty to keep you busy at Ulua beach, as the sea is good for snorkeling and swimming on calm days, and boogie boarding when the surf is up.
Ulua Beach attracts all kinds of visitors, from families to avid bodyboarders, and many of the guests from nearby resorts. 
Swimming and snorkeling are best in the mornings, although the protection offered by the curving beach means clearer seas can often persist until the afternoon.
The water is shallow near the shore, so you can avoid going too deep if you only feel like a paddle and a splash about. 
But when the surf picks up, bodyboarding comes alive. The sandy slope of the sea floor makes falls and knocks a less harrowing prospect for beginners.
There's a small park area located behind Ulua beach, with benches and trash cans.
This protected spot is a good place for a picnic, and a few trees provide some areas of shade.
If you want to stretch your legs, Ulua Beach is backed by the Wailea Coastal Walkway.
You can follow this south to see the other beaches of Wailea, or north to Mokapu, and on to Keawakapu. 
Facilities At Ulua Beach
Ulua Beach has excellent facilities, including outdoor showers, bathrooms, and picnic benches. It's also only a short walk away from several restaurants and cafés in Wailea.
Families enjoy spending time at Ulua Beach because it's so convenient. Providing, of course, you can nab yourself a parking spot.
There are no lifeguards at Ulua Beach, even though snorkeling is popular. Keep an eye on the surf, and stay out of the water during storms.
Ulua is generally a safe place to swim and snorkel, but caution is always recommended. 
Anything Else To Know?
Ulua is well protected from the wind, even when the rest of the coast is struggling. It's a good spot for relaxing and picnics, without getting a mouthful of sand.
However, if you want to relax in privacy, busy Ulua Beach might not be the best place.
As well as the crowds on the beach itself, there tends to be plenty of passing interest from those traveling the Wailea coastal path.
If you're looking for some peace and quiet, you might have better luck heading north, to Mokapu beach.
While Mokapu isn't exactly serene, it tends to attract a smaller crowd than Ulua, while sacrificing very few of the advantages of the area.
Soft sand makes Ulua a good spot for swimming, but watch out for the occasional rock pointing out of the sand.
These can take unsuspecting beach goers by surprise, resulting in bruised toes and scraped legs. Either wear beach shoes, or be careful where you place your feet. 
Superb Snorkeling At Ulua
Many visitors are initially attracted to Ulua for the snorkeling, and stick around to enjoy the charming beach.
It's only small, and can get crowded, but impressive wind protection and plenty of facilities make up for the few shortcomings.
Arrive early, and enjoy an accessible reef system on a very attractive stretch of Maui coast.