As a Hawaiian island, Maui can boast of good weather pretty much all year round. However, this doesn't mean that Maui doesn't have its seasons, with some months being rainier and colder than others.
So, is June a good time to visit Maui? Is the weather nice? Is it rainy or dry? 
June is in the middle of the Maui summer, so you can expect it to be warmer and drier, more ideal for enjoying the beaches and the related aquatic activities and sports.
Below, we go into detail on what to expect from Maui in June.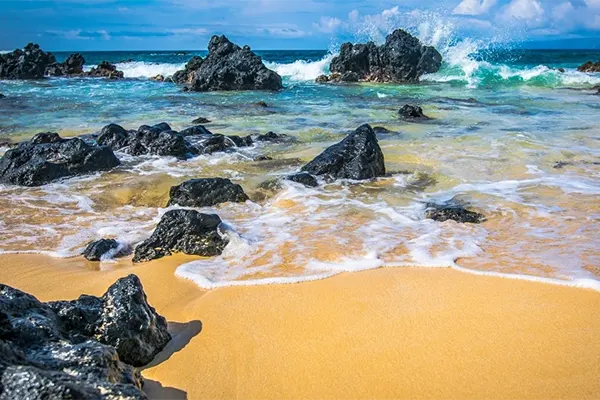 Does It Rain A Lot In Maui in June?
If you don't want any of your holiday days in Maui to be ruined by rainy weather, then June is definitely the right month in which to visit the island.
This is because June, along with July, is one of the driest months of the entire year.
You might get the unlucky one or two days of rain on your trip, but as a general rule, there won't be so much as a cloud in the sky.
The chances of rain during June are very low, and it isn't a weather condition that you should be expecting in the slightest. 
In fact, the official average of rainy days during June, in Maui, is four days. Really not a lot, is it?
How Warm Does It Get In Maui In June?
The month of June is the full-on summer season on Maui, so you can expect hot weather and sunshine all the way through. The average temperature is 74.1 degrees Fahrenheit, or 23.4 degrees Celsius.
Perfect weather for enjoying the beach and exploring the island. 
However, it is very important to be aware of the sun during June, as it is quite strong and you will need protection. Always remember to wear sunblock, and not spend too long out in direct sunlight.
Protect your head and eyes, and make the most of shaded areas.
Trust us, so many tourists turn into lobsters when visiting Maui during June!
Is Maui Humid During June?
As Maui is a small island in the middle of the Pacific Ocean you can expect it to be humid pretty much all year round. However, June is one of the least humid months, due to it being one of the driest throughout the year. 
Nevertheless, humidity during June reaches an average of 67%, which might make the temperature feel even hotter than it is, and sweat will definitely become sticky and annoying. 
It's a good thing it's the perfect weather for dipping into the pool or snorkeling at the beach! 
What's Swimming in Maui Like During June?
If you're planning on swimming and enjoying the waves at the beach during your stay in Maui, then June is absolutely the perfect month for you to visit. The swimming conditions during June couldn't be better. 
The water temperature is warm and welcoming, with the sun shining bright, and no sign of rain.
But also, the currents are a bit gentler, so it's also a lot safer to be swimming in the ocean during this time of the year, making it perfect for visitors and those that aren't particularly strong swimmers. 
June is also ideal for practicing and learning aquatic sports and activities in Maui, such as surfing, and all services will be open and available for bookings. 
Does It Get Crowded In Maui During June?
It's a good idea to check whether the time of year you are planning to visit is popular or not, as high and low seasons affect the number of things you will be able to see and do. 
June is by far one of the most popular months in which to visit Maui, and it is at the peak of high season, always full of tourists and people from all over the world.
This means that Maui can get a little crowded during June, and there is very high demand for hotels, dining experiences, and other activities and services. 
If you don't like big crowds of people, June might not be the best month for you to visit Maui.
But on the flip side, it will mean that all services and facilities will be open and functional, and there will be plenty to do and see, as the island is fully awake and in the swing of tourism.
Best Things To Do In Maui During June
June is the peak of summer in Maui, with high temperatures, no rain, and perfect swimming conditions to enjoy the beautiful beaches of the island.
But what other things can you do in Maui during the month of June? Or rather, what are the best top things you can do during June? 
Here is a list of some of the main things you should look out for in June when visiting Maui:
Enjoy the water! Go swimming and sign up for water sports and activities. The ocean is at its best during this time of the year. 
The Kapalua Wine and Food Festival. This is an annual event and the perfect opportunity to experience local cuisine and culture!
Kamehameha Day. This takes place on the 11th of June, and it is a Hawaiian state holiday that honors King Kamehameha, founder and first ruler of the Kingdom of Hawaii. He united the islands in 1890, and the day is celebrated with parades, food, music, and more! 
Maui Film Festival. It usually takes place at the end of June, and is always highly anticipated. 
Hikes, adventures, and exploration. The weather in June is perfect for you to venture out and discover the nature of the island, and there are multiple activities and services that will allow you to do so. 
In conclusion, the month of June is ideal for visiting the island of Maui. It has great weather, with steady hot temperatures, no rain, and perfect swimming conditions.
It also has many different summer events that celebrate the history and culture of Maui and Hawaii, and there are multiple activities and opportunities for you to explore the island and enjoy everything it has to offer.