Food on Maui is a big deal. The island has a rich history of cuisine, in which many cultures have shared their influences over the years.
That means traditional local flavors share the menu with both Asian and American influences, alongside cultural highlights from the world over—and Kihei is no different.
Kihei is a popular tourist area with a thriving community, and the restaurant trade is packed with old favorites and new ideas. 
Below are the best restaurants you can find in Kihei.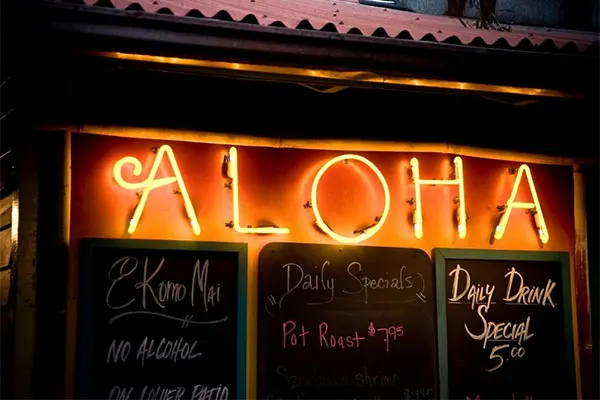 For Breakfast and Brunch
Kihei Caffe
Brunch at Kihei Caffe is a necessity if you're in Kihei. The popular spot often has long lines in the morning, so be prepared to get there early. 
A Hawaiian breakfast is a hearty meal, and at Kihei Caffe it's bursting with flavors. Try the Kalua Pork Loco Moco, or fill up with a 2-2-2 breakfast slam. A great place to meet friends and share stories of your adventures on Maui.
Open daily, 6am to 2pm.
Piko Café
Piko Café is tucked away and easy to overlook, so make sure to keep an eye out when you pass by in the morning. The emphasis at Piko Café is on local flavorings, with the menu consisting of many Hawaiian classics.
They are also known for excellent coffee. Have your coffee black to match the minimal vibe of the café.
Stick around for lunch and dig into one of the plate lunches that Hawaii is known for. The chicken katsu is a particular favorite.
Open Tuesday – Saturday, 8am to 2pm. Closed Sunday and Monday.
For Lunch and Dinner
Nalu's South Shore Grill
A casual restaurant with charm, Nalu's South Shore Grill offers eclectic mixture of menu items to choose from, but with a focus on Hawaiian and American food.
Try the chicken and waffles for some stick-to-your-ribs food. Don't worry. They also offer healthy meals: such as the poke bowl which uses freshly caught island tuna. The breakfast is good as well, making food at Nalu's an all-day affair.
A long happy hour at Nalu's South Shore Grill is followed with live music from local musicians every evening, so head to Nalu's for a chilled out celebration. 
Open daily, 8am to 9pm.
Café O'Lei
Don't be fooled by the strip mall façade of Café O'Lei: inside is a sophisticated and elegant dining experience. A family business run by people with a real passion for good food, Café O'Lei is a Kihei gem.
The menu consists of simple food with a Maui influence. Classic ingredient combinations work together to create a dining experience that's both luxurious and comforting. For something special, order the macadamia nut crusted chicken. Otherwise, take a look at the salads, perfect on a hot day.
Open Tuesday to Sunday, 11am to 8pm. Closed Monday. Sushi bar open Tuesday – Saturday, 4pm to 8pm.
5 Palms Restaurant
A dinner at 5 Palms is accompanied by one of the most fantastic views in Kihei, with sparkling seas greeting you from the outdoor seating area. Enjoy with the yellowfin tuna and a handcrafted cocktail.
5 Palms is a fine dining experience with reasonable prices and an aloha spirit that permeates the restaurant. Get there for happy hour to grab a bargain cocktail and watch the sun set over dinner. 
Open daily, 8am to 9pm. Dinner from 5pm to 9pm. Happy hour 3pm to 9pm.
Lineage
Lineage looks like luxury, but it feels like a family favorite. Lineage is all about making good food with local ingredients, which does put the menu on the more expensive side.  
Keiki aren't forgotten, either. The children's menu includes a saimin that even adults will struggle to resist. Save room for dessert, and settle in.
Open Wednesday to Monday, 5pm to 9pm. Closed Tuesday.
Nutcharee's Thai Food
A big reputation preceded Nutcharee before she opened this Kihei location. Her Hana restaurant brought people from all over the island—the food was that good.
The Kihei outpost is just as delicious as ever. Authentically Thai, but with a twist of Maui. Noodles and curries are made using traditional Thai techniques, but with Maui ingredients adding some new flair.
The extensive menu includes vegan and gluten-free options as well. This is a popular spot, and the food is made fresh, so there can be a wait. Grab a beer, and try to resist the smells from the kitchen.
Open daily, 12pm to 4pm, and 5pm to 9pm.
Pa'ia Fish Market Kihei
At Pa'ia Fish Market, the fresh fish jumps off the hook and on to your plate. Fresh fish is what's made Pa'ia Fish Market so popular.
Pa'ia Fish Market has grown such a big following they've been able to open locations across Maui. In Kihei, it's possibly the best place to stop for fish tacos.
Get the fish plate, and try some of the finest fillets found on Maui.
Open daily for lunch 11am to 4:30pm. For dinner, 4:30pm to 9:30pm.
Roasted Chiles
Mexican food on Maui can be very good, if simplistic. At Roasted Chiles, things are different. The menu has all the taco favorites, but it doesn't stop there.
Complex dishes unite a range of spices to create a depth of flavor, making Roasted Chiles one of the best Mexican joints on Maui.
A warm welcome greets you at Roasted Chiles, which goes well with guacamole and chips. Order the mole for something deliciously different, and don't forget the hibiscus margarita.
Open Monday to Saturday, from 10am to 9pm. Dinner from 5pm to 9pm. Closed Sunday.
Cuatro
Brush the sand off your feet and head straight from the beach to Cuatro, and order the spicy tuna nachos. They're award-winning, and the perfect way to end a long day exploring Kihei.
Cuatro has a personable familiarity, and a mixture of locals and tourists can often be found enjoying the fish-focused menu. Good food made accessible, with a Latin American flavor profile. Book ahead, because tables fill up fast.
Open Wednesday to Sunday, 4pm to 8pm. Closed Monday and Tuesday.
Coconut's Fish Café
Eating healthy isn't always easy when there are so many fantastic restaurants around—especially if you have difficult to please keiki.
Coconut's Fish Café has made healthy food the natural choice. Everything is prepared fresh, with low calorie choices dominating the menu. Flaky ono fish make their tacos a local delight. 
Open daily, 11am to 8pm.
'Ami 'Ami Bar and Grill
From the talented family behind Café O'Lei, 'Ami 'Ami Bar and Grill offers a carefree dining experience bursting with flavors. Visit for the bananas foster pancakes at breakfast, and then go back again at 3pm for happy hour.
Macadamia Crusted Mahi Mahi is a stand out dish on the dinner menu.
Service is breezy, and families will feel at home.
Open daily, 7am to 8pm. Breakfast from 7am to 11am. Lunch from 11am to 8pm. Happy hour, 3pm to 6pm.
Koiso Sushi Bar
A visit to Koiso is a must, but only for those who can plan in advance. Koiso Sushi Bar seats roughly 15 people at a time, so getting in is competitive. Call early, to get a chance to try some of the best sushi outside Japan.
The chef at Koiso has years of experience. Tell the chef "omakase," and let him choose for you.
Open Tuesday – Saturday, 6pm to 10pm. Closed Sunday and Monday.
Maui Thai Bistro
Thai food has grown in popularity since Maui Thai Bistro first opened its doors many years ago, but the restaurant has stayed true to its roots: authentic Thai cuisine which isn't afraid to adapt to the contemporary. 
Maui Thai is committed to using seasonal produce. Come back regularly to experience how the dishes change with the year. 
Open daily, lunch from 11am to 2:30pm. Dinner from 4pm to 9:15pm.
Ohana Seafood Bar and Grill
There are two big reasons to visit Ohana Seafood Bar and Grill: the calamari and the happy hour. If you're after a bargain on food and drinks, then the extensive Ohana happy hour will leave you satisfied.
Pair your fabulous margaritas with the aforementioned calamari, and a plate of fish tacos. When happy hour ends, the live music starts (and it's probably time for some more calamari).
Open daily 10am to 10pm. Happy hour from 10am to 6pm.
Maui Brewing Company
The food at Maui Brewing Company is fantastic, the beer is better, and the atmosphere is best of all. The open space combines the rustic and the industrial, and features a variety of local brews.
The limited menu is filled with typical bar fare, which complements the drink's menu.
Open daily 11:30am to 10pm.
Monkeypod
Drawing from the land like the tree it's named after, Monkeypod is a restaurant that serves unpretentious food with style.
The menu changes with the season, but keep an eye on the burgers made using Maui cattle, and make sure to get a Monkeypod Mai Tai.
Open daily, 11am to 9pm.
For something sweet
Ululani's Shave Ice
There's always room for some shave ice, especially when it comes from Ululani's. This is possibly the best shave ice on Maui, thanks to the skill and care that goes into every step of the process.
The massive range of syrups will keep you coming back, as will the helpful and friendly staff.
If you're struggling to pick, their recommendations will ensure you get the best shave ice for your tastes. After a particularly long day, add ice cream and a snow cap, for a shave ice that tastes decadent.