Little Beach on Maui has a fairly large reputation for being such a small beach. The easy waves and sloping sands have made Little Beach a top choice for swimmers and bodyboarders. 
And the out-of-the-way location has made Little Beach a hot spot for nude bathers!
Read this guide to learn more about Little Beach, Maui's nude beach. We also have tips on Little Beach Maui etiquette, and when's the best time to take your clothes off.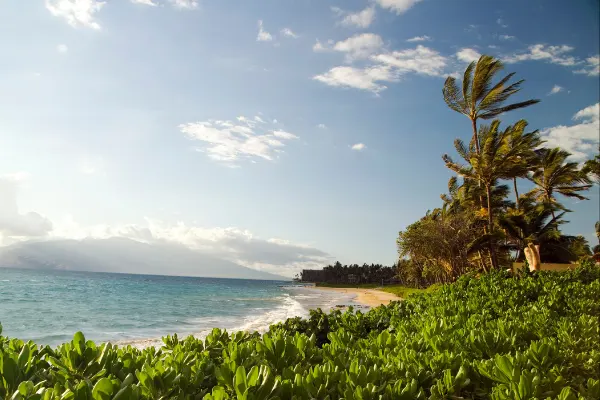 Where Is Little Beach Maui?
Little Beach is located in Makena State Park in South Maui. The secluded cove beach is known for having soft sands and impressive water quality.
It's the companion beach to Makena's Big Beach. The two are separated by a climb over the small cliff.
Oh, and it's also Maui's most famous nude beach.
Maui's Most Famous Nude Beach?
Yep, Little Beach is Maui's most famous nude beach. Although you might find a few clothed patrons, the majority of Little Beach visitors prefer to go completely sans-clothes.
Little Beach isn't exactly an official nude beach, but it's well known to be "clothes optional". So, if you're looking for a judgement free place to work on building an even tan, then Little Beach is the place.
There is a big downside to being Maui's most famous nude beach, and that's the crowds. For nude bathers, Little Beach is one of the few places you can comfortably visit. But the name speaks for itself. Little Beach is little.
Little Beach Maui Etiquette
Visitors to Little Beach are free to come with as few or as many clothes as they like. But those who come to gawp or stare are not appreciated.
If you are a clothed visitor to Little Beach, behave as you would on any other Maui beach, and keep to yourself.
Photos aren't necessarily banned, but they aren't appreciated. Feel free to capture the view of the waves. Avoid turning your camera on sunbathers.
Finally, visitors to Little Beach can be nude, not lewd. 
Facilities At Little Beach
One of the reasons Little Beach has become so renowned as a nude beach, and been able to stay that way, is it's fairly isolated. You're unlikley to stumble across Little Beach unless you're looking for it, and that means a limited number of facilities.
The nearest facilities are all at neighboring Big Beach. Big Beach has toilets, a parking lot, and picnic benches. There's sometimes food trucks in the area as well.
To access Little Beach, the only way is via Big Beach:
Park your car in the Big Beach parking lot, and head to the north end of the beach.
There's a footpath that passes over the largest cinder cones at the boundaries of Big Beach.
If you plan on spending the day at Little Beach, make sure to pack plenty of water, and anything you might want to eat. Take some reef-safe sunscreen as well—you're going to need it. 
As Little Beach is accessed via Makena State Park, it does close in the evenings. Average opening hours tend to be from 6am to 7pm, but they do change. Make sure to double-check the closing time when you arrive.
Fire Dancing? Drum Circles?
As well as nudity, Little Beach is known as the home of some other wild displays. Fire dancers and drum circles come to life on Sunday, creating a lively atmosphere and some unforgettable sights.
The festivities start as the sun goes down. A drum circle begins a lively rhythm, which fills the air with anticipation and excitement. Once the sun has set, the fire dancing starts.
Look for the dancing movements of twirling spears, and the hypnotic display of the dancers. 
Things tend to quieten down by 9pm. Bring a flashlight to help you get over the cliff and back to Big Beach. 
Can You Swim At Little Beach?
A calmer shore break and clear seas make Little Beach a fantastic place to swim. The sand runs right into the water, and with little development around, the water quality is wonderful. Swimmer's who don't mind nudity will find Little Beach superior to Big Beach.
Snorkeling is possible at Little Beach, but this isn't the best place for it. However, on a calm day when visibility is good, you might want to swim around the rocky outcrops that mark the south end of the beach.
Be aware that the breaks at Little Beach can really pick up at times. And with shallow reefs at either end of the (little) beach, this gets dangerous. Also, the nearest lifeguards are a climb-over-the-cliff away. If you're unsure about the water, stay out. 
Can You Surf At Little Beach?
Surfing at Little Beach isn't ideal, due to the small size. You might catch some waves, but the rocks marking the edge of the beach get dangerous.
Surfers should head to Big Beach instead. When the waves hit right, Big Beach is one of the best surfing beaches on Maui.
Little Beach is fantastic for anyone who wants to try boogie boarding or bodyboarding. You may need to navigate some nude surfers, but the breaks are incredible. 
Where To Stay To Visit Little Beach?
Wailea is the nearest resort area, and the best place to stay for access to Little Beach.
It's also one of the best places to stay on Maui, period. Grand resorts characterize Wailea, but head to the slightly more distant Kihei for a cheaper stay. 
Final Thoughts
Little Beach is Maui's most famous nude beach, but it's also a great place to swim or bodyboard. Clothed visitors are welcome, but asked not to treat the nude bathers as a spectacle.
If you don't fancy the nudity, but still want a look at Makena, we recommend heading to Big Beach. It has the same soft sands and clear seas, and people will be (mostly) dressed.