Haleakala National Park is an area full of discovery. Visitors have a chance to see otherworldly craters, dessert-like peaks, and even some areas of lush forest.
But perhaps one of the most stunning sights is the swirling colors of Pele's Paint Pot.
We'll be honest upfront: Pele's Paint Pot is not an easy place to visit! But if you don't mind all day hikes and leg-crushing elevation, it's a Haleakala must-see. Plan your visit here.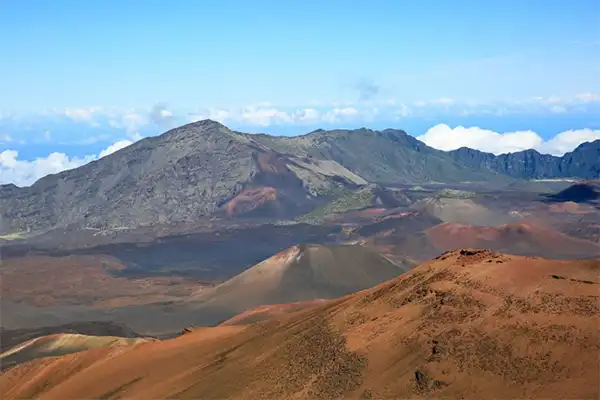 What Is Pele's Paint Pot?
The vast craters and peaks of Haleakala reach out from the verdant slopes of East Maui and the Upcountry, transforming into a stark landscape that seems almost alien.
Visitors to Haleakala can be delighted by scenery that appears to have been lifted from a distant planet, and a far cry from the pristine beaches that are most commonly associated with Maui. One of the many notable destinations on Haleakala is Pele's Paint Pot.
Pele's Paint Pot is an area of vibrant cinders. A colorful crater destination where bright orange and red cinders mix with splashes of green to form an unusual technicolor landmark.
A short detour from some of Haleakala's most popular trails, this is an area known for its serenity and breathtaking brightness.
Named for the Hawaiian volcano goddess Pele, Pele's Paint Pot is a swirl of color in a landscape characterized by grays and browns. 
How To See Pele's Paint Pot
Pele's Paint Pot can be accessed from two of the major hiking trails in Haleakala. Although this is something of an "unofficial" spot, its popularity with visitors has seen it make many Maui must-see lists.
Visitors to Haleakala should find it easy to get directions to Pele's Paint Pot, if they're feeling a little lost in the craters and peaks of Haleakala.
Pele's Paint Pot can be seen from both the Keonehe'ehe'e Trail (otherwise known as Sliding Sands), and the Halemau'u Trail.
Keonehe'ehe'e Trail (Sliding Sands)
Keonehe'ehe'e Trail, or Sliding Sands, is a popular trail on Haleakala, but it's a tough one. It's roughly 11.5 miles, and takes most visitors around 7 hours. Plus, the trail begins with a massive descent, and finishes with a climb back up. Make sure to keep energy in reserve, or you'll struggle with return.
The Keonehe'ehe'e Trail begins in the Haleakala Visitors Center. Pick up the trailhead, and follow it down into the Haleakala crater.
Some visitors can be led into a false sense of security at the start—the hardest part is the return! Save your energy, and enjoy a gentle hike through the native silversword plants. 
Pele's Paint Pot is found 5.7 miles in, near the north of the Halali'i cinder cone. Rest here and take in the views! It might be geographically halfway through the hike, but the journey onwards takes twice as long.
Also in the area is the Kawilinau Bottomless Pit. Once rumored to reach all the way to the sea, this 65-foot lava fissure is worth a look.
After this, you have two options. You can either go back the way you came, or carry on to the Halemau'u Trail. Following the Halemau'u trail offers the better views, and you get to explore more of the park.
However, this is a point to point trail, and there is no shuttle service. You'll have to hitchhike back to your car, or arrange transportation in advance.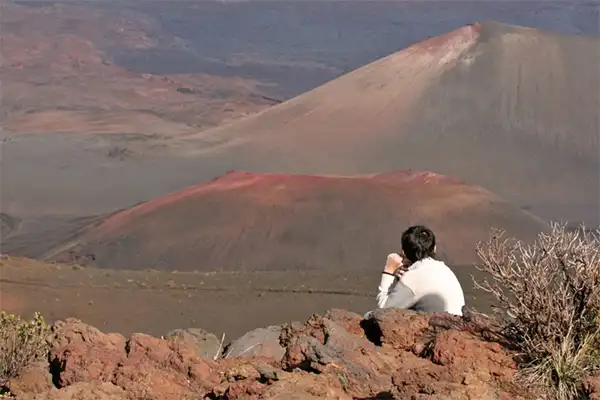 Halemau'u Trail
The round trip for the Halemau'u trail is around 9.5 miles, and is known for a tough elevation gain and a trail that hugs the cliffs of the crater. The trail actually begins in a forest area, and you follow this until you start to see the crater.
An early highlight of the trail is the Rainbow Bridge viewpoint, which offers expansive views across the slopes of Haleakala.
From here, you follow the trail around the crater, with a pretty heavy climb. Keep following to the Silversword Loop, and then on to Pele's Paint Pot. 
This is another trail that's hard work! As you head back round to the parking lot, you'll be expected to climb again. This is a trail that requires a steady approach, and plenty of stops for eating and drinking. 
Expert Tips For Visiting Pele's Paint Pot
The streaking colors of Pele's Paint Pot make it an incredible stop in the Haleakala National Park. However, there's no easy way of getting there.
Whichever direction you approach the trail from, you'll have a tough climb ahead of you. Here are some tips for planning your visit to Pele's Paint Pot.
Start early, because it's going to be a long day. Park entry is from 7am (before 7am, you need a sunrise permit). We recommend arriving as close to 7am as possible, so you can take your time exploring the trail, and still be finished before sunset.
With an early start comes cold weather, but it won't last. Dress in layers, so you can add and remove them as the conditions change throughout the day. Bring wet weather gear as well. The high elevation can lead to misty conditions. But don't forget the sunscreen! 
Sturdy footwear is essential, and we recommend hiking poles as well. The conditions are variable across the trails, as dry paths turn to boggy mud.
Pele's Paint Pot is a detour no matter which trail you take. Expect it to add roughly 20 to 30 minutes to your day (longer, if you want to soak it all in). Any trip to Pele's Paint Pot requires a whole day hike, so be prepared.
Snacks and drinks are essential, and pack a lunch to power you through the long trip back. Haleakala uses a "leave no trace" policy. Anything you bring in has to leave the park with you.
Final Thoughts
Haleakala is characterized by landscapes that seem otherworldly, and Pele's Paint Pot is no exception.
Although getting there requires some knee-breaking climbs, the magnificent mixing colors are a spectacular sight. But take your time soaking them in.
The return journey is even harder than the trip out.