A hidden gem that really isn't that hidden, Tavares Bay is a sandy beach on the North Shore. Just a quick drive from Paia, this spot is a favorite of locals, and largely overlooked by tourists.
Plan your visit to Tavares Bay with our complete guide.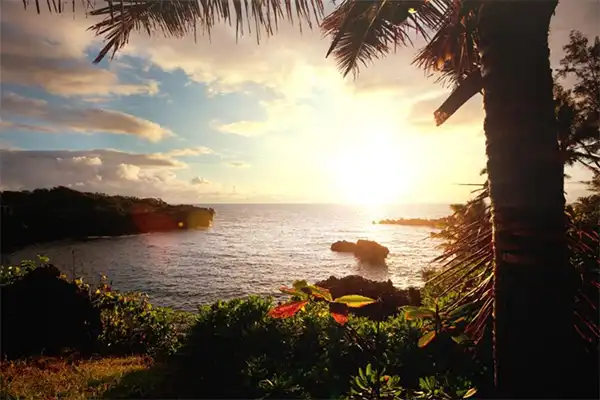 Tavares Bay Overview
It's easy to drive past Tavares Bay, a North Shore beach that many tourists never realize is there. A popular spot with the locals, Tavares Beach is once seen and never forgotten. The only problem is seeing it in the first place.
Consisting of roughly 100-yards of curving white sands and clear sea, Tavares Bay is located shortly along the road heading east from Paia.
Despite having easy access and a large parking lot, many lucky tourists discover they've got the beach nearly all to themselves.
Visitors rushing from Paia to the world renowned Ho'okipa Beach just down the road tend to zoom past Tavares Beach without realizing.
Swimming and snorkeling are both good at Tavares Bay, but keep an eye out for seaweed and rocks. Further out, the water can be good for surfing and windsurfing. In fact, at certain times of the year surfers will find the water is world-class. 
What Can You Do At Tavares Bay?
Tavares Bay is mid-sized, and the curving North Shore beach offers plenty for visitors. Close to the sand, the waves are calm and the swimming is good.
When the rest of the North Shore beaches are crowded with visitors, Tavares Bay is typically a good place to find some peace and quiet.
There's also decent snorkeling, but only when the seas are quiet. Big breaks will ruin visibility, and you risk a close encounter with a surfboard.
But you don't have to be in the water to see some marine life. Sometimes the Hawaiian honu (sea turtle) can be spotted climbing onto the beach. Give them space, and admire from a distance.
As a North Shore beach, you won't be surprised to find that the waves at Tavares Bay can be epic. You have to head a little further out to sea to find the best of the waves, past the reef-sheltered break near to the shoreline. 
Once you've got past the reef, the swells can get big. Along with the rest of the North Shore, they're at their largest over winter.
At this time, these breaks are only for advanced surfers. The rest of the year, the conditions can vary. Beginners will find the calmer summer swells appealing. 
What Can't You Do At Tavares Bay?
A day at Tavares Bay depends on the conditions. When the winter swells are big, swimmers and snorkelers are best staying out of the water. Surfers without experience should also give it a miss, as the waves can be rough.
Tavares Beach has a reputation for being quiet, but this beach is popular with the locals. Expect to find crowds on weekends and at the holidays. 
When the tide is low, there's a small, protected paddling area to the east of Tavares Beach. This is a good spot for keiki to play, while still being under the watchful eye of the parents.
However, the lack of facilities and changeable breaks means Tavares Bay isn't the best family beach. It's good for quick stops, rather than long visits.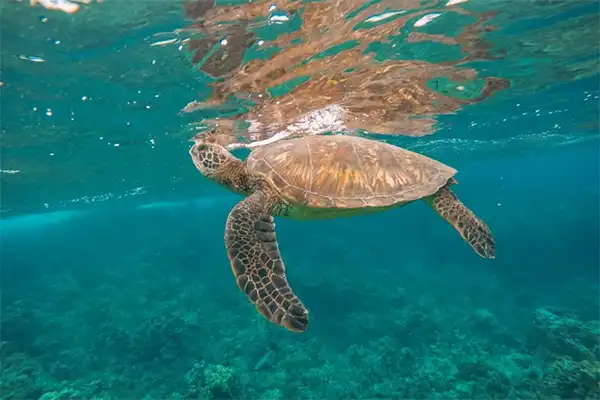 Expert Tips For Visiting Tavares Bay
Tavares Bay is generally picture-perfect, but sometimes the tides can bring in massive amounts of seaweed. It's not exactly a problem, especially if you were just looking for a paddle and a place to enjoy the scenery.
But if you want to swim, piles of seaweed can be off-putting. Keep an eye on the water before you head in. Different tide levels can also influence the number of exposed boulders, so take care when entering the water. 
Tavares Bay is known by a couple of different names, including Tavares Beach, Kaulahao Beach, and Ku'au Beach.
So, keep an eye out for any of those names on the map. Some visitors refer to it as Blue Tile House Beach, after the distinctive building in the parking lot. 
Getting To Tavares Bay And Parking
So many people drive straight past Tavares Bay that you'd think it's hard to find. It's actually an easy beach to get to, it's just that many don't realize that it's there.
To access Tavares Bay, head east on the Hana Highway from Paia. The turning is roughly ½ mile from the Paia traffic lights. Keep an eye out for a Beach Access sign next to the turning. From the road, you turn directly into the parking lot. 
There's plenty of room in the parking lot, so you shouldn't find any issues parking. Look for the distinctive blue roof tiles of the building next to the parking lot, if you aren't sure you're in the right place.
As we mentioned above, Tavares Bay goes by a couple of different names. If you're struggling to find the beach, try some name variations in the GPS, and see if they're a little more useful. 
Tavares Bay Facilities
There are typically porta potties in the parking lot at Tavares Beach, but these are the only facilities nearby. However, it's only a short drive from Paia, where you can find shops, cafés, and restaurants.
There's also a public toilet and showers at Paia Beach, in case you need to rinse off. 
Visitors should be aware that there are no lifeguards at Tavares Beach. Even if the sea seems quiet, stay mindful of the conditions as they can change fast.
When the breaks are big, stay out of the water unless you're confident on a surfboard. Be aware of a potential rip current to the far west of the beach. If there's no one else in the water and the conditions look wild, it's better to stay out. 
Final Thoughts
Something of a hidden gem on Maui's North Shore, Tavares Bay is an easy to miss location that's worth the effort to find.
Expert surfers should drop by in winter for epic waves, while swimmers and snorkelers should enjoy calmer summer seas.