A resort vacation is the last word in convenience, as these hotels aim to put the customer at the heart of everything.
If you're looking for a resort stay on West Maui, then check out our guide to the best resorts around.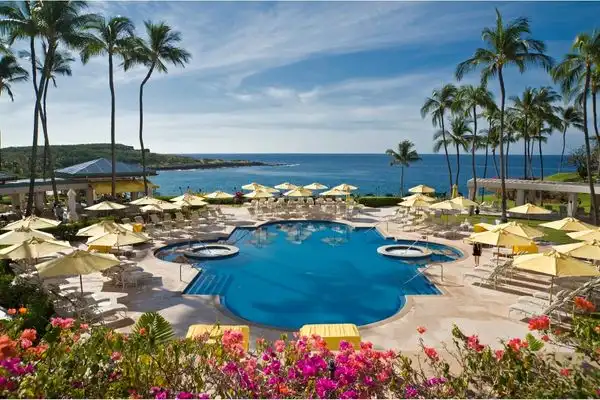 Are There Resorts On West Maui?
West Maui is home to some of the island's greatest resorts, with the Ka'anapali area a popular destination with families.
Further north, find a luxury stay at Kapalua, where resorts such as the Ritz-Carlton are located along the shore.
Ka'anapali is actually home to some of the earliest resort developments on Maui, and over the years, this has become a top-level resort location, with plenty of options to choose from. 
Montage Kapalua
The Montage Kapalua is one of the premier resorts on all Maui, offering a relaxing stay in a picturesque setting.
Along the northwestern coast, Montage Kapalua sprawls behind Namalu Bay, with the spacious resort providing guests with a sense of isolated island harmony. 
Luxury amenities and unforgettable experiences are on offer at Montage Kapalua, and the romantic setting appeals to honeymoon couples.
This resort is also home to world class restaurants, serving food inspired by the Maui setting.
Ritz-Carlton Kapalua
Enjoy peaceful luxury at the Ritz-Carlton Kapalua. Set against the serene Kapalua coast, the Ritz-Carlton has the elegance and comfort you would expect to find in Wailea, but without the crowds.
A top level resort experience awaits you at the Ritz-Carlton, with an exceptional pool complex, several wonderful restaurants, and attentive staff.
The calm location appeals to couples and more mature guests, rather than families, but even younger kids will enjoy the high level of amenities on offer. 
The Ritz-Carlton is also the best resort for golf fans: it backs onto the world famous Kapalua golf courses. 
Aston Ka'anapali Shores
The Aston Ka'anapali Shores provides a welcoming resort experience that feels like a home away from home.
The attentive guest services can help you to explore all that Maui has to offer, and when you're done, head back to the resort's impressive pool complex. Or walk over to Ka'anapali Beach, just minutes away.
With rooms and suites available, the Aston Ka'anapali Shores is spacious for group locations. Large families will love the range of activities on offer, as this is a very family-friendly resort.
Honua Kai Resort And Spa
Expect a relaxing stay at the spacious Honua Kai Resort and Spa, a Ka'anapali hotel with suites and villas available.
This is a resort tailored for families, with island inspired activities on offer for children and parents throughout the day.
Prefer something a little more chilled out? Spend the day by the massive Honua Kai pool complex, a 3-acre aquatic playground, packed with sandy beaches and water slides.
Or take a trip to the luxury on-site spa, and enjoy a Maui inspired treatment.
The Westin Maui Resort And Spa
Sat between the wild West Maui Mountains and the sparkling Pacific Ocean, the Westin Maui Resort and Spa draws serenity and beauty from the scenic location.
The Westin Maui Resort and Spa is a family resort with a touch of elegance. Guest rooms and suites are both available, and provide a comfortable place to rest with quality luxury amenities on hand. 
The Westin Maui Resort and Spa is in an excellent location, with frequent shuttle services connecting guests to the best of Maui.
Sheraton Maui Resort And Spa
The Sheraton Maui Resort and Spa is a Marriott resort on the shore of Black Rock Beach, and it draws greatly from its setting to create a hotel experience with a taste of traditional Hawaii.
From the nightly cliff diving ceremony to the timeless spa treatments, the Sheraton Maui Resort and Spa provides a cultural hotel stay. 
The romance of the Sheraton Maui setting will appeal to couples, but the convenient beachfront location is ideal for families. It's also an excellent destination for a sea view—83% of the rooms face the Pacific. 
Ka'anapali Alii Resort
Located just steps away from Ka'anapali Beach, Ka'anapali Alii Resort is a sprawling and uncrowded resort complex with views across the Pacific Mountain.
Offering both one-bed and two-bed guest rooms, you can book a flexible stay at Ka'anapali Alii, with many rooms equipped with a kitchen.
Fancy an island-inspired meal? Wander down to the beachfront grilling station, and barbecue some local fish you picked up earlier in Lahaina.
Or grab food to go from Whalers Village, found just minutes away, and enjoy on your private lanai.
Hyatt Regency Maui Resort And Spa
Tranquility is infused throughout the Hyatt Regency Maui Resort and Spa, an oceanfront hotel situated on 40 acres of Ka'anapali Beach.
The modern hotel has a sparkling glamor, with high quality amenities, treating guests to a stay that feels luxurious. Choose from one of the 779 rooms, all equipped with private lanais, or sprawl out in one of the 31 suites.
The Hyatt Regency Maui Resort and Spa also comes with an exceptional pool complex, featuring six free-form pool areas. 
If you need even more space, the Hyatt regency Maui Resort and Spa is located next door to the Hyatt Residence Club. 
Royal Lahaina Resort And Bungalows 
The Royal Lahaina was one of the first resorts built on West Maui, and it helped to transform Ka'anapali into the resort town we know and love.
A high rise resort, the Royal Lahaina served as the inspiration for many of the resorts that followed.
As more luxury resorts have populated the area, the Royal Lahaina has lost some of its shine, but renovations in recent years have once again made the resort a place to visit.
It's also worth checking out the deals, as the Royal Lahaina regularly runs family and senior discounts. 
Final Thoughts
From the most luxurious of luxury stays, to family friendly resort hotels packed with amenities, there are many options for vacationers looking for a place to stay on West Maui.
Ka'anapali is home to the majority of the resorts, but we hope this guide will help you discover all that West Maui has to offer.