Kaanapali Beach is situated near North Lahaina and stretches for three miles, north and south. Many resorts and hotels have been established near Kaanapali Beach because of the high demand for the relaxing blue waters.
In the 1960s, the Kaanapali Beach Resort was established, which later became a popular holiday destination for tourists. Presently, Kaanapali Beach plays host to a total of seven resorts, along with Whalers Village, and many restaurants.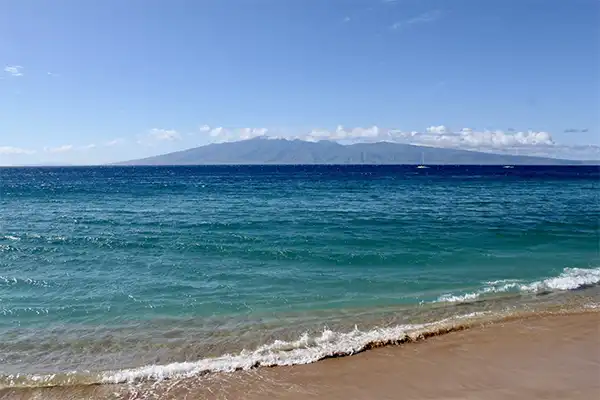 What Side Of Maui Is Kaanapali Beach?
Kaanapali Beach is on the west side of Maui, which includes Kahana, Kapalua, Honokowai, Napili, and Lahaina. West Maui is known as the luxurious side of Maui thanks to its former history as the Hawaiian capital.
West Maui is famous for its gorgeous beaches, so that Kapalua and Kaanapali are among the must-visit spots for tourists. With multiple high-end condos, hotels, and resorts, West Maui has something for everyone. You can find many accommodations and activities to suit your budget.
A Little History Of Kaanapali Beach
Historically, the lavish gardens and sandy beaches of Kaanapali were reserved for the monarchy of Hawaii, when kings and queens needed a refreshing and relaxing sanctuary.
Kaanapali Beach was also once used to train Hawaiian warriors. Kaanapali Beach is famous for its regular cliff diving ritual which takes place near the northern cliffs called Black Rock (or, as its known to locals, Puukekaa).
The Sheraton Maui cliff diving ceremony is held daily during sunset (bring your camera to capture a picture of the setting sun), in which a cliff diver dives off Puukekaa in a depiction of King Kahekili, who was Maui's celebrated king.
Is Kaanapali Beach Shallow?
Kaanapali Beach has it all: an extensive sandy shore, snorkeling beside Black Rock, sunshine, tour boats, shallow water near the shoreline, stalls where you can rent beach equipment, etc.
Kaanapali Beach moreover provides tourists with decent body boarding when the waves are precise. But, at times there is a risk for rip currents, and it's not recommended that you swim.
The water at Black Rock at Kaanapali Beach is quite shallow with a depth of 8-26 feet (2-8 m) the closer you come to the rock point. The water is quite visible, and the sandy beach makes water entry easy for people. Underneath the surface of the water, numerous species of fish and turtles often visit, making it the perfect spot for snorkeling.
How Deep Is The Water At Kaanapali Beach?
Towards Northern Black Rock, the depth of the water is almost 30 feet out en route for the endpoint, which is conditional on the current. Depending on the day, the waves are different but the water is very pristine and clear. The depth of the water makes it an ideal place for snorkeling.
The maximum depths of the ocean around Maui (along with Molokai, Kahoolawe, and Lanai) is approximately 400 feet.  That might sound deep on its own, but the maximum depth of the Pacific Ocean is 36,161 ft. Know that the shoreline can be deep in some places due to swells at times.
What Activities Are There At Kaanapali Beach?
You can enjoy many activities at Kaanapali Beach such as zip-lining, parasailing, scuba diving, windsurfing, kayaking, etc. And right across the station are Molokai and Lanai. Molokai is famous for its peaceful shores; Lanai is famous for its designation as "Pineapple Island."
Scuba diving is very popular at Kaanapali Beach, as well as snorkeling.
The prominent snorkeling season at Kaanapali Beach is during summer, from May to September. The water is calm with great visibility, making the conditions perfect for snorkelers to enjoy deep-sea diving.
Common fish found while snorkeling include parrotfish, Moorish idol, damselfish, butterflyfish, surgeonfish, tang, boxfish, goatfish, wrasse, cardinalfish, chub, tiger fish, perch, Humuhumunukunukuapua (reef triggerfish), hawkfish, mackerel, snapper, cornetfish, porcupine fish, hawkfish, invertebrates, turtles and crustaceans, etc.
There's also snuba diving, which combines scuba diving and snorkeling. Snuba divers breathe through a 10-foot long tube that transports air from above, while the air tank hovers on a raft at the water's surface.
Another activity is kayaking. If you prefer a slow pace, you can opt to go on a kayak tour conducted by tour guides, one of which starts at the Westin hotel and heads towards northern Puukekaa. You can enjoy the view of seabirds that sometimes gather on the cliffs and turtles that break the surface of the water.
What Is The Climate of Kaanapali?
The climate of Kaanapali Beach is mild all year. December through January is the coldest month with the normal temperature ranging from 65-75°F (18-24 °C). Summer falls from August to September with the temperature  falling between 77-88 °F (25-32 °C).
Rainfall often hits the northern shore more than the rest of the island because of the winds, hence it's common to experience showers here. The southern areas are comparatively drier than the northern ones. Bring an umbrella.