Most vacationers enjoy the hustling islands of Maui. But, if you're someone who's after peace and wants to immerse yourself in nature without much human interaction, Molokai is your island to visit.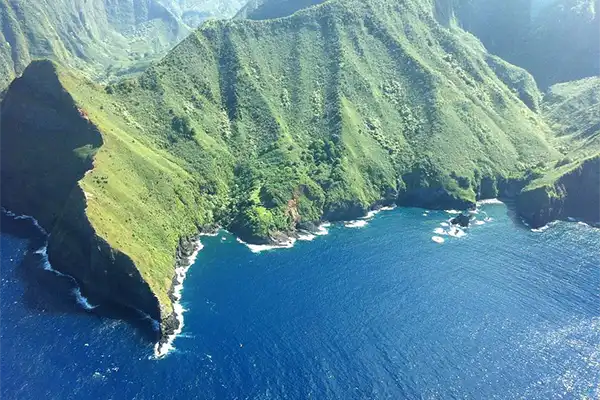 Where is Molokai?
Molokai is about eight miles northwest off the coast of Maui.
Molokai is 38 miles long and 10 miles wide, or 260 mi². Compare that to Maui's length of 48 miles long and 26 miles wide, or 727 mi².
It's the least populated island of Hawaii.
So, How Do You Get To Molokai From Maui?
Hopping between islands is done by either sea or air. Makes sense. Most people aren't up to the task of swimming between islands, especially not the 8.5 miles of ocean tide separating Maui from Molokai.
For several decades a ferry sailed between Molokai and Lahaina Harbor, but the ferry ceased operations on October 27, 2016. There weren't enough riders and air travel between islands had been subsidized.
So, now the only way to travel between Maui and Molokai is to hitch a ride through the skies. Both Kahului and Kapalua airport offer direct flights to Molokai Airport. The flight in offers a healthy glimpse of the eastern portion of the island.
Does Molokai Have An Airport?
Yes, the Friendly Isle has one airport, aptly called Molokai Airport (MKK). It's nestled on the island's central plains, about seven miles northwest of Molokai's largest city, Kaunakakai.
It's not a very big airport, as expected. The largest plane to ever land at Molokai Airport held only 127 passengers.
Know that Molokai Airport is only served by planes coming from other Hawaiian islands, so you can't book a direct flight from the mainland United States (or anyone else in the world for that matter) to Molokai. That helps explain why it has a smaller population than other Hawaiian islands.
Is The Molokai Ferry Still Open?
As stated above, no, the Molokai ferry is no longer operational.
The only ferry currently operational on the Hawaiian Islands runs between Maui and Lanai.
When the ferry was used as a means of transportation, the by-water route took around 1 hour 15 minutes to get from Maui to Molokai. Whereas the plane ride is a simple 30 minute puddle jump across the channel. While not as scenic, the plane is certainly faster.
Can You Swim From Maui To Molokai?
If you have to ask, you probably shouldn't attempt the 8.5 mile Palilolo Channel crossing. It's a test of endurance for some of the best swimmers in the world, although quite a few have accomplished the crossing since 1973 when Jim Caldwell made the first recorded crossing.
The tide works against you, and so too do some of nature's wildlife, such as curious sharks. Linda Kaiser shared her 1990 crossing with Honolulu Magazine.
What Is There To See In Molokai?
Despite lacking in commercial attractions, modern infrastructure, and tour operators, the friendly isle doesn't fail to fascinate visitors:
The peaceful shores of Halawa valley
Kalaupapa national park, 2000-foot high majestic sea cliffs
The largest beach of Hawaii: Papohaku Beach Park
The historic Kapuaiwa Coconut Groove
Although Molokai is best known for its sordid history as a leper colony for nearly a century, from 1866 to 1969. Over 8,500 people with leprosy were settled on the island.
There are no active cases of leprosy today.
Why Is Molokai's Nickname The "Friendly Isle"?
The beautiful island of Molokai got its nickname the "Friendly Isle" from the hospitality, perseverance, and values of its people.
People who inhabit this island are said to be true to their cultural values, traditions, and community. They believe in collectivism and push themselves to every limit to preserve their island's beauty, resources, and uniqueness.
Mind it, they expect you to do the same if you visit!
How Long Does It Take To Get Around Molokai?
If you want to explore every bit of this pretty small island, nothing should stop you from embarking on a car journey around the island. With well-maintained roads covering the 72 miles of the Friendly Isle, it takes about 2-3 hours to circle the island.
Though if you take your camera with you, it will likely take much longer as you'll have to stop and snap plenty of pictures! Don't miss out photographing the sunset.
Is Uber Available On Molokai?
Due to less commercialization on this small island, Uber and other online car rental services are not available.
But fret not. To get around the island you can book local taxis, who not only offer comfortable rides around town but also make sure to enlighten you with their cultural knowledge about why each destination around the island is significant. A complete package!
Should I go to Molokai or Lanai?
Neither Molokai nor Lanai are mainstream travel destinations, but they're untouched beauty makes them that much more worth visiting for the adventurous.
Despite being half the size of Molokai, the much smaller Lanai is more developed in terms of resort community than Molokai. Mostly referred to as the "Private Island," Lanai is often the destination for honeymooners and romantic getaways.
On the other hand, with less commercialization and more historical significance, Molokai is the go-to for exploration. The roads are paved and beaches have easy access. Whereas, on Lanai you'll be required to book a 4WD Jeep.