Maui is known for its beaches, its sunsets, and its aura of tropical romance.
Like any beautiful destination, people flocking to Maui from around the world are looking to relax and maybe looking for love. Here in this guide we're helping single people figure out the best ways to mingle, whether they be visiting Maui for a short excursion, or maybe planning to stay a little longer.
What better reason to stay in paradise than that special someone?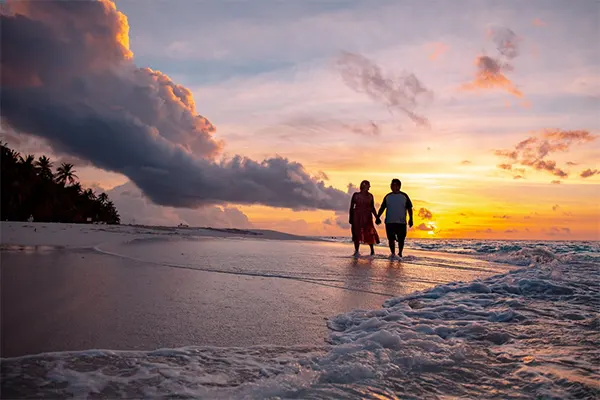 Where Can I Bond With People In Maui?
We can't help but begin our guide with Maui's nightlife. Whether you want a friend to hangout with while on your vacation or a date to have a good time on your trip, the bars and nightclubs are your go-to in Maui.
But most of Maui's nightlife is concentrated in Lahaina Town.
These party spots in Maui are your chances to approach, chat, and have a beer or fancy drink—like a lava flow—besides a beach breeze with a potential date.
Here are some of the places in paradise to find someone to share your time on paradise with…
The Dirty Monkey
Vibe Bar
Kahului Ale House
Casanova
Kahale's Beach Club
It's not just the nightlife that brings people together. There are luaus, and popular hiking trails, hanging out on the beach, and carving across the waves.
What Is The Best Dating App In Maui?
Shy to approach someone in a physical setting? It's the 21st century, how about going online to meet a special someone? Now, even while sitting on the beach sipping a pina colada you can meet a special someone thanks to your screen.
Some of the most popular sites you can sign up for and try your luck connecting with a possible soulmate are…
eHarmony
Elite Singles
Zoosk
Silver Singles
Higher Bond
Of course every app, and website, appeals to its own demographics, so depending on who you are you'll have to check each out to see which works best for you.
Is Tinder Used On Maui?
Yes, of course, Tinder is used on Maui. With more than 65 billion matches to its name, it's no wonder that Tinder has made a home for itself on Maui. And young tourists love to populate Tinder while on vacation.
Though it's primarily used by people under the age of 25 so it may not be for everyone.
Is Bumble Popular In Maui?
Bumble, the popular alternative to Tinder, is also widely used on Maui, especially by visiting tourists. It's also the second most popular dating app in the United States, with over 42 million monthly users.
But Bumble is a bit different than Tinder, as (at least for heterosexual matches) women have to make first contact with the male user before they can have a conversation.
What Are Some Fun Date Ideas In Maui?
From nature and culture to adventure and activities, there is plenty to do in Maui that will make a date both fun and romantic.
You don't even have to spend money to make a date memorable. Between beaches and hiking there's so much to do for two on Maui.
While we can't be all exhaustive with every possible date option, we've listed a few exceptional activities to get you started below.
Pride of Maui Cruise Date
We can vouch for nothing more romantic than watching sunsets together and it's the reason why a sunset cruise date tops our list. And the Pride of Maui offers one of the most luxurious catamarans to impress that special someone.
Bonus: Proud of Maui is famous for planning dinner dates so make sure to arrive with an appetite.
Maui Helicopter Tour
A helicopter tour offers an unmatched experience to observe the diversity of Maui's landscape from well above. Make sure you and your date aren't afraid of heights.
Haleakala Sunrise Adventure
You can see that we can't get enough of Hawaii's nature and we bet you won't too! So make sure you check out Maui's breathtaking sunrise from atop the magnificent summit of Haleakala.
Behold the landscape of Hawaii. And maybe reach out for the hand of that special someone while the sun greets the new day.
Island Art Party
Island Art Party is Maui's paint and sip studio located in the center of Kihei. With fascinating activities going on all day long, it's your place to paint Maui's awe-inspiring sunsets or create the color pop of your imagination while looking into the eyes your loved one.
The Dirty Monkey Dance Night
The Dirty Monkey Sports Bar and Entertainment offers a myriad of activities that go on throughout the day with a little something for everyone.
You may choose to hit the dance floor on your dates' "our song" or join a group of fun-lovers to play toss the ball. The ground is all yours for all day.
Doesn't matter if you're on the rainbow island for a vacation or a long stay, there are plenty of possibilities for love. And if you're lucky you might just get to sing, "Aloha aku no, aloha mai no!"