After a long, well-deserved stay in Maui we know that saying "a hui hou" (translating roughly into "until we meet again") to the island is not easy.
But, while it may be your last day, there's likely still time to squeeze in a few more activities before it's time to fly home. Don't let a moment slip away while there's time.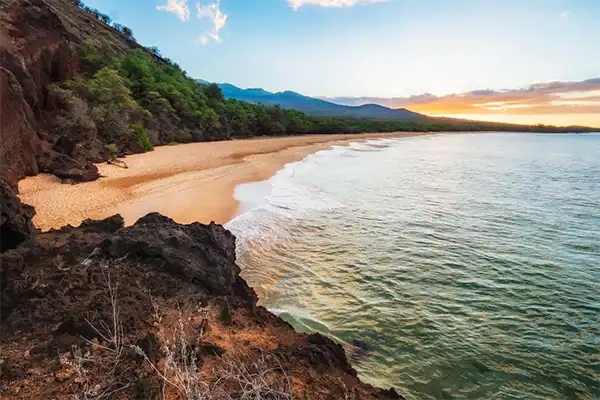 What Should I Do On My Last Day In Maui?
Most of the time, flights off the island are in the evening. But most resorts, condos, and other rentals require guests to check out by 11 a.m.
That can be quite a bit of time to kill. Why bother spending all that time waiting at departures when there's still a full day that could be filled by activities? Just make sure to set a timer so that you don't miss your flight—or maybe, don't (if you can afford to)! And if you have TSA PreCheck you'll have even more time to hang out on the island.
You'll either be hanging around Kapalua Airport or Kahului Airport, so we're listing activities near both airports.
Relax On The Beach
If you're at Kapalua you've got the beaches of Kapalua just to the north and Kaanapali just to the south.  That means both Black Rock Beach and Kapalua Bay Beach (one of America's best beaches)—among many others—are just a stone's throw away for one more day soaking up sunshine and the Pacific.
Play Golf
The Plantation Course in Kapalua is the perfect 18-hole retreat to fill the time of a last day in Maui. It overlooks the Pacific Ocean, rising and descending with the hills of Maui to make for a relaxing challenge.
And if you're near Maalaea, and you're up early enough, check out Maui Golf & Sports Park. The park has two mini-golf courses, along with bumper boats, trampolines, and more. Perfect for families with young ones.
Treat Yourself At The Spa
Maybe the best way to prepare for the long flight home is a spa, especially if you've lead an adventurous vacation on Maui. Most resorts feature a spa, and check to see if you can get a massage—such as at the Hyatt Regency Maui Resort and Spa.
Lomi Lomi massages are a special Hawaiian massage technique that's well worth indulging if you haven't already had the chance during your stay.
Try A New Restaurant
There are many, many restaurants to indulge your palette near both of Maui's airports. Be greedy. It's your last day of vacation. Why not treat your stomach and your taste buds?
We've covered the best restauranters near Andaz Maui, and restaurants in Kahului, so check them out if you're in the area.
Go Shopping
Souvenirs? Memorials of a time well spent? Both? If you happen to be in Wailea check out the Shops at Wailea before heading to the airport. There are also plenty of other Hawaiian markets and shopping villages to test your wallet.
What Places Can I Visit On My Return Flight Day In Maui?
Visit Maui Tropical Plantation
If you're near Waikapu spend the early part of the day at the Maui Tropical Plantation. Learn how local fruits like pineapple and how sugarcane are grown on a tram ride. Great for families. A shop on-site also sells the produce that they grow, but you'll have to check with your airline if you want to take it back with you to the mainland.
Best part? Our favorite Maui Tropical Plantation is free and open to the public throughout all seasons!
Visit Maui Ocean Center
Located in Wailuku, the Maui Ocean Center is a massive five acre aquarium that concentrates the underwater world in a single space. Cool of your sunburn by hanging out with sea life inside. There's even a 3D viewing experience about humpback whales.
Take A Helicopter Tour
Can't wait to take to the air? Then book a helicopter tour. There are plenty of tour companies on the west side of the island, near the airport, so you don't have to worry about the time needed to get to the airport after your tour.
Tours themselves are typically about an hour, up to an hour and a half, so even after seeing Maui from a private birds eye view, there's still time to catch a bite to eat before hopping on your flight home.
Should I Ask For A Late Checkout?
The smart move you can play to save yourself and your luggage from being stranded on the streets is to ask the resort or condo you're staying for a late checkout—for a nominal fee. If your budget allows and there is availability, you may also book for an extra day just to have a place to store your bags.
Paying for an extra 12 hours not only saves you from the hassle of carrying your luggage everywhere you go or dropping it off at the airport early, but gives you a space to get ready and nap before you hop on to a nightlong flight.
Where Should I Keep My Luggage After Vacating The Condo On The Flight Day?
Losing your luggage before boarding your plane in sorrow is not the way to end a Maui vacation. Planning a safe space for your luggage is the key to peace before you adventure out on your flight day.
If you don't have a condo or resort room booked for an extra day (or didn't get a late checkout option), ask the staff to keep your luggage in the office. They might agree. This will give you hassle-free extra hours to have fun before waiting for a flight in the airport lounge.
Another option is to use the airline's early drop service for checked bags. However, if you have any carry-on bags, you'll have to lug them with you.