If you've been to Maui, one of the most delightful discoveries you can make is the taste of Maui Gold pineapples.
Even after cutting into these juicy fruits a hundred times now, I'm still absolutely blown away by how sweet they are. It's like they should be illegal or something—they're so good!
In this article, I'll tell you where you can buy them…
When you're in Maui
When you're on the mainland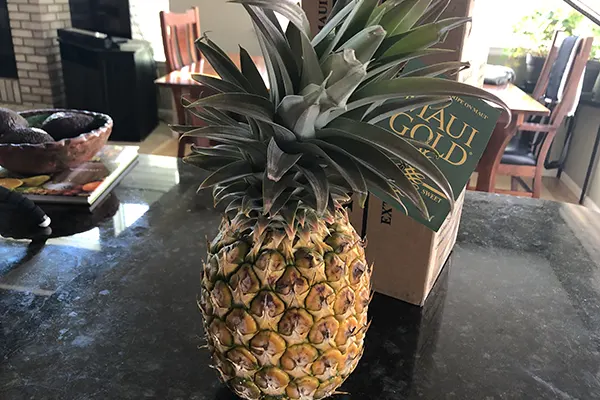 Are Maui Pineapples Good?
If you like pineapples, then yes! Maui Pineapples are largely considered the crème de la crème of pineapple. You might even call Maui Gold Pineapples the gold standard of pineapples—it's in the name after all.
But what makes them so good?
Because of Maui's climate and the way they're grown, Maui pineapples tend to be less acidic than other pineapples, which elevates their sweetness (many people consider them the sweetest of all pineapples). They also have, on average, higher levels of Vitamin C than pineapples grown elsewhere.
So, Maui pineapples make for a great treat on a hot day, whether they're sliced or blended up into a piña colada.
Where are Maui Gold Pineapples Grown?
Maui Gold Pineapples grow along the upcountry slopes of Haleakala. The Maui Gold Pineapple Company seeds them across 1300 acres of farmland, and each pineapple is handpicked and tested for ripeness.
The rich volcanic soil is a boon for the pineapple's consistently sweet flavor.
After 18 months of growth, each pineapple is harvested within only a few days of becoming ripe—typically two to three. That ensures that each pineapple is as richly flavored as it can be.
Any green pineapples are loaded and shipped to carriers on the mainland, since they better withstand the trials of shipping, to reach you, dear reader, if you live on the mainland.
How Long do Maui Gold Pineapples Last?
Since they're field ripened, Maui Gold Pineapples last anywhere from 7 to 10 days in the refrigerator.
But, as with most fruits, they can be sliced and frozen, and taken out of the freezer at any time during the year so you're never without pineapple from Maui.
Depending on how much room you have, try a bit of both. That way you can have your pineapple now and eat it later too.
Where to Buy Maui Gold Pineapples When in Maui
Maui Gold pineapples used to be a challenge to find, but these days they can be found almost anywhere on Maui.
Maui Costco
We usually stop in Costco upon arrival to stock up for our stay, and we always get at least one Maui Gold pineapple while shopping there.
Costco is in Kahului, so if you happen to land at Kahului airport make sure to head down the road to pick up a pineapple.
Most Maui Grocery Stores
You can also get Maui Gold pineapples at almost any grocery store.
We usually stay in Lahaina, and find them at…
Safeway in Lahaina
Foodland in Lahaina
Time Supermarket in Honokowai
Napili Market in Napili
They're readily available at most grocery stores in Kihei, the Wailea area, and in Kahului, as well. Keep your eyes peeled while rolling your cart through the aisles.
Maui Farmers Markets / Fruit Stands / Farm Stands
You can find Maui Gold pineapples at the following farmers markets in Maui:
Kihei Farmers Market
Lahaina Farmers Market
Napili Farmers Market
The fruit stand in Olowalu
Upcountry Farmers Market in Makawao (call them to make sure)
Take Them Home With You from Maui
If you're in Maui already, and you want to take some pineapples home on the plane with you, you almost certainly can.
When it comes to Hawaii, Puerto Rico, and the U.S. Virgin Islands, there are many fresh fruits and vegetables that cannot be carried, to avoid spreading invading species. Pineapple is one of the fruits that's allowed.
TSA allows you to pack fresh fruits and vegetables in carry-on bags or checked bags, within the continental United States.
But remember, there's a difference between domestic and international flights. Visitors to Maui will have to check with their country's international rules.
(If you missed out on picking up a pineapple before arriving at the airport, you may find pineapple at the airport, itself.)
Get Them in a Pineapple Box from Costco
Costco has boxes of pineapples for sale. Each box contains six pineapples.
You'll have to ask for the box, and then the box can be stowed on board your flight at no extra cost.
Our sources say that any airline leaving the island will let you take the boxed pineapples with you back to the mainland, but make sure to double check with the attendants at your airline's ticket counter.
Buy Them at the Airport
If you miss the deal at Costco then you can also buy pineapple at the airport. However, as with most airport items, the pineapples are more expensive.
Pineapples at the airport cost $31.99 for a box of three, as of this writing.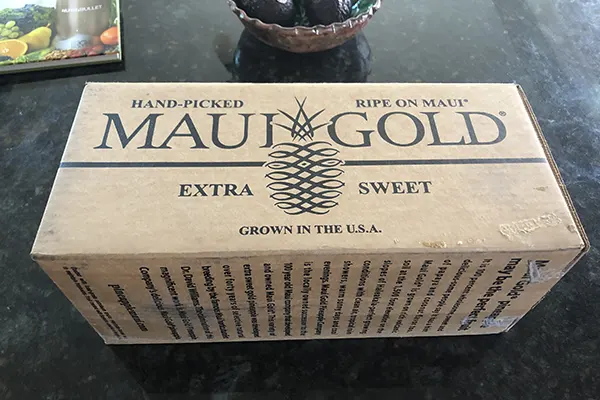 Ship Maui Gold Pineapples from Maui
But what if you don't want to lug pineapples home with you? You may already be sweating with the luggage you needed for your trip to Maui—and pineapples are heavy. Don't worry. You can always choose to ship pineapples directly to your home address.
Take Home Maui ships certified Maui Gold Pineapples to the mainland for as little as $59.95. The pineapples can be purchased in boxes of 2, 3, 4, 6, 8, or 10 pineapples—10 pineapples costs $109.95.
They can be shipped through FedEx, and you can even get second day air shipping if you're craving a pineapple right now.
(They also ship Big Island Hawaiian Papayas and Kula Sweet Onions to the mainland.)
Where to Buy Maui Gold Pineapples from the Mainland
Most pineapples sold at grocery stores on the mainland are from Mexico or Costa Rica. Even when they're labeled, "Golden Pineapple," they're not actually the Maui Gold brand—nor do they taste as good.
But there is an exception. According to the Maui Gold company website, Maui Gold pineapples are available from some grocery stores on the west coast of the United States. Keep your eyes peeled.
Otherwise, the only way to snack on genuine Maui Gold pineapples is to order them from the island and have them delivered to your home.
You can order Maui Gold Pineapples from the following sites: