When you begin to pack for your Maui vacation, it's tempting just to fill the case with swimwear and call it a day. Of course, you'll soon realize your mistake when you head out for dinner in a bikini.
Which leads to the question, what do you wear at night on Maui?
At night, dressing in Maui remains casual for the most part. Breezy clothing is preferred, with a top layer on hand for when the sun goes down.
If you're wondering about what to put in your case, then this guide will ensure you never look out of place.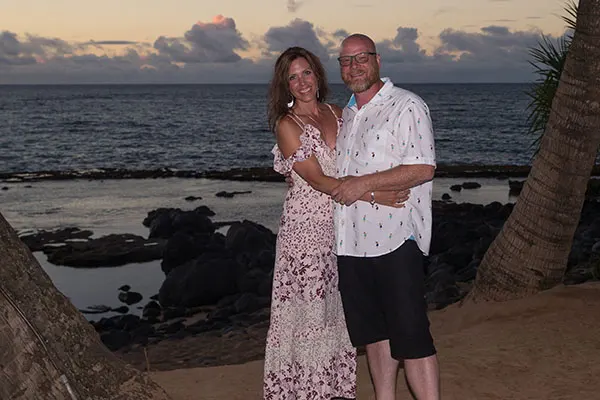 What Do You Wear At Night On Maui?
Dressing on Maui tends to be casual and colorful. Restaurants prefer something a little nicer than beachwear, but for the most part they won't require anything particularly formal. Maxi dresses are fantastic, with cotton, linen, and silk all making good fabric choices.
It's best to pack some layers—but don't worry, light ones will do.
For Your Upper Half
A cardigan, a sweater, and a rain jacket, should get you through even a decently long stay on the island. Sweaters and jackets are useful for long hikes and morning boat trips.
Maxi or midi dresses are a fantastic choice for women. They add warmth if the temperature dips, but remain breezy for humid evenings. These dresses also work well for both casual and formal dining, or if you want to finish your meal with a Mai Tai from a cocktail bar.
Color is big on Maui, so take the opportunity to wear some prints. As the day turns into night, bold colors will keep you looking fresh.
For Your Legs and Feet
Pants and shorts are often both appropriate, although jeans can feel stifling.
As for shoes, sandals are still the best choice at night. Women might enjoy wearing a wedge heel, but high heels are really not necessary. Open toe is nearly always the right decision—no one wants to ruin their nice shoes with suffocated toes on a balmy evening.
Men can also get away with wearing sandals in most places. Socks and shoes might be preferred in formal settings, but in casual eateries they'll feel uncomfortably warm.
Casual may still be the watchword, but swimwear is largely considered inappropriate at nighttime.
For Dinner
For an early evening dinner, you'll probably get away with a cover-up over a swimsuit, or a shirt on top of trunks. But if you plan to head indoors, or you're going somewhere more upmarket, it's better to switch out the swimwear for actual clothing.
It goes without saying that if a restaurant asks you to cover up, you need to do as they say.
Nightlife on Maui is growing, with cocktail bars and nightclubs popping up. Dress casually, with clothes that allow for plenty of movement.
What's The Temperature Like At Night In Maui?
Temperatures are balmy in Maui year-round, and that includes in the evenings. However, it does start to cool down as the night sets in. For dinner, the best clothes are breezy, but easily layered.
If you've been to Maui before, you may have noticed that grocery stores can feel a little less "Hawaii," and a little more "Alaska." Which is quite a shock if you're still in your beach clothes.
Restaurants don't tend to crank the AC quite so much, especially as so many of them are at least partially outdoors. Air conditioning might make them cooler, but nothing more than a light cover up can handle.
Consider where on the island you're staying. South Maui gets less wind than the east coast, while West Maui gets more rain. If you're spending some time in the northern areas, a rain jacket and sweater will be needed.
An evening on Maui is never likely to get cold (unless you're having dinner on top of Haleakala). But that doesn't mean it's as warm as it is during the day. Expect temperatures to chill to around 60°F as the night sets in. Having a jacket or sweater on hand means you don't have to cut your evening short.
What Is Resort Wear?
Maui is home to some opulent hotels, luxury resorts, and fine dining. Now, a lot of these places do embrace the aloha lifestyle, and won't expect a three-piece suit for dinner. However, some of the more upscale resorts (in Wailea, for example) will expect a better level of dressing.
Collared shorts are often required for men, while women can wear a nice blouse or dress. For evening wear, men will be expected to wear a suit or sport jacket. Covered toes are also a necessity.
Resort wear only tends to be applicable at a few resorts, and generally only in a few specific restaurants. But if you plan on staying at one of these resorts, or booking an evening meal, make sure to add a formal outfit or two to your suitcase.
Final Thoughts: Don't Worry About It Too Much
As much fun as it can be dressing up, you'll soon notice your mistake when your dinner is ruined by the stifling heat of your lovely new dress.
Pack light layers. This allows you to take more, so you can adapt to the weather. Consider fabric choices as well. Cottons and linens are good for men and women, and they remain cool during warm nights.
There are also plenty of lovely shops on Maui, so make sure to leave room in your case. If you find your at-home clothes just aren't suitable for island life, a quick shopping trip can easily sort it out.