Maui has long attracted rock stars looking for a place to chill out, so it must have felt like a natural fit for Steven Tyler.
Known sometimes as the Demon of Screamin' for his high-pitched singing style, Steven Tyler probably needed a place to rest his voice. And where better than the quiet shores of Makena?
Steven Tyler's house on Maui is a dream property, packed full of luxuries and with a location that's one step from paradise. To find out everything we know about Steven Tyler's house on Maui, read on.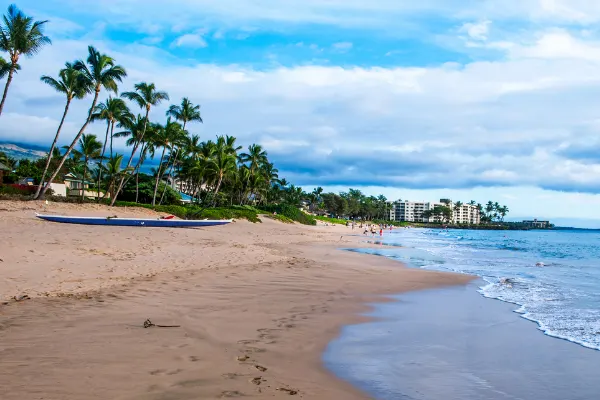 Who Is Steven Tyler?
Even if the name isn't familiar, you're sure to recognize the style and sound of Aerosmith rocker Steven Tyler. He has a somewhat distinctive vocal style, which is the politest way to describe the high-pitched screams that characterize the Aerosmith sound.
If you can't bring that sound to mind, listen to a few seconds of Walk this Way, and it will all come rushing back.
Having made an estimated 150 million dollars with Aerosmith, and as a judge on America's Got Talent, Tyler decided to use his money to invest in a picture perfect Maui estate.
Where Is Steven Tyler's House On Maui?
South Maui is home to some of the most fabulous resorts on Maui, including the Four Seasons and the Grand Wailea. These luxury hotels attract superstars and tourists alike, with a Wailea beachfront location that's straight out of paradise.
But when you have an estimated net worth of 150 million dollars, why not find something more permanent?
Steven Tyler purchased his Kihei home in 2012, for an estimated $4.8 million. That might sound like an incredible amount, but when you see the Makena location, you'll understand it was worth every cent.
All About The House
The house itself is in Makena, a national reserve, just down the road from Wailea, a tourist resort. The entire area is often described as Kihei, which refers to both a residential town, and a large part of South Maui.
Technically, Tyler owns a bungalow on Maui. But if you associate bungalows with sleepy retirement villages, then a rethink is necessary. If a bungalow mansion is a thing, then that's what Steven Tyler owns on Maui.
Set on a quarter acre of land, the property peers over the coastline of untouched Makena.
Constructed of redwood and walnut wood, with floor to ceiling windows offering spectacular panoramic views, the house has a unique style that matches the Aerosmith frontman. 
Luxury was clearly the intention when building this house, although it blends well into the Maui landscape. With open rooms allowing the outdoors in, it really looks like a tropical escape.
A saltwater infinity pool is the crowning detail of this impressive home.
The Nature Reserve
When the rock star doesn't feel like spending time in the house, he has a nature reserve as his backyard. Makena is scattered with walking trails that explore the natural volcanic landscape of Maui.
South Maui is the sunniest strip of the island, known for avoiding the showers that can drench central and eastern parts. The beaches are among the best in the world, with soft sands and turquoise seas that attract some magical wildlife.
During the winter, it's possible for Tyler to spot visiting whales right from his living room window. They pass by Kihei during the breeding season.
How Much Time Does Steven Tyler Spend On Maui?
Steven Tyler doesn't just use Maui as a holiday home—he gets some work done when he's staying on the island! Tyler has been known to hold the occasional gig, and has had some intimate performances on Maui.
Tyler isn't exactly the only rock legend to call Maui home. Sometimes he finds time to meet up with Fleetwood Mac's Mick Fleetwood, and have a bit of a jam sesh.
Like Tyler, Mick Fleetwood is a Maui enthusiast, with a home on West Maui, and a restaurant in Lahaina.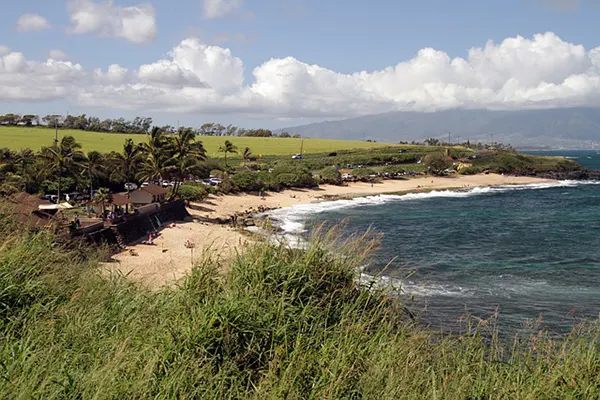 How Likely Are You To See Steven Tyler On Maui?
Steven Tyler does tend to stand out in a crowd, so you might be able to catch a glimpse of him if you're spending time on South Maui. The beaches of Wailea and Makena do attract celebrities, so it's a good place to try some people watching.
He also used to be a regular at the iconic Charley's Restaurant and Saloon on the North Shore, but its doors are sadly closed now. But Tyler isn't exactly known as the shy and retiring type!
He's sure to find another bar to become a regular at soon (possibly Mick Fleetwood's Lahaina restaurant, Fleetwood's on Front Street).
If you are interested in trying to catch a glimpse of Steven Tyler's house, then make your way to Pa'ako Cove, aka Secret Cove. From this tucked away spot, you can just about see Tyler's house, although we don't recommend trying to get any closer.
Besides, you're unlikely to be interested in celebrity spotting once you get a look at Pa'ako Cove.
The sandy beach is popular for wedding photography, because the views are breathtaking. No wonder Steven Tyler wanted a house nearby!
What's The Steven Tyler law?
There's a reason you're unlikely to find pictures of Steven Tyler relaxing on a Maui beach, and that's the Steven Tyler law.
The bill, which Tyler and other celebrities lobbied for, gave celebrities the opportunity to sue paparazzi for taking unauthorized photos of them on vacation. The bill went into effect in 2013.
Although it's exciting to spot celebrities on Maui, it's best to look from a distance. Immerse yourself in the culture of Maui, and you'll soon find you won't care even if Oprah sits next to you at breakfast.