Kaanapali, on the west coast of Maui, is home to some of the island's most popular resorts and beaches. It's a great place to stay because it combines beauty and thanks to an abundance of things to do, from the relaxing to the adventurous.
No matter your proclivity, no matter whether you're traveling alone, or with family and friends, or a special someone, you'll find something to do to put a smile on your face. You're in Maui after all, why wouldn't you be smiling?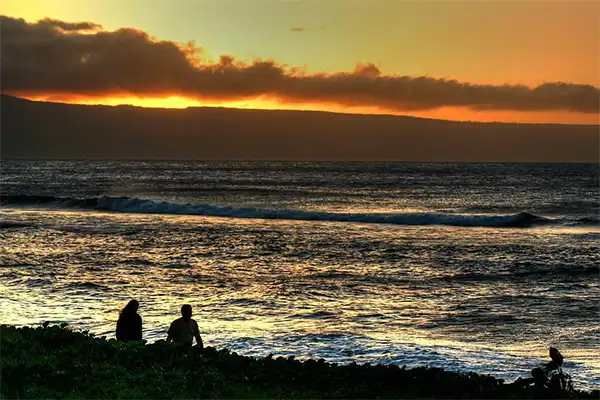 What To Do At The Beach In Kaanapali?
Soak In The Sun At Kaanapali Beach
Kaanapali Beach is a stunning three-mile strip of golden sand, and is unquestionably one of Maui's best beaches.
It's also among Maui's nicest swimming beaches since the waters are shallow, which also means it's a great place to spot some colorful fish.
Since there's not much reef and it has a light decline, entering and leaving the water is simple.
Most important though? Keep your eyes peeled because you might spot a green turtle wading in the waters. Look but don't touch! It's a federal crime to interfere with the turtles.
Snorkeling At Black Rock
One of Maui's best snorkel spots is on the north end of Kaanapali Beach. This is without a doubt one of, if not the best, things to do on the beach in Kaanapali.
The water depth ranges between 8 and 25 feet. Grab some snorkeling gear and keep your eyes peeled for corals, fish, and turtles.
But, remember, if you do go snorkeling, bring a partner to be safe.
Scuba Diving
You don't have to be a trained PADI diver to go scuba diving in Kaanapali. All along the coast there are tour companies to get you started with an underwater adventure.
And if you're in Maui why wouldn't you explore the underwater world? Especially since 70% of the planet is ocean, don't miss out on what lies beneath the tide.
There are over 680 tropical fish species swimming in the waters of Hawaii. Some of the most common include the black and white Moorish Idols, and Rainbow Butterfly Fish. Keep a checklist nearby and see if you can spot them all.
Whale Watching
If you're visiting Maui at the right time of year, from December to March, then you might spot a whale from coast of Kaanapali.
Take a whale-watching trip, which is probably your best chance to spot a Pacific Humpback on their migration.
The tours last a couple of hours, and typically include food and an open bar. The guides are experts. Ask them anything at all that you want to know about whales. Or sit back and listen as your very own live action nature documentary unfolds before you.
What Are The Best Activities During The Day?
Learn How To Surf
When you think of Hawaii, you might think of surfing. Testing the seas and learning to surf are ideal Kaanapali Beach activities.
The sandy break makes Kaanapali Beach an excellent place for newbies to learn to surf because there is no reef to injure themselves if they fall. You can find a few surf businesses in the area that can arrange private or group training sessions for you.
Get A Lomi Lomi Massage
The Lomi Lomi massage is a Hawaiian massage technique that utilizes nut oils, such as macadamia, as well as breathing and dancing.
The massage is intended to re-energize and relax the body. In a good spa, a typical Lomi Lomi massage roughly costs around $120-200.
This is well worth the extra money. To assure quality, you should book one through your hotel or resort.
Off-Roading Exploration
Off-roading in West Maui is a brilliant way to spend the day. It's one of the most fun activities to do in Kaanapali because it takes place at Kapalua, located north of the Kaanapali Beach, on the hills of the Western Maui highlands.
There's approximately 1,400 acres of dirt trails, allowing you to explore a less explored section of Western Maui. Expect to get your hands filthy!
Go On A Sunset Cruise
Taking a sunset cruise is one of the best ways to see Kaanapali. It simply does not get much better.
The sunset cruise departs from Kaanapali Beach and provides breathtaking views of West Maui, as well as the nearby islands of Lana'i and Molokai. Make sure to take a sunset photo!
The sunset cruise is great for a special occasion or a fun night out with your buddies.
Chill at a Luxury Resort
Chill and relax at one of the luxury resorts that are along Kaanapali Beach. Spend your time at the pool sipping pina coladas, swimming in the ocean, and getting a tan.
There are a number of wonderful resorts to select from, The Westin, Sheraton, Royal Lahaina, Hyatt, and Whaler, to mention a few, are some of the finest honeymoon resorts.
What Is There To Do In Kaanapali At Night?
There is still so much to do in Kaanapali after sunset. End your day with a bang with these activities!
Attending a Luau at Night
Attending a luau is one of the most popular activities for visitors to Hawaii. It includes music and chanting, as well as the stunning Hula and fire-knife dance.
Bring an empty stomach because a luau is both a dinner and a dance. While getting a sense of true Polynesian culture, try native Hawaiian food and sip mai tais.
Tiki Torches by the Sheraton
The classic lele kawa is put on by the Sheraton Maui, is one of the coolest and nicest free activities to do in Kaanapali. Every night around sunset, a Hawaiian performs a cliff diving ritual in which he blows in a conch shell in four directions, performs a chant, and then lights a line of tiki torches.
The Hawaiians finish the ceremony by jumping into the azure seas below Pu'u Keka'a, also known as Black Rock.
Give Way to Mai Tai's of Maui
Isn't it true that you can't visit Maui without trying at least a few Mai Tais? Monkeypod Kitchen is among Maui's most delicious eateries. Fleetwoods and Merrimans on Front Street, the top two restaurants in Lahaina, are must-visit bars in West Maui for Mai Tais.
So, make sure to have fun with these and make your vacation so much more memorable and one for the books!