Early risers tend to get the best choice of pool seating, but not everyone wants to start their day by rushing through breakfast so they can lay down a towel.
If you prefer a slow start to a day at the pool, or you like the added privacy and shade of walls or covers, then you probably want to consider renting a cabana. Particularly if you're staying at Westin Maui.
Take your pool day to the next level with this complete guide to Westin Maui cabana rental.
What Cabanas Are Available At Westin Maui?
Westin Maui offers their guests the chance to make themselves at home both on the beach and at the pool with a variety of luxury cabana rentals.
The cabanas at Westin Maui are essentially comfortable covered seating, although the level of comfort ranges from basic to exceptional. Prices range significantly as well, depending on the type of cabana rented.
For simple two people seating, Westin Maui has the beach casabellas and the Pune'e (a type of daybed).
These come with a moveable cover, and the padded seats offer guests a place to sit throughout the day.
For a little more privacy, Westin Maui provides cabanas. Two guests can enjoy the Hale Ho'omalu, a covered cabana with separate loungers.
Four to six guests can settle in at Hale Ali'i, the largest cabanas on site. These are really all about comfort, featuring a smart television, and a refrigerator. 
How Much Is Cabana Rental At Westin Maui?
Cabana rental costs between $100 and $600, depending on the style of cabana you rent, and its location on the property.
The beachfront casabellas are the least expensive option, and cost roughly $100.
These offer seating for two on Ka'anapali beach. The Hale Ali'i cabanas are the most expensive, with prices starting at $475.
These can accommodate 4 to 6 people, and better locations come with a higher price tag. The two guest hale Ho'omalu cabanas are a spacious option, with prices starting from $300. 
Is The Cabana Rental Worth It At Westin Maui?
If you're planning a pool day, there are many advantages to renting a cabana at Westin Maui. For a start, the pool does get very busy, and non-rental chairs fill up fast.
If you're wandering down to the pool after a lazy breakfast, you might find all the best spots are gone.
Plus, Westin Maui has been known to clear chairs if the occupant has been gone for too long.
You might think your book and towel will protect your spot while you grab lunch, only to find someone else in your seat when you get back.
But with a cabana, you know you have your chosen seating from 9 am to 6 pm. You can stretch out, people watch, and wander away for as long as you like. 
Similarly, if you're planning a day on Ka'anapali beach, casabellas can ensure you always have a shaded area to sit in.
Ka'anapali beach is hugely popular, and finding the best place to stretch out on the sand can be hard work.
With Westin Maui casabellas, you have the perfect spot already secured.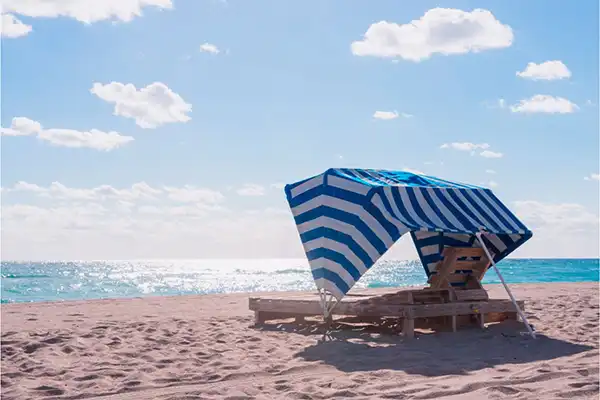 How To Rent A Cabana At Westin Maui
Westin Maui operates an online cabana booking system, where you can check out what's available, and reserve a cabana or casabellas for use during your stay.
The booking system is found on the Westin Maui website, and you can often add a rental when you make your initial booking.
The online booking system is easy, but there are advantages to contacting the front desk directly.
You can find out what's available, the benefits of each location, and make a choice that's really right for you. 
If you're on-site and haven't got a cabana rental sorted, you should inquire at the front desk to see what's available. 
It is highly recommended that any rentals are made prior to your stay. Previous visitors have recommended booking at least two weeks in advance, particularly if you're interested in the luxury Hale Ali'i cabanas.
In fact, if you want the pick of the Hale Ali'i cabanas, you need to look into booking at least one month prior to your trip.
Are There Free Cabanas At Westin Maui?
While many of us enjoy spending entire days lounging around by the pool, it isn't for everyone.
And if you only plan the occasional quick dip as a refreshing start to the day, or an evening cool down, you probably don't want to pay for a cabana you won't get much use out of.
There is free pool seating at Westin Maui, which guests are welcome to use.
The free pool seats are traditional white beach loungers, located in various positions across the pool complex. They're comfortable, but not quite as comfortable as a cabana.
You also aren't guaranteed a shaded position. While some loungers have the benefit of nearby umbrellas, others feel the full force of the sun. Westin Maui pool chairs are in high demand, and prime locations fill up quickly. 
There are no free-to-use Westin Maui cabanas, only the loungers. If you want that extra level of luxury, you have to pay. 
Can Non-Guests Rent Westin Maui Cabanas?
If you aren't staying at Westin Maui, you won't get a chance to experience their cabanas—not even the beachfront options. All Westin Maui cabanas are reserved for resort guests only. 
Guests at Ka'anapali's other Westin property, the Westin Nanea Ocean Villas, are also unable to rent Westin Maui cabanas.
However, Westin Nanea Ocean Villas have their own cabanas and loungers available for guests. Contact the hotel directly if you're interested in a cabana booking. 
Comfort At A Cost
Westin Maui cabanas can be expensive, but many guests feel they're worth it to properly relax on a pool or beach day.
Cabanas and casabellas provide a touch of privacy, a spot of shade, and a place to return to throughout the day.
Make sure to book in advance to get your top pick, and enjoy the people watching!