Maui is a great place to visit and not just for soaking up the sun during the day. There are plenty of activities to keep you entertained at night as well, from sunset dinner cruises to searching the waves for majestic whales, Maui is an island where there is never a dull moment.
Don't hang up your explorer's hat just because you don't need sunglasses anymore! Snorkeling, stargazing, and shopping fill the time from dusk till dawn.
Below, we're highlighting all the ways you can make the most of an evening in Maui.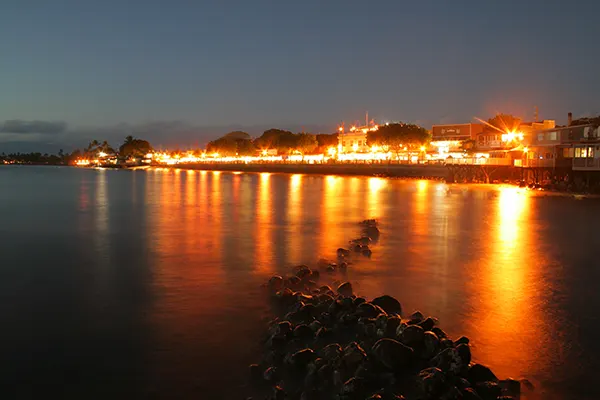 Activities To Enjoy At Maui At Night
Maui's Legendary Luaus
Luau are the perfect way to experience Hawaii's rich history, combining live entertainment, delicious food, and culture.
Not only that but many luaus feature activities for both children and adults, including hula lessons and lei-making—which the Grand Wailea luau is famous for.
Lahaina is also home to one of the island's most popular luaus: the Old Lahaina Luau. It begins with a torch lighting ceremony, followed by dinner, and then the entertainment erupts. Make sure to make a reservation, as seats fill up fast!
In Wailea, the Hyatt Regency Maui Resort & Spa presents Drums of the Pacific, which combines Polynesian cultural traditions from Hawaii, Tahiti, Samoa, and New Zealand. It really is a small world, afterall.
So, yes, when the sunsets you should definitely go to a luau.
Don't know which luau is right for you? We've got you covered with out comparison of the Old Lahaina Luau and the Drums of the Pacific.
Romantic Sunsets
Maui is an island, so of course the sunsets are often breathtaking. But some parts of the island are better than others for picturing the end of the day.
Lahaina Town might be the perfect spot, if you want to hang out of several bars and have a drink in hand as you watch the sunset. There's often live music, and many bars offer oceanfront tables. Just make sure you arrive at the right time to catch the sunset for the season.
If you want to make your own sunset experience, pack a picnic basket and fold a blanket to take in the setting of the sun at one of the many parks in West Maui, such as Pāpalaua State Wayside Park. You may even want to make a day out of visiting West Maui and cap the journey with sunset.
If you want to be alone with your loved one, tuck yourself away at Napili Bay or Kapalua Bay for an intimate setting. Other options for a romantic spot are Lahaina Pali Trail or Ka'anapali Beach Park.
Lahaina Nights
Known for its late-night shopping, Lahaina offers visitors dozens of shops and boutiques to tempt their wallet. It's a great area to grab a bite, whether it be sushi or thai, or to hang out at the bar and meet locals and tourists.
There's also plenty of entertainment in town, such as the Comedy Club Maui, blues music at Soul Kitchen, or take in the Feast At Lele luau to experience Polynesian dance.
Restaurants
Whether you crave burgers or sushi, there are plenty of restaurants that stay openthroughout the evening,
A few include…
Sansei Seafood Restaurant & Sushi Bar
Monkeypod Kitchen by Merriman
Moana Bakery & Cafe
And if you're looking to satisfy your gut after a long day why not check out one of Maui's delicious pizza joints? Or, end the evening with a sweet lava flow.
Does Maui Have A Good Nightlife?
While, at a glance, Maui may seem a bit too sleepy and family-oriented for the average nightowl, there are a lot of fun things to do at night on Maui, from shopping in Lahaina Town to dancing the night away in Paia.
There's no place like Lahaina Town on a Friday or Saturday night. As the sun sets over the Pacific Ocean and the street lights flicker on, the historic waterfront district comes alive with tourists and locals alike.
Live music fills the air from restaurants and bars along Front Street, where you can dance under the stars during "Maui's only rooftop dance party" at Ambrosia Martini Lounge.
Do Beaches In Maui Close At Night?
At night, almost all beaches in Maui are closed to the public, often by 7 or 8pm, depending on the season. The only way to remain on the beach at nightfall is to have a camping permit.
The only exception is Black Rock on Kaanapali Beach, which is famous for its night snorkeling—you may also catch the cliff diving ceremony just before sunset.
However, in the winter months the surf around Black Rock is quite high.
Can You Go To Haleakala At Night?
The Haleakalā Park District welcomes visitors from dawn to dusk every day of the year, and you can visit without previous reservations.
You might be better off driving as the hike is quite long.
The summit area, with its summit observatories, roads and trails, is also open 24/7. A car pass is required to access the park at night. You can get a pass at the entrance station, which is staffed 24 hours a day.
But there are no overnight accommodations available in Haleakalā National Park. However, the park operates several campgrounds around the summit district. The Hosmer Grove Campground and Kīpahulu Campground (sea level) are open all year round.
Get Out At Night In Maui
When the sun goes down, the fun doesn't have to end. On Maui, you can get your groove on at a luau or in a dance club, or you can kick back to live music while sipping a cocktail.
For an after-dark activity with an adrenaline rush, take a sunset parasail flight high above the island. Or, you can enjoy a late-night meal at any number of restaurants that stay open until 11 p.m.
If you're looking for nightlife in Maui, Lahaina Town is where it's at. But there are also plenty of options in Kihei and Wailea. As for live Music, Maui hosts dozens of free concerts throughout the year.