Hana is a tiny town located on the eastern end of the island of Maui. A former whaling village, Hana has become a popular destination for tourists who want to relax in a pristine environment.
There are many places to stay in Hana, all depending on your budget and interest. From luxury oceanfront resorts like Travaasa, to camping under the stars at Wai'anapanapa State Park.
Whichever you choose, you will be welcomed with the warmth and aloha spirit for which Hawaii is famous.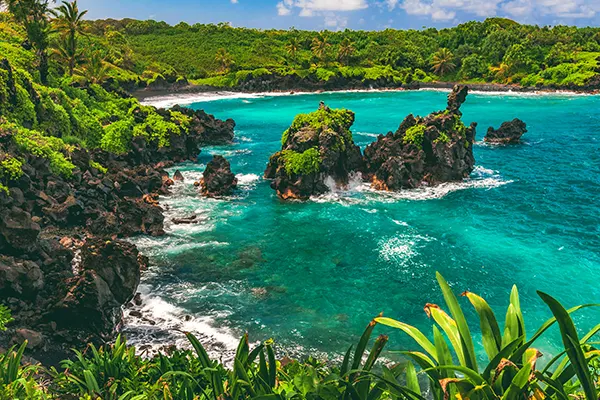 What Are The Best Places To Stay In Hana?
Hana Kai Maui Oceanfront Condos
As the name suggests, Hana Kai Maui Oceanfront Condos face the Pacific, offering guests a beautiful of the sand and surf. There are over a dozen rooms to choose between, from one-bedroom suites that accommodate up to four guests, to two-bedroom suites that accommodate up to—you guessed it—eight guests.
The rooms are equipped with kitchenettes, so you can bring your groceries (from, say, an ABC Store) to cook a meal if you don't feel like going out. Plunge pools are available in some units for an extra fee.
Be aware that Hana Oceanfront condos are about a two hour drive from Kahului Airport, so when you land your journey wont be quite over yet.
The hotel is located  near Hamoa Beach (to the south), Wai'anapanapa State Park (to the north), and other natural attractions like Hana Rainforest Reserve and Haleakala National Park.
Hana Cottages
Hana Cottages are a great place to stay for those who want to relax their own private space. The home is located on the eastern end of Hana Highway and is the perfect place for couples or small families to spend some time away from the crowds at Wailea and Kihei.
The Hana Cottage is a charming and comfortable place to stay. It's not fancy, but it's clean and has everything you need for a simple vacation.
Most cottages are located right in the heart of Hana on a quiet street, so it's easy to walk to nearby restaurants, shops, and other attractions.
Travaasa Hana
The Travaasa Hana overlooks the Ke'anae Peninsula on Maui's northeast coast, and is situated on acres of tropical gardens.
The resort's rooms include garden-view rooms, ocean-view suites, and free-standing cottages with private plunge pools and outdoor showers. And they offer all-inclusive packages if you want to settle in and make the most of your stay.
Travaasa Hana provides a quiet retreat while still offering access to an abundance of nearby attractions: waterfalls, rainforests, and beaches.
Facilities at the resort include a spa, pools, tennis courts, a fitness center, horseback riding, cultural tours of Hana, hiking trails in the surrounding hills, yoga classes, and personal trainers.
Haleakala National Park
Camping inside Haleakala National Park is an awesome experience. The three campgrounds are located in the lush rainforest of Upcountry Maui and offer a unique feel to other Maui resorts.
The Kipahulu campground is located within the national park's Kipahulu District. Be warned: the campgrounds inside the Kipahulu District of Haleakala National Park are first come first serve campsites. Each includes restrooms, picnic tables, and grills.
Between the three campgrounds, Kipahulu is the most popular. Reservations cannot be made, so you may need to arrive early in the morning to secure a site.
Wai'anapanapa State Park
The black sand beach at Wai'anapanapa State Park is located about 10 minutes before Hana. It's a great place to camp or to pick up some souvenirs in their gift shop.
The volcanic rock has been eroded by the ocean for hundreds of years, leaving behind smooth polished lava rocks mixed with pebbles and black sand. The black sand beach is a popular destination, so be prepared for crowds.
Wai'anapanapa State Park is located about 10 minutes before Hana town. You can rent a campsite if you have your gear, or you can rent a cabin.
Where to Stay in Hana for One Night
If you want to break up your trip, and just spend the night, there are places to stay. But know that most visitors choose to either make a day out of Hana, or keep on driving on through.
The best place to stay in Hana, if you want to stop overnight, is the Travaasa Hana Hotel, thanks to its many amenities including a pool, jacuzzi, and free breakfast, as well as a restaurant. The rooms include free Wi-Fi, a coffee maker, and a refrigerator.
If you are looking for something more rustic and inexpensive, consider the Wai'anapanapa State Park Cabins. These cabins have no electricity, but they do have a fridge and a small air conditioner. This is not a luxury hotel by any means. There are no services such as food or shops here so you must be prepared to bring everything with you.
There are also bed and breakfasts in Hana such as the Aina O Hana Bed & Breakfast which offers two double beds in a room with a private bath and use of the kitchen.
How Many Nights Should You Stay In Hana?
That all depends on how much time you have to spend in Maui, and what other places you are going to visit. If Hana is the only place you are going to, then five days or so might be enough—make sure to pack appropriately!
But if you have time and can do more, spending three nights in Hana, two nights on Maui's west side (Kaanapali and Lahaina), and one night in Wailea or Kihei might be the adventure you're looking for.
The main reason why people stay in Hana for extended periods is that they want to relax and enjoy the solitude of small-town Hawaii. The island of Maui has over 2 million visitors a year but very few of them make it to Hana, which leaves it virtually untouched by tourism.
If you like nature, quiet beaches, a small-town atmosphere, and the chance to get off the grid for a week, then Hana is the perfect place for you.
Other Places To Stay In Maui
We've written quite a bit about all of Maui's available lodging, and continue to do so, but we wanted to share a few more places to stay from our friends at Booking.com. 
A Resort Stay: The Four Seasons Resort in Wailea is the cream of the crop of resort stays, with restaurants, ocean views, an on-site spa, and the Shops at Wailea are just down the road. Couples particularly love The Four Seasons!
Bed and Breakfast: Sometimes, it's all in a name, and Adventure in Paradise is exactly what it sounds like, located in Haiku on Maui's north shore. Wake up to a 180 degree view of Haleakala summit every morning from your private patio.
Hotel: The highly rated Maui Sunset hotel combines laid-back atmosphere and the beach of Waipuilani Park. Also, it's only 1.7 miles from the Elleair Maui Gold Club!
Vacation Home: Find your home away from home at Puu Koa Palms, six minutes from Hookipa Beach, and near the Hana Highway. Also particularly great for couples!
Villas: If you're looking to vacation in style with your own villa try the Andaz Maui, which include all the expected amenities along with grills and plunge pools.