The hours spent flying and traveling to your accommodation can seem excessively long, particularly if you haven't pre-arranged transportation.
As nice as arriving at Maui's Kahului Airport (OGG) is, it's hardly the place you want to spend your vacation.
In this guide, we've put together the best shuttle options for Maui airport transportation, and how else the Maui shuttles can be useful to you!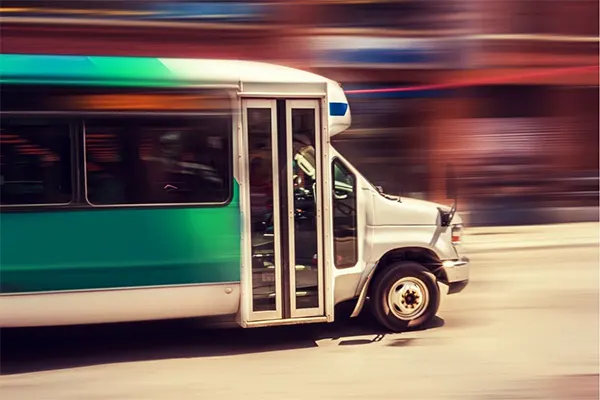 Are There Shuttle Services On Maui?
Yes, there are several shuttle services on Maui operating from Kahului Airport (OGG) to the major resorts and resort towns of Maui.
These shuttle services are a low-cost way of navigating the island and ensuring a smooth start to your stay. 
Shuttle Services
SpeediShuttle
Driving with aloha, SpeediShuttle is one of the most popular shuttle services operating from Kahului Airport.
The professional shuttle team can transport you to and from all properties located in South and West Maui, and there's an additional service for the Kahului and Wailuku areas.
SpeediShuttle also services the smaller Kapalua Airport (JHM). The luxury shuttles have air-conditioned space for 11 guests, and ample room for luggage. The fleet also includes ADA accessible vehicles.
Worldstar/Amstar
Worldstar offers airport shuttle services to and from Kahului airport in both luxury vehicles and standard shuttle services.
The shuttle can drive you to all major residences in Lahaina, Ka'anapali, and Kapalua, with a quick departure guaranteed by attentive staff that monitor incoming flights.
Worldstar can also transport guests from Kahului to destinations on South Maui. As well as the standard shuttle, Worldstar operates private shuttles and limousine transportation. 
Known locally as Worldstar, this shuttle service is part of the Amstar group. 
Akina Tours
The start of your vacation should always be about comfort, and Akina Tours can ensure you have the smoothest arrival possible.
The airport shuttle service will greet you with a fresh flower lei, and will help you depart with a coordinated drop-off service.
The hands-on service will greet you at baggage claims, and coordinate your arrival for a speedy departure. 
Guests traveling with Akina Tours might also enjoy booking a Maui adventure tour with them and discovering the island with the same level of impeccable service. 
Polynesian Adventure Tours
Traveling in a large group? Polynesian Adventure Tours offer a charter bus service to transport you to and from Kahului, preventing the need for a difficult arrangement across multiple shuttles.
The Polynesian Adventure Tour service can ensure every member of your party is comfortable and, importantly, accounted for. 
Another advantage of the Polynesian Adventure Tour shuttle is that it operates to hotels and cruise ships.
With plenty of room for even large groups, the Polynesian Adventure Tours shuttle can be convenient transportation for special occasions.
Robert's Hawaii
Robert's Hawaii offers both shared and private airport transfer services from the Kahului airport to all the major destinations on both West and South Maui.
Robert's Hawaii shuttle fleet also includes ADA accessible vehicles, which must be booked at least 48 hours in advance to ensure availability.
Pick-up services can also be arranged via Robert's Hawaii, and they calculate the best time to depart based on your exact flights. 
And if there are any changes to your vacation, Robert's Hawaii can adapt the booking to fit your needs. Good rates for shared shuttles and a convenient service makes Robert's Hawaii a shuttle worth knowing about.
Maui Tours
Start your stay in style and comfort with the Maui Tours luxury shuttle service. After a long flight, sometimes the last thing you want to do is get straight into a busy bus.
Maui Tours offers a luxury service, so you can step off the plane and into vacation mode. 
The air-conditioned vehicles come with free Wi-Fi, so you can let everyone know you've arrived safely, and start planning your trip.
The luxury service operates from Kahului airport to hotels in Wailea, Lahaina, Ka'anapali, and Kapalua.
Maui Tours also operates as a private tour service and provides restaurant transportation so you can indulge in the Maui cocktails, like a lava flow. 
Resort Shuttles
Many of the resorts on Maui offer their own shuttle service, operating directly between the hotel and the airport. This service can often be included in the original booking, or as an added extra.
Not all resorts run this service, but we recommend inquiring when you make your accommodation booking. Even if there isn't a resort shuttle, they might be able to get you a discount on a selected service. 
Some resorts also run shuttle services transporting guests to selected destinations.
For example, resorts in Ka'anapali might offer shuttle transfers to Lahaina, and some Wailea resorts will provide a shuttle to the Shops at Wailea. These limited services offer guests a chance to explore Maui easily.
Traveling By Shuttle
Shuttle services on Maui don't operate exclusively to and from the hotel. Many of the most popular shuttle services also run tours and excursions across Maui, which can be booked in advance.
Polynesian Adventure Tours and Akina tours both offer day trips to some of Maui's most popular destinations.
Some shuttles also operate on a local basis. SpeediShuttle can arrange transportation to and from destinations in South and West Maui, including shuttle transportation to the major shopping centers.
Are There Other Ways To Travel Around Maui?
Yes! There are many other ways to travel around Maui besides shuttles. Rental cars are probably the most popular option, giving you full control of how, where, and when you travel. (But, maybe not Advantage Rent a Car.)
Taxis are a popular choice for exploring the restaurants and nightlife of Maui, while ride-share apps are becoming increasingly popular.
Maui also has a bus service operating to and from Kahului airport, and across the North Shore and South and West Maui.
There are also some more distinctly Maui ways of getting about. If you want to enjoy the open air of Maui, there are several options for bike rental. 
Final Thoughts
Maui shuttle services offer a convenient way to get from Kahului airport and to your hotel, quickly and comfortably. Many of these services can also be employed to help you explore Maui.