The quaint village of Haiku is off the beaten trail on Maui, which is good news for anyone that wants to explore a side of the island that isn't crowded with tourists.  
However, if you're researching where to stay for your trip to Maui you might be curious to find out: What is there to do in Haiku Maui?
In this article, we'll learn about what there is to do in Haiku Maui so you know what to expect.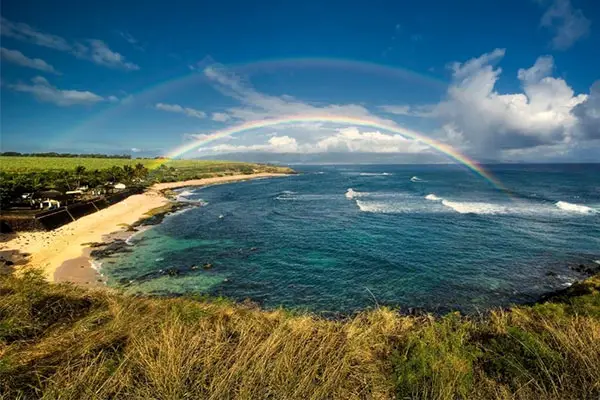 What is it like to visit Haiku Maui?
Haiku is a small village situated on the North Shore of Maui. It's a place of peace and quiet with minimal-to-no traffic noise because in Haiku you're not surrounded by resort commotion and droves of tourists.
Haiku is a fantastic place to try your hand at water sports. 
The North Shore of Maui is known for being a world-class wave sports destination. There are plenty of opportunities to go surfing, windsurfing, kitesurfing, sta, or tow surfing whenever you please, and there's plenty of snorkeling to be had in the beautiful sapphire waters.  
If you're looking for a tropical location with milder temperatures, then Haiku might be the perfect place for you to stay on Maui. 
Haiku is known for its lush green jungles and decent rainfall. This is perfect for those who enjoy a cooler, tropical climate.
That being said, Haiku still has its fair share of sunny days, so it allows you to enjoy the best of both worlds. The temperature typically varies from 63°F to 85°F, so you'll want to pack warmer clothes for those cool nights. 
Like much of Maui, Haiku has a friendly community. The Haiku Marketplace at the Haiku Cannery is the hub of the Haiku community and includes a grocery store, a Post Office, a variety of restaurants and food trucks, two general stores, a hardware store, a fitness center, and much more.
The locals are incredibly welcoming and friendly, and it is significantly less crowded and touristy than other parts of Maui are. 
What is there to do in Haiku Maui?
There are a variety of fun activities to do in Haiku that are suitable for people of all ages and fitness levels.
Water sports – Surfing, snorkeling, swimming
Peʻahi beach, also known as 'Jaws' is great for more advanced surfer, whereas Ho'okipa beach is renowned for windsurfing. If the wind is blowing, you will want to head over to this beach for an award-winning show from expert wind and kite surfers. 
For those who don't surf, it's always fun to catch some rays by lying on the beach, swimming, snorkeling, or watching the many turtles of Ho'okipa Beach. 
Ho'okipa beach is a resting area for the Hawaiian Green Sea turtles. Every afternoon they are known to swim up onto the beach (the far East end) to sun themselves while they nap. If you're a fan of turtles, you're sure to catch a glimpse of them if you spend an afternoon here! 
Waterfalls 
What's a trip to Hawaii without a few waterfalls? 
The North Shore of Maui boasts incredibly beautiful waterfalls and pools for locals and tourists alike to hike, explore, swim, and play in—including the very popular Twin Falls and Makapipi Falls. 
Getting to Twin Falls is a manageable hike for people of all activity levels, with lower waterfalls at the 5-minute marker and upper waterfalls a mile further up the road.  
Local restaurants and food trucks
Haiku is home to a variety of local restaurants. 
These include the incredibly popular Japanese restaurant 'Nuka', Colleen's Restaurant in the Cannery, fantastic, well-priced vegetarian cuisine at Veg Out, and more. 
In addition, there are many food trucks to choose from when you fancy a more casual bite to eat.
In summary 
Haiku is home to beautiful beaches and waterfalls, and it is a dream holiday destination for those who want to skip the crowd on Maui. From surfing to snorkeling, there are a variety of activities and plenty of food to eat in Haiku Maui.
If you're looking for a quieter yet stunning stay on Maui, Haiku is the perfect place for you.