Mai Poina Oe Ia'u Park is really a beach of two halves. The time of day you visit can completely transform how you use the beach, with afternoon winds taking Mai Poina Oe Ia'u from a swimming spot to a kitesurfers' haven.
Find out how to plan your visit to Mai Poina Oe Ia'u Park with this complete guide for visitors.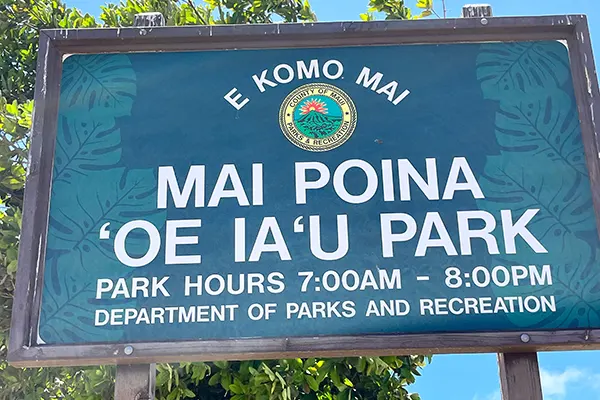 What Is Mai Poina Oe Ia'u Park?
Just before the South Maui coast starts the sharp turn towards Maalaea are the beaches of North Kihei.
These beaches lack the very soft sands and gentle seas of Wailea and South Kihei, but have their own charm. 
Mai Poina Oe Ia'u Beach Park is found at the end of long Sugar Beach, at the center of North Kihei.
Strong afternoon winds have made it a popular beach with kite surfers and windsurfers, but there's something for everyone at Mai Poina Oe Ia'u Park. 
What To Do At Mai Poina Oe Ia'u Park
Early Morning Swimming At Mai Poina Oe Ia'u Park
If you fancy a swim or to stretch out on the sand, then you have to visit Mai Poina Oe Ia'u Park in the mornings.
All beaches on Maui suffer from afternoon winds, but North Kihei gets them worse than others. 
In the morning, however, Mai Poina Oe Ia'u can be wonderfully calm. The water isn't the clearest, a result of being mixed up by the winds, but it's still good for a swim.
After a calm couple of days, you can even attempt snorkeling, although Mai Poina Oe Ia'u isn't one of Maui's top snorkeling destinations.
There are several condos in the area, with direct access to the beach. Those staying in North Kihei will find Mai Poina Oe Ia'u to be a good place for a morning run, as the beach is quite long (especially if you include adjacent Sugar Beach).
If you do come along in the morning, you'll likely see standup paddleboarders taking advantage of the quiet and the space.
You might also spot some canoes and kayaks going past. Kihei Canoe Club visits Mai Poina Oe Ia'u Park regularly in outrigger canoes.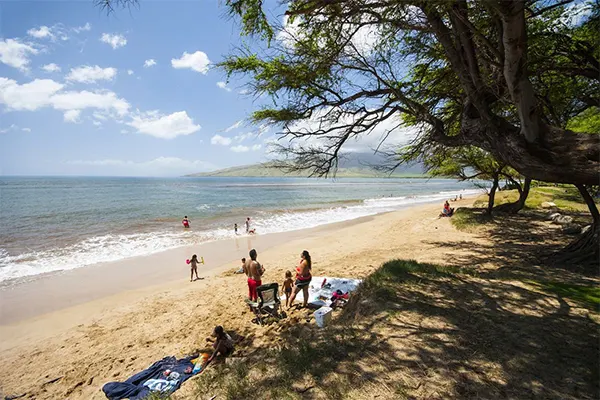 Afternoon Windsurfing At Mai Poina Oe Ia'u Park
As the afternoon sets in, the wind starts to pick up. While this will drive the swimmers out of the water, it sends the windsurfers and kitesurfers in.
Mai Poina Oe Ia'u is one of the most popular South Maui beaches with windsurfers, and when the winds are good, you can normally see at least a few of them on the waves.
Access is easy, and Mai Poina Oe Ia'u lacks the rocky edges of South Maui beaches.
There aren't any places in the immediate area to rent equipment, so make sure to plan ahead for a surf.
Although, if you're staying nearby, some condos and resorts will have their own equipment.
There are no lifeguards at Mai Poina Oe Ia'u Park, so keep that in mind if you lack experience.
The swell is medium and consistent, and there tends to be people around.
The wind may be fantastic for the windsurfers, but it's less good for anyone else at the beach.
Settle in to watch the water sports, and you're likely to find yourself with a face of sand.
You might prefer to sit further back in the grassy area, to avoid a sandblasting, while still enjoying the sight of colorful kites zigzagging across the waves. 
Evening Sunsets At Mai Poina Oe Ia'u Park
In the evening, Mai Poina Oe Ia'u Park transforms again and becomes a popular place to watch the sunset.
The long beach gives you an unimpeded view, and there's plenty of space to get comfortable and take in the view.
Molokini island can just about be spotted in the distance. 
Humpback whales also pass by Mai Poina Oe Ia'u Park during the winter months.
There's no guarantee they'll be there, but some days multiple whales can be seen breaching in the distance.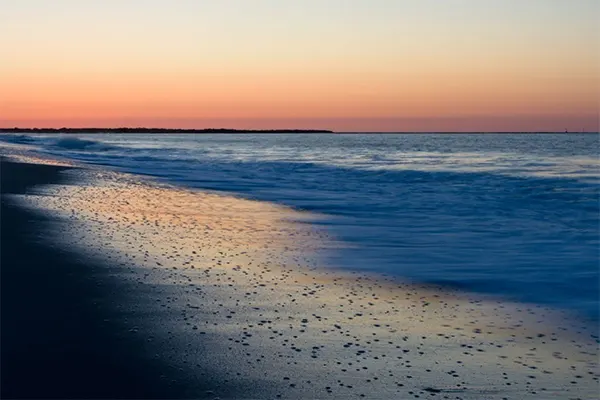 Facilities At Mai Poina Oe Ia'u Park
Mai Poina Oe Ia'u has some decent facilities, including a toilet, a comfort station, and two outdoor showers.
There is no lifeguard on-duty, but the beach park is set up to accommodate swimmers.
Within the grassy park area at Mai Poina Oe Ia'u Park is a picnic pavilion, including three barbecue grills and four uncovered picnic tables.
The picnic area is a good place to enjoy the early mornings on Maui, or watch the sunset. The trees provide a good amount of shade, and also help block some of the wind.
There's enough space on the grass to spread out a picnic blanket if the tables are taken, or if you prefer to lounge.
There isn't much in the way of restaurants and shops in the area, so this is a beach to pre-plan a visit to.
Nearby condos offer accommodation for anyone who likes the area, but the quieter North Kihei lacks the amenities of its neighbor to the south. 
Getting To Mai Poina Oe Ia'u Park
Access to Mai Poina Oe Ia'u Park is easy, and there are several parking spots. Access is found along South Kihei road, whichever way you're approaching from.
The main parking lot is next to the turning point for Ohukai Road, with further parking at the south end. Parking spaces can fill up early, but street parking is available.
Mai Poina Oe Ia'u Park is literally right by the side of the road, which does have some advantages.
For a start, you can't miss it when you're driving along. But it does mean the traffic can get noisy.
The park doesn't provide much of a barrier for sound.
The Best Beach For Windsurfers
Mai Poina Oe Ia'u is mostly known as being a beach for windsurfers and kitesurfers.
Even if you don't enjoy the hobby yourself, they're fun to watch dashing over the waves, especially if you can find a good spot sheltered from the wind.
But it isn't just a beach for windsurfing. Visit in the morning for swimming and paddleboarding, or come back in the evening to watch the sunset.