Despite being three in one, the beaches of Kamaole Beach Park each have their own unique atmosphere.
At Kamaole II, the soft sandy seafloor and tumbling lava rocks attract sea life, making it the best of the three for snorkeling. 
Take a look at this guide to find out what Kamaole II has to make it worth a visit, and why this overlooked Kamaole spot is more interesting than you realize. 
What Is Kamaole Beach Park II?
The south end of Kihei is dominated by the major Kamaole Beach Park.
Divided into three separate beaches marked by natural rocky outcrops, Kam I, II, and III (as they're known), attract a wide range of visitors.
Kam I, the largest beach, has gentle waves for good swimming, while the grassy park area of Kam III brings barbecues and play areas. Kam II, tucked away in the middle, can be slightly overlooked.
Kam II, as well as being physically in between, marks an in between point of the two parks. It isn't as good for swimming as Kam I, and lacks the play facilities of Kam III.
But don't dismiss Kam II. With excellent snorkeling and some chances for bodyboarding, boogie boarding, and paddleboarding, Kam II is still worth a visit. Especially as you can walk there from the other two beaches.
Getting To Kam II
Kamaole II is located along South Kihei road. There are some obvious sign posts, so you shouldn't find it too hard to spot.
Kam II has roadside parking, plus a small paid parking lot at the far end of the beach. It's also easy to park at the larger lots near Kam I, and walk down. 
All the Kamaole beaches are within walking distance from each other, with easy access.
If you can't find parking at one, it's often worth parking at the other, and finding your way down.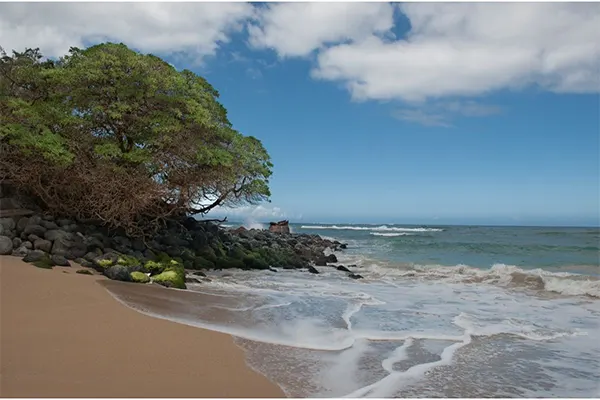 What Can You Do At Kam II?
Kam II is less than a third of a mile long, with large rocks framing either end of the beach. It's at these rocky ends that you can find Kam II's best known activity: snorkeling.
Kam II has perhaps the best snorkeling of all the Kamaole Beach Parks, especially when the calm morning waters lend exceptional visibility.
There can be a lot to see and enjoy, but most visitors keep an eye out for the honu. These are the native green turtles, often spotted relaxing near the rocks.
A sandy ocean bottom not only improves snorkeling but also welcomes swimmers. On quiet mornings, Kam II is an excellent place for a swim.
Bodyboarding and stand up paddleboarding are other popular Kam II activities.
And thanks to an on-duty lifeguard, you can enjoy the ocean safely.
Out of the water, Kam II is good for picnics and sunbathing. It also has superb sand for sandcastles, so little builders will enjoy getting stuck in.
When the tide is out, put on your beach shoes and explore the rocks either side of Kam II.
They often hold tidepools, where you can discover local wildlife such as crabs and sea urchins (and maybe even more honu).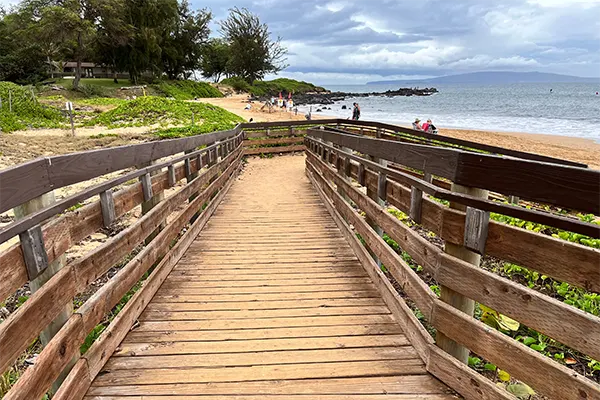 Facilities At Kamaole Beach Park II
Families love visiting Kamaole Beach Park because it has a wealth of facilities, and is within easy walking distance of even more.
At Kam II, there are public bathrooms and outdoor showers, making a day at the beach more comfortable.
There's also a public drinking fountain available, which you'll appreciate after time in the sun.
Kam II has a lifeguard on duty. If your children love to explore the sea, but you hate leaving them unsupervised, Kamaole Beach Park is an excellent choice.
Kam II also has an ADA-accessible ramp, making it a Maui beach with a wider appeal.
Kamaole Beach Park isn't adjacent to the main Kihei shopping centers, but it is within walking distance of shops, restaurants, and grocery stores.
Kam II is a convenient beach location, without losing the charm of the South Maui coast.
Anything Else To Know About Kam II?
After large Kona storms, Kam II can be completely transformed. The heavy winds create large swells that pick up the sand from the beach, and wash it out to the ocean.
This exposes the shingle of rounded lava rocks turned smooth by the pressures of the tide.
As the waves flow over these rocks, you can hear a quiet rumbling sound.
In Hawaiian, the beach was known as "Iliiliholo", which translates to running pebbles, and was named because of this unusual noise.
After a Kona storm isn't the best time to visit Kam II, but the sand is always eventually returned.
During the winter (such as December), you might have a chance to spot one of Maui's most impressive visitors: Humpback whales! The whales travel to Hawaii between November and April and can be seen on the south and west of the island.
Kamaole Beach Park may not be a prime whale watching spot, but lucky sunbathers can still see them from time to time.
Kam II most closely resembles Kam I, only smaller and more susceptible to storms.
If you plan on visiting after rough weather, it's worth packing a pair of beach shoes (particularly for children), so you can explore properly.
Beach shoes are also helpful if you want to poke around the tide pools! But no actual poking, please. The sea life doesn't appreciate being disturbed by curious fingers.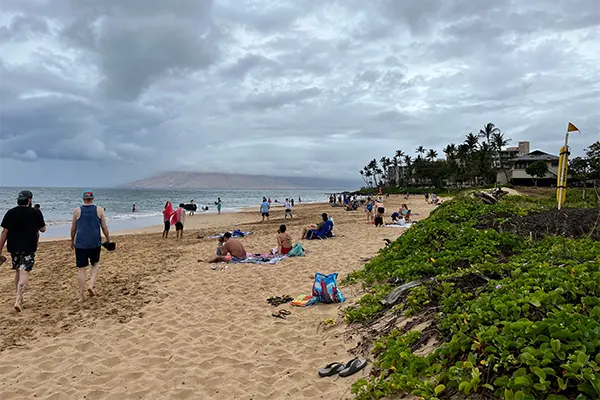 Swimming, Snorkeling, And ADA Accessibility
Kam II is sort of like the little sibling to Kam I. It's not quite as big, not quite as busy, and can get lost in the shuffle.
But it's definitely worth a visit, especially as you can walk there from any of the Kamaole beaches! 
The waters are perfect for snorkeling and swimming, and you just might get a glimpse of a Hawaiian turtle.
Or even a whale, if you visit at the right time of year.
Easy access to nearby shops and restaurants, plus a good number of facilities including an ADA accessible ramp, makes Kam II an excellent family choice.