The three beaches of Kamaole Beach Park offer some surprising variety for visitors. Located in a row, Kam I, II, and III attract tourists and locals with a variety of wide sands, consistent seas, and numerous facilities.
Kam III, the smallest and most popular beach, adds extra interest with a big family park area. Plan your visit to Kamaole Beach Park III with this guide.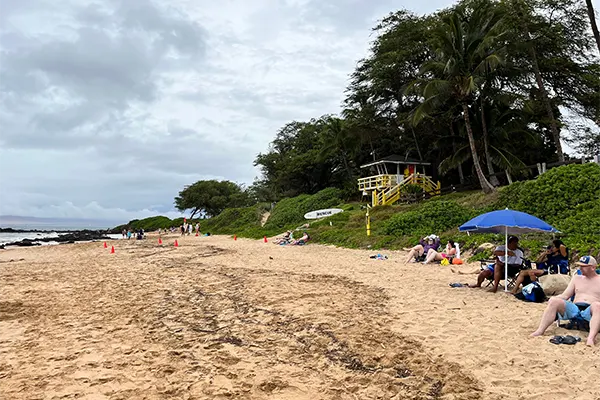 What Is Kamaole Beach Park III
Kamaole Beach Park III is the smallest of the three Kam parks, but the one with the biggest personality.
While the beach itself may be little, where Kam III stands out is the nearby grassy area. The Kam III park is big, with plenty of facilities and lots of room to run around.
It's a popular place with locals, and with visitors looking to enjoy a picnic lunch while soaking up panoramic views of the Maui coast. 
While Kam I and Kam II are enjoyed for their soft wide sands, the focus at Kam III is on the combination of beach, sea, and park area.
Families love it because the keiki can run free, and it also comes with enough facilities for an easier day out.
And if you do need a break from all the excitement, Kam I and II are just a short walk away.
Getting To Kamaole Beach Park III
Kam III is the Kamaole Beach furthest from Kihei center, and closest to Wailea. It's accessed via South Kihei Road.
If you're traveling up from Wailea, the public parking is just past Kamaole Sands condo resort.
If you're traveling down from Kihei, free public parking can be found past the turning to Keonekai Road.
On weekends when the parking lot is busy, you may need to park at the paid overflow lot, which is next to the turn to Keonekai Road.
During weekends and holidays, Kam III can get very busy. The beach, and particularly the park area, is a popular hang out spot with Kihei residents.
To secure a parking space, you might need to get there early or wait for someone to leave.
Alternatively, you can park at one of the other Kamaole Beach Parks, and walk down. Kam I and II don't tend to get quite so busy, so you might have better luck finding a space.
The walk from park to park isn't too long or difficult, and there are some nice views to enjoy along the way. 
What Can You Do At Kam III?
There's a reason Kam III is so busy, and that's because it has something to appeal to almost everyone.
The beach, sea, and grassy area are all accessible and enjoyable, making it a top choice for large gatherings.
Kam III is the best of the Kamaole beach parks for bodyboarding, thanks to a regular break that can sometimes get quite big.
And with a lifeguard on duty, you can check the waters are safe before entering.
The smaller beach is bracketed by two rocky outcrops, which are good for snorkeling and can shelter some interesting sea creatures.
When the tide is low, keiki can put on their beach shoes and explore the tide pools. 
All three of the Kam beaches have good swimming, and the smaller enclosed sea at Kam III is popular with parents.
When the surf is high it's better to avoid the water, but most times Kam III is good for a splash around.
Serious swimming is a little more difficult as the beach is small.
Then, of course, there's the grass area. Picnic benches and barbecues have made Kam III a popular place for meet ups and celebrations, and kids will enjoy the play park.
You can often spot children running across the grass with kites, while parents relax under the trees. 
Facilities At Kam III
As well as clear seas, soft sands, and spectacular views, Kam III is popular because it's convenient. There's a large public parking area, public bathrooms, and outdoor showers. Kam III also has an on-duty lifeguard.
You can really make a day of it at Kam III, thanks to the picnic tables and BBQ grills.
The play park and swings have proven to be a hit with children, and the grassy areas offer some shade if you need a break from the sun.
As with all of Kamaole Beach Park, Kam III is within walking distance of shops and restaurants.
However, as the furthest beach from Kihei, it is more of a leg stretch when you get hungry.
Not enough to cause any real problems, but children who've tired themselves out running around the sand might find cause to complain.
Anything Else To Know?
Kam III is the rockiest beach in Kamaole Beach park. As well as rocky areas marking the boundaries of the beach, there's a stretch of rock part way along, forming a smaller cove.
Larger boulders also stick out of the water in places. This can make for some impressive scenery, particularly when the tide breaks on a rock.
But it also means visitors to Kam III have to be careful to avoid nasty cuts and bruises.
Kam III is seen as one of the most child-friendly beaches on Maui because there's just so much for them to do.
Playing on the beach, in the water, and on the grass can really tire the little ones out. 
And they'll be in good company. Local families often take a trip to Kam III on the weekend.
Visit in the winter, and you might be able to spot a humpback whale in the water.
The Kamaole Beach Park is on their travel route between November and April, and whales can sometimes be seen with the naked eye.
Kam III is an excellent spot for whale watching, as there are so many places to get comfortable.
A Kihei Family Favorite
Kam III is a fantastic combination of everything we love about the beach.
The seas are calm enough for swimming and snorkeling, with a consistent wave that's great for boogie boarders.
And when you get tired in the water, you can relax on the grass, while the keiki occupy themselves with the swings.