A popular spot with the locals, Charley Young Beach is tucked away at the top end of Kamaole Beach Park.
Sheltered from traffic and crowds, Charley Young Beach is best known as a place where you can really relax and soak up the scenery.
But for the chance to get away from it all, you do leave some of the Kihei convenience behind.
Before you visit Charley Young Beach Park, take a look at this guide to plan your day.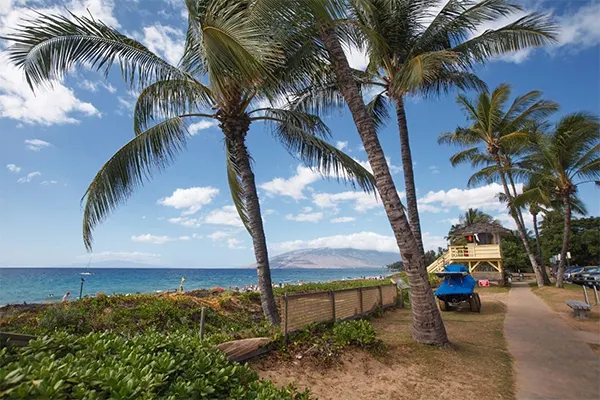 Where Is Charley Young Beach Park?
Sitting at the northern end of Kamaole Beach Park I, Charley Young Beach is a sheltered destination that mostly attracts residents.
You're unlikely to stumble across Charley Young Beach, because it's set back two blocks from busy roads.
But if you know where to look, Charley Young Beach is a gem.
To get to Charley Young Beach, drive along South Kihei Road until you reach a sharp turning on the ocean side of the road (makai) called Kaiau Place.
There's a small unloading zone here that you can see as soon as you turn.
Nominate someone to stay in the car, while the rest of you grab the beach stuff and walk down to Charley Young on the path leading out of the lot.
Meanwhile, your designated driver can head across to the larger lot at Kamaole Beach Park I, park the car, and walk across the beach to meet you.
Who Is Charley Young, And Am I Allowed On His Beach?
As you might be aware, all the beaches on Maui (and across the state of Hawaii) are public access.
So, although the land above the beach might be privately owned, anyone can visit the beach itself.
Charley Young Beach is not the exclusive property of Charley Young, no matter what the name might imply.
Charley Young himself was a man who owned the property that sits just above the beach for many years.
The story goes that he bought the land at just the wrong time, and had to give it over to soldiers simulating beach landings during WWII.
Eventually he got the land back, moved in, and became a popular figure with the locals. 
Water Activities At Charley Young Beach Park
A visit to Charley Young Beach Park is really all about relaxing. It's a popular local spot because it's sheltered from the traffic and noise of busy South Kihei Road.
And tucked away at the end of the stretch of beaches that form Kamaole Beach Park, it doesn't get much foot traffic.
When the water is calm, Kamaole Beach Park is popular for swimmers and snorkelers. It's known as a good place to spot honu, the Hawaiian turtle, with the best snorkeling found at the north reef.
For calm seas, it's best to visit in the morning. As the day picks up, the swells at Charley Young can be tricky to navigate, especially as the rocky shore hinders entry and exit of the water.
With some fairly consistent waves, boogie boarders can have some fun at Charley Young.
Boogie boarding is best in summer, when the south swells lead to a regular shore break. 
What Else To Do At Charley Young Beach
Most visitors come to Charley Young Beach for a chance to relax in a calmer Maui beach setting.
On the sand you can sit back under the shelter of the Ironwood trees, and appreciate the serene atmosphere that permeates Charley Young Beach.
You'll often spot people reading away from the crowds, or simply soaking up an exceptional view.
Charley Young Beach also attracts sand and wood sculptors, so you might be able to see some local art.
Charley Young Beach is becoming a popular destination for watching the sunset.
Facing the west with a panoramic view across to Lanai and Molokini, visitors to Charley Young Beach enjoy taking in the golden light as the sun sets.
What Are The Facilities At Charley Young Beach?
Charley Young has a reduced number of facilities, which you might expect from a beach known for its quiet.
However, there is a portable toilet and a shower.
There's no lifeguard directly on Charley Young Beach, but there is one half a mile away at Kamaole Beach Park I.
If you prefer to swim with a guard nearby, we recommend heading south along the beach.
Charley Young may have a limited number of facilities, but it is within easy walking distance of more.
At Kamaole I, there's a bigger parking lot, more showers, and some more toilets.
There's also a volleyball net, which tends to have a game going.
When you start to get hungry, you can either walk to Kamaole I for a picnic bench, or head into Kihei.
Charley Young Beach is just a short walk from several shops, restaurants, and grocery stores. 
Anything Else To Know?
Charley Young Beach has a unique atmosphere, away from the loud crowds that can often be found at other Maui beaches. Although it is getting busier, it's still a beach known for being laid-back and relaxing. 
Between November and April, the humpback whales come to Hawaii. They can often be spotted from the South Maui coast, including from beaches such as Charley Young.
Sometimes, you won't even need binoculars to see them. If you're visiting Charley Young Beach in winter, be sure to keep your eye on the sea.
The ocean slopes quite suddenly at Charley Young Beach, so be careful when in the water.
Conditions tend to be rougher in the afternoon and over winter. High surf and rip currents are rare, but they are something you need to be aware of, and stay alert for.
A Local Spot With A Laid-Back Vibe
With two blocks offering shelter from the South Kihei traffic, and a long stretch of sand keeping away most of the crowds, Charley Young Beach Park attracts those looking for somewhere calm.
While the water is good for swimming and snorkeling, the real draw of Charley Young Beach is the blissful atmosphere the quieter setting cultivates.