The aim of Kihei Canoe Club is to revive the Hawaiian canoe tradition, emphasizing respect and understanding, while also having fun in a boat.
With classes open to Maui visitors, and a membership program for residents and part-time residents, Kihei Canoe Club provides something a little different for those looking to take to the sea.
If you're interested in what Kihei Canoe Club does, and how you can be a part of it, take a look at this guide.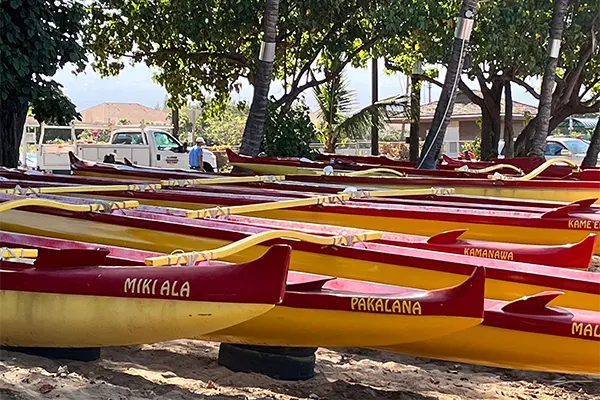 The History Of Kihei Canoe Club
The canoe has long been more than just an important piece of equipment to the cultures of Hawaii and Polynesia.
Caring for and using a canoe requires teamwork and understanding, and respecting a canoe allows us to experience and live alongside the ocean. 
Kihei Canoe Club was founded to revive the art of using the canoe.
Intended to respect and reinforce Hawaiian tradition, Kihei Canoe Club was launched as an outreach service, offering both members and visitors a chance to learn about Hawaiian history.
At Kihei Canoe Club, it isn't about paddling the fastest or traveling the furthest, but about learning the importance of the canoe. 
Kihei Canoe Club was first founded in 1973 to help local children understand the traditions they come from and to give them something to respect and feel proud of.
Since then, the club has grown in members, and now offers chances for both residents and tourists to learn about the canoe.
Activities At Kihei Canoe Club
It's hard not to be intrigued by the yellow-and-gold canoes of Kihei Canoe Club, which is why they offer a Visitor Paddling Program.
Running twice a week on Tuesday and Thursday mornings, the Visitor Paddling Program is open to locals, part-time residents, and vacationers. 
To sign up for Visitor Paddling, you need to visit the Calendar on the Kihei Canoe Club website.
A Visitor Paddle typically costs $40 with payment made in advance and is open to interested parties aged 9 or over.
There are only a limited number of slots, and they can fill up, so we recommend booking early.
In the event of bad weather, Visitor Paddles will be canceled.
What Is The Visitor Paddling Program?
The Visitor Paddling Program starts early, with participants meeting on the beach at 6:45am.
This is to take advantage of the calm morning waters, and Kihei Canoe Club recommends bringing a camera to capture mornings on Maui.
Things begin with a chant in Hawaiian, designed to wake you up, focus your energy, and prepare you to receive knowledge.
Culture takes precedence with the Kihei Canoe Club, and the morning chant is followed by getting you acquainted with your paddle and the canoe.
Then, you get in your canoe, either a single or double hulled outrigger canoe, alongside other visitors and an experienced paddler.
Paddling along the coast, visitors can discover the wildlife of Maui.
The course taken depends on conditions, but the aim is to explore the waters of Maui and understand the importance of the canoe.
The trip ends with a return to the beach, and a chant to thank the land, the sea, and the Hawaiian gods for the experience.
What Else Do I Need To Know?
The Visitor Paddling Program is open to any Maui visitors over the age of 9.
You don't need to have any experience paddling or using a canoe to sign up.
The instructors at Kihei Canoe Club are always happy to help, and much of the focus is on paddling within the Maui tradition.
You don't need to bring much with you, but you do need a bathing suit and a towel.
Things in the canoe can get damp, so don't carry anything not waterproof—consider water shoes.
Kihei Canoe Club provides everything else and has a place to store car keys in the dry.
The Visitor Paddle is a light workout. Your arms won't feel like jelly by the end of it, but you might feel a slight ache.
The paddles are intended to leave you invigorated, rather than wiped out.
Membership At Kihei Canoe Club
If you've tried visitor paddling and want to experience more, residents and part-time residents can become members of the Kihei Canoe Club.
Membership allows you to join the recreational paddles that occur 5 to 7 days a week.
Recreational paddles are about exploring, connecting to the culture, and getting some exercise in the open air.
Members don't need to have any skill with a paddle, but they do need to be able to swim and get in and out of the canoe.
Kihei Canoe Club also operates as a racing club. This is for competitive canoe paddling, so is only open to those with experience and an enthusiasm for racing.
Where Is Kihei Canoe Club?
Kihei Canoe Club can be found near Kenolio Park, along South Kihei Road near north Kihei.
Visitors meet on Kenolio Beach, and this is where the canoes depart from and return to.
On the other side of the road is Ululani's Shave Ice, and an ABC Store.
You might recognize the location as being opposite where Suda Seafood and Deli used to be. 
To get to Kihei Canoe Club from South Maui…
follow Piilani Highway until you reach the turning for Uwapo Road on the left.
Turn left here, and follow along until it leads you to South Kihei Road. Turn right onto South Kihei Road to find the beach, club, and parking.
The North Kihei location means Kihei Canoe Club is poised to explore the quieter seas around the coast here.
Visitor Paddles typically head north to explore Sugar Beach and the Kealia Fish Pond, but the exact journey can change depending on the conditions.
Booking A Paddle With Kihei Canoe Club
Maui offers many ways to explore the water, but few options are quite as unique and thoughtful as a trip with Kihei Canoe Club.
The emphasis on Maui culture and understanding the canoe transforms the experience, but you still get the thrill of discovering the water, and up close encounters with the local wildlife.