Lanai is one of Hawaii's smallest islands, and only a fraction of the state's visitors ever set foot on these shores.
But those visitors are missing out on Hulopoe Bay Beach, one of the best snorkeling spots on Hawaii.
Clear seas and small visitor numbers have made Hulopoe Bay a hidden gem for snorkel fans.
Plan your trip to Hulopoe Bay, and find out how to visit from Maui, with this guide.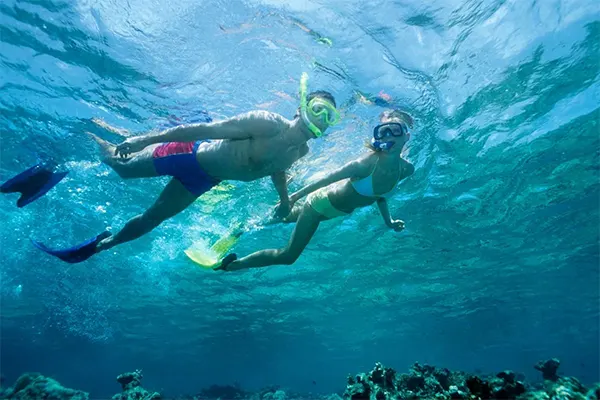 What Is Hulopoe Beach?
Hulopoe Bay Beach has been named as one of America's best beaches, and it's a gem on the Lanai coastline.
Lanai, one of the lesser visited Hawaiian islands, lacks the long sandy coastline that makes Maui so popular with tourists.
Hulopoe Beach, an easy-to-access beach on the southwest of the island, is Lanai's best beach for snorkeling and swimming. 
Getting To Hulopoe Bay
Hulopoe Bay is on Lanai, fronting the Four Seasons Resort. From Lanai city, it can be accessed via Manele Road. 
If you're staying on Maui, you can take a day trip to Lanai to snorkel at Hulopoe Beach! The ferry from Lahaina to Lanai takes less than an hour, and leaves multiple times a day.
The ferry will drop you off at Manele Harbor, which is just a short walk away from Hulopoe Bay Beach Park.
And there's plenty of room on the ferry to pack all your snorkeling equipment.
Many tour companies also run snorkel trips that travel to Lanai, and give you time to enjoy the waters at Hulopoe Bay.  
Snorkeling At Hulopoe Bay
Perhaps the best reason to visit Hulopoe Bay Beach is to snorkel.
The protected bay and smaller visitor numbers have allowed a colorful and enthralling underwater landscape to flourish.
The waters are crystal clear at Hulopoe, and the protection of the bay prevents rougher swells from ruining visibility.
On a good summer day, you might be able to see more than 80 feet away.
The depth stretches from 6 feet to 22 feet, so there's snorkeling for beginners and those with experience. But the ocean does slope steeply, so be careful in the water.
You can expect to see some fascinating fish at Hulopoe Bay, including large parrotfish, convict and yellow tang, peacock groupers, and the humuhumunukunukuapua'a (the state fish of Hawaii).
A healthy coral reef system creates a beautiful underwater landscape, and you might spot spinner dolphins passing through.
Even beginner's can enjoy Hulopoe Bay, as sometimes large schools of fish come close to the shore. 
Snorkeling is welcome at Hulopoe Bay, but it is a protected marine preserve.
Visitors are asked to be careful not to disturb the wildlife, and to avoid touching marine creatures.
Guests are also asked not to take any rocks, shells, or other natural souvenirs.
If dolphins are swimming, all visitors are asked to stay away, and give them distance. 
What Else To Do At Hulopoe Bay?
Hulopoe Beach isn't just about snorkeling. There's more in the area to explore, and if you're visiting from Maui, then you probably want to see as much as possible. 
When you need a break from swimming and snorkeling, you can relax on the nearby picnic benches, or head to the eastern part of the bay.
Here, volcanic rocks have been worn away by the water to create tide pools.
Put on your beach shoes, and tread carefully, and you can see starfish, sea urchins, and even small fish.
A great option for seeing Lanai's wildlife for those who aren't quite comfortable snorkeling.
From the tide pools, head southeast and follow the cliffs.
A 20-minute hike will take you to the viewing point for Puu Pehe, an 80-foot landmark of Lanai and the focus of an old legend.
As the story goes, a heartbroken warrior leapt from the rock out of grief for the passing of his wife.
If you're staying on Lanai, make sure to watch the sunset from here at least once.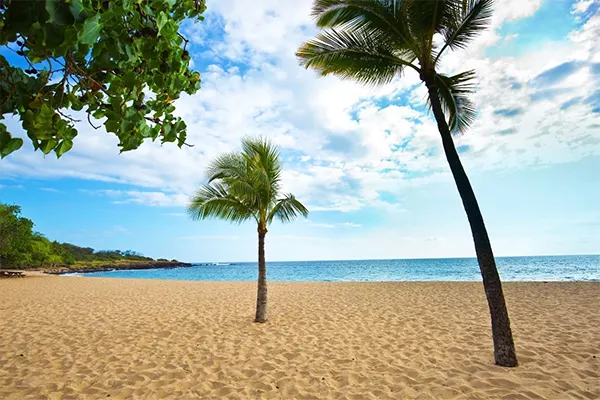 Facilities At Hulopoe Bay
Hulopoe Bay has restrooms and picnic benches, but facilities are limited.
Lanai doesn't attract a huge number of visitors, so there's less infrastructure. There are no lifeguards in the area. 
There are a few places to eat within walking distance of the beach, and a small convenience store near the ferry drop off point.
If you're traveling from Maui, it's worth taking a picnic with you, which you can enjoy with the views at Hulopoe Bay.
When To Visit Hulopoe Bay
The protected bay at Hulopoe Beach means snorkeling is good most of the year. The waters are calm, providing better visibility, and an easier swim.
However, during winter the swells do pick up, and can make snorkeling unsafe.
Plus, rough conditions make it harder to see anything. The best time to visit Hulopoe Bay for snorkeling is during summer.
Hulopoe Bay is protected, but the winds can still pick up in the afternoon. We recommend visiting the beach early, so you can enjoy the calmer waters for longer.
If you're staying on Lanai, it shouldn't take very long to get to Hulopoe Bay, no matter where your accommodation is. If you're traveling from Maui, try and catch an early ferry. 
Snorkeling and swimming might not be so good over winter, but you can spot some water wildlife at Hulopoe Bay without entering the water.
The humpback whales that visit Hawaii over winter can be seen from the beach at times.
The Best Snorkeling On Lanai
Lanai isn't known for its sandy beaches, but Hulopoe Bay more than makes up for the lack of variety.
Soft sands and clear seas make it the perfect place to lounge away the day, but the real excitement is found in the water.
Snorkeling at Lanai can be exceptional, as when the day is calm there's visibility up to 80 feet.
A diverse range of sea life visits the area, and you have a chance to see tropical fish and pods of dolphins.
From anywhere on Lanai, Hulopoe Beach is only a short drive, and visitors from Maui can make it an unforgettable day trip.