The turning and twisting coastline of Maui gives way to many beaches that are tucked just out of the eye line.
Lipoa Street Beach, hidden behind roads and buildings in an unassuming part of Kihei, is harder to spot than most.
But it's worth searching for if you fancy a serene spot to enjoy the sunset. Plan your day just right, and you might have the beach all to yourself.
So, does Lipoa Street Beach deserve its reputation as a hidden gem?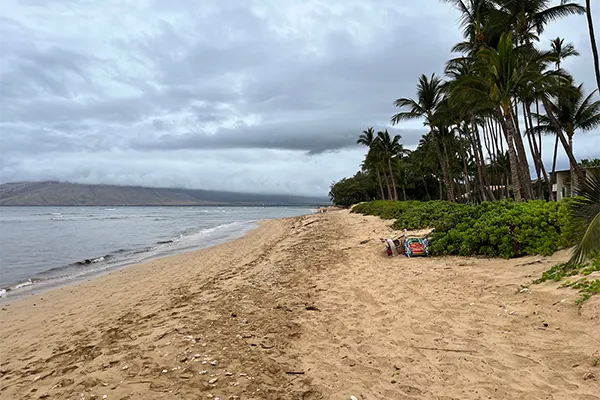 Lipoa Street Has A Beach?
There are some very well known beaches on Maui, and Lipoa Street Beach is not one of them.
Hidden away in a quiet corner of Kihei, this is a beach that many Maui visitors manage to drive past without ever realizing it's there. Which is why it has a reputation as being one of Kihei's best kept secrets. 
Activities At Lipoa Street Beach
The best thing to do at Lipoa Street Beach is to spend a few moments soaking up the solitude, and enjoy almost having your own private beach.
The rich greenery, golden sand, gently crashing swells, and waving palm trees creates a serene atmosphere for you to get lost in.
Far enough away from the road to dull most of the noise, Lipoa Street Beach is enjoyed by those looking for peace and quiet.
The beach is surprisingly beautiful for one that doesn't get much attention, so take your camera along to get some snaps without the obligatory sunbathers.
A row of palm trees at the back of the beach is particularly good at conveying the tropical aloha of a Maui vacation. 
In fact, if you've been searching for the best destination to watch and photograph the Maui sunset, then you must swing by Lipoa Street.
The west facing beach catches the light perfectly, and with the palm trees and solitude, the whole experience can become something quite special.
Sometimes sea turtles rest on the beach in the late afternoon as well, and you can watch them nap from a safe distance.
Can You Swim At Lipoa Street Beach?
Swimming at Lipoa Street Beach is unsupervised. Although you might enjoy a quick dip on a warm day, this isn't the best place to go for a proper swim.
The coarser sand and tendency to collect debris can take the fun out of a private swim.
And as there are no facilities on-site, there's no place to wash off the sand and saltwater. 
Lipoa Street Beach is fine for a swim if your main concern is privacy.
But if you were hoping for a more enjoyable time in the water, there are better beaches nearby.
Can You Snorkel At Lipoa Street Beach?
Lipoa Street Beach lacks any good places to snorkel. There are no real rocky areas where sea life tends to gather, although you might be lucky and spot a fish or two.
If you're interested in snorkeling, it's worth taking a short drive down the coast and trying Kamaole Beach Park.
While the snorkeling isn't good, you can still spot the Hawaiian green turtles, or honu, on the shore.
They sometimes take the opportunity to rest on the beach in the afternoon, relaxing away from the crowds.
If you do see some honu, make the most of the zoom on your camera, and avoid getting too close.
Getting To Lipoa Street Beach
Main access to Lipoa Street Beach can be found via West Lipoa Street. Follow South Kihei Road either north or south, and the turning for West Lipoa Street is on the ocean side of the road.
Roadside parking is available at the end of West Lipoa Street. Spaces are limited, but as this is a quiet beach, you should be okay.
Alternatively, there are a few public access paths off Ulunui Road. If you've parked in a nearby lot, this may be the easiest access.
Lipoa Street Beach is close to the Kihei Center Shopping center. There is parking available in several lots in the area.
If you're visiting the shopping center, you can access Lipoa Street beach on foot. Just start walking towards the sea, and you'll get there in no time.
Facilities At Lipoa Street Beach
Lipoa Street Beach is a well-kept secret, so you won't find any facilities on the beach itself.
That means no toilets, no showers, and not even a picnic bench. If you want seclusion, this is one of the necessary sacrifices.
However, part of the reason Lipoa Street Beach is so secret is that it's tucked away between the shops and streets of Kihei.
From the beachfront, you're just a short walk away from restaurants, shops, grocery stores, and, yes, toilets.
So, a trip to Lipoa Street Beach doesn't completely cut you off from a busy town. It just feels that way.
Why Is Lipoa Street Beach So Quiet?
There are some amazing beaches on South Maui, which means those that are less than perfect tend to get overlooked.
Lipoa Street Beach, further north than the luxury Wailea beaches, has coarser sand and a tendency to collect debris.
If you want a long afternoon relaxing on the sand, Lipoa Street isn't really the best place to do it.
Instead, you're better off braving the crowds and heading to a beach further south.
Lipoa Street Beach is also tricky to find. Tucked away to the side of Kihei, it lacks the signs and notices of some other beaches.
With palm trees blocking the immediate view of the beach, it's not so easy to see from the road. 
Kihei's Best Kept Secret?
Not many people know about Lipoa Street Beach, or bother to make the trip to see it.
This is what gives the beach the refreshing aura that has seen it described as the best kept secret in Kihei.
Come along in the evening to enjoy the sunset, or for a peaceful afternoon break from the crowds.
Lipoa Street Beach will never be one of Maui's greatest, but while it remains a serene spot, it's a beach to remember for your next Kihei trip.