Although the North Shore and the upper corners of West Maui might attract the most surfers, there are still some South Maui beaches with consistent waves.
Cove Park, a small South Kihei beach, is popular with surfers who are getting their toes wet for the first time.
Cove Park is small, but can get crowded, especially as several surf companies operate from the beachfront and adjacent parking area. Plan your visit to Cove Beach Park with this guide.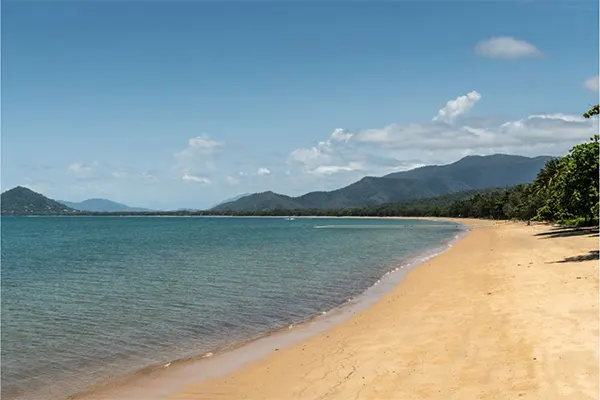 Visiting Cove Beach Park
If you book a beginner's surf lesson on South Maui, then you'll probably find yourself visiting Cove Park.
This small park is tucked in the natural bends of the coastline, giving it a consistent gentle wave that's less affected by the afternoon winds.
If you aren't surfing, then you might find yourself passing Cove Beach by, and missing out on an unusual park in Kihei.
The sandy area is negligible, and the water can be murky, but large facilities and an impressive park adds plenty of interest. 
Getting To Cove Beach Park
Cove Beach Park is in south Kihei. It's the southernmost point of the larger Kalama Park.
Access can be found via South Kihei Road.
For the actual Cove Park itself, follow South Kihei Road until the turning for Iliili Road, toward the sea.
Turn here, and follow the road along. This will take you directly to Cove Park, which is signposted.
There are three main parking options. First, Cove Park itself. This lot has space for about 25 cars, and is right by the surf spot. However, there's no sandy beach area here, and it can fill up. 
Your second option is the stalls along South Kihei Road. These are the best locations for the sandy beach, plus they're close to the surf schools, and near to Kalama Park.
But the parking lots get very busy, and even early risers are likely to find themselves beaten to a space.
Otherwise, you can park at Kalama Park, further north. It's still a quick walk to the beach, and there tends to be spaces free. 
Surfing At Cove Beach Park
Cove Beach is most popular for beginners surfing, as a gently rolling wave can be found pretty much year round.
The small break is perfect for first timers to learn the basics of the board, and there's little risk of big waves breaking up the lesson (and the surfer).
Surf schools often operate out of Cove Park, with the sandy bottom of the beach making those inevitable falls a little less painful. 
If you want to learn to surf at Cove Park, it's best to book with a surf school.
They can help you take to the waves safely, and ensure you get a chance to surf even on busy mornings.
There is no lifeguard at Cove Park. Otherwise, we recommend turning up early, and getting out before the wind has a chance to pick up. 
Kayaking and paddleboarding are also popular at Cove Park, but not quite as much as surfing.
Arrive early if you want to try any of these sports, as the sea will be calmer. The waves will be, at least. We can't guarantee any smaller crowds.
What To Do At Cove Beach Park
Surfing is the main water activity at Cove Beach. It isn't a very good beach for swimming, with murky water extra off-putting when there's clear seas only a short drive away.
And, of course, no one wants to swim when there's a chance of being knocked into by a surfer.
There is a slightly better swimming area in a second little cove just around the corner from the surf spot. Protected from the wind, this is a better place for a quick dip.
If you aren't surfing, the main reason to visit Cove Park is to watch the surfers. Although most lessons here are for beginners, you do get some experienced surfers taking to the small waves.
There can be crowds on weekends, as surfers and non-surfers alike come to watch and enjoy the waves. 
The other good reason to visit Cove Park is to explore Kalama Park.
Kalama Park is big, and includes various sports fields, volleyball and tennis courts, a playground, and an outdoor roller rink. There's also lots of space for walking, lounging, and letting keiki run about.
See Some Cool Art At Cove Park
It's going to sound like an odd suggestion, but it's worth taking a walk to Kalama park toilets.
The toilet pavilion is decorated with a mosaic created in honor of the reefs of Hawaii.
If you're at Cove Park, this is only about two minutes walk away.
Facilities At Cove Beach Park
At Cove Park itself, facilities are limited. There are a few benches in the parking lot, but they don't have particularly good views, especially when the lot is busy.
The better facilities are found in Kalama Park, which Cove Beach is part of.
Kalama Park has a lot of facilities, including enough sports fields to keep any active child happy for a day. There's also picnic benches and a picnic pavilion, a gazebo, and a play park.
Five sets of toilets and two showers make it a good place to stop after exploring the waters of Cove Beach.
The park also has an ADA accessible portable toilet, which is worth keeping in mind if you're exploring the coast. Many Maui beaches have toilets, but few of them have ADA accessible toilets. 
Cove Beach Park is also just a short walk from several restaurants, cafés, and shops in Kihei.
Although Cove Park may not have the sand beaches that can be found elsewhere in Kihei, it's a well located spot if you want to enjoy the views without leaving amenities behind. 
A Surfing Cove With More To See
Cove Beach Park is very popular with surfers, particularly if it's their first time on a board.
The swimming isn't great, and the snorkeling is bad, but a large grassy area makes it a good spot for picnics.
If you aren't surfing, Cove Park is more of a convenience beach than anything else. It's comfortable, and nearby facilities make for an easy visit.